Circular - December 2017
Late each year we review our Africare finances. Acheru depends on us for their budget, we provide over 96% of all the costs there. We want to give some security to the staff and help with their planning, and thanks to your generosity for some time now we've been guaranteeing their budget for three years ahead. Reports from Acheru show rising costs and increased pressures on the budget even though it was increased during the last year. We're sympathetic to this as I know they're achieving a great deal with the funds we provide, but we're also conscious that increasing our monthly transfer could place at risk our ability to guarantee the budget. We also feel that more could perhaps be done in Uganda to promote the work and get help from other organisations.
We've asked the Acheru board for their thoughts on this, and also for their views on the different aspects of the Acheru work, whether any changes were taking place, and if it might be appropriate to reduce costs by cutting back on any part of the work. The reports and evaluations I have since received indicate that demand remains constant for all the work, inpatients, outpatients,clinics, community work, and outreach in the north.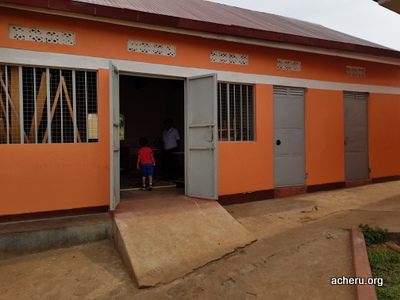 Acheru Community Based Rehabilitation workshop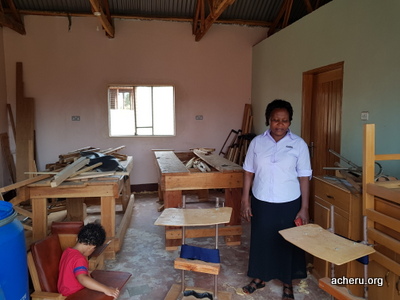 Harriet in workshop
We also asked about the potential for raising more money from patients families, as fees income is very small compared to hospitals. When people are forced by illness or injury to go to hospital they've no alternative to paying the fees, but attitudes to disability mean people are very reluctant to pay for treatment of a child they may regard as worthless, even if they could afford to. There are parents who don't think this way, who genuinely care for their children and would do anything to help them, but live in poverty and simply don't have money to contribute. So although we believe many of the parents could pay more towards treatment we have to recognise the reality and accept that they're not likely to pay, but it's the child who will suffer if we turn them away.
We also looked at work in the north. It was never intended to be long term but although the numbers aren't big there's still a steady stream of children sent to Kabembe for inpatient treatment or surgery, plus a more widespread work with outpatients and rural clinics. Bearing in mind the relatively modest cost of running Minakulu, it seems worthwhile continuing the work there.
We have taken all these factors into account and decided to keep the budget at its present level for now. This will make some things tight at Acheru, but against that we've been able to renew our guarantee to meet these payments for at least the next three years. This could have been placed at risk by committing ourselves to increased long term spending we'd struggle to maintain. The budget was originally intended to be our only commitment to Acheru, and it was made clear to the staff and board that they had to plan for it to cover all costs to be met including building up a reserve for maintenance, repairs, vehicle replacement etc. We realise this has become increasingly difficult and they can see the human cost if they have to reduce any of their services to save money.
Giving to our work remains encouraging and in addition to money designated for budget payments we sometimes have undesignated money available. You give us money to help children and we're sure it's not your wish that we try to accumulate reserves against what might happen in the future, so in recent months in addition to our budget transfers we've helped with materials for use in the Acheru workshop, and helped pay for a new latrine block and the Christmas parties at Kabembe and Minakulu. We are also working with Acheru to try to plan ahead for improvements, for example with the collection and conservation of rain water, emergency lighting, solar water heating, and upgrades to equipment as well as a programme of refurbishment of buildings. We want to be fully in agreement on priorities and will help when money is available.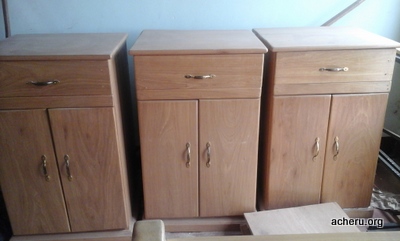 Cupboards made in workshop for Acheru private rooms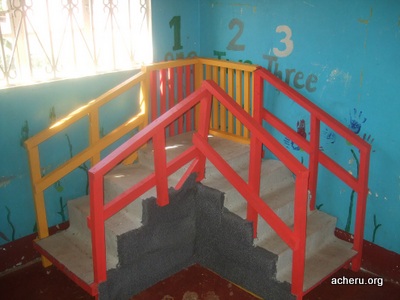 Physiotherapy steps made in Acheru workshop
Work at Acheru continues against a background where many other projects have failed. We see real blessing with lives changed through the combined efforts of staff and donors. We are encouraged but not complacent and are working with Acheru to maintain a working relationship and mutual understanding which will enable us not just to maintain standards but to look for improvements.
CASE HISTORIES
Kinobe Ryan. Five month old baby brought to Acheru on 13th June 2017 with an open lip. Giving birth to such a child is considered a curse in many communities. His mother says 'This was the hardest moment I have ever experienced in my life. When the nurse told me that my child's lip was open, I became so scared because it was my first time to see that such a thing can happen.' She was given no clear explanation of the problem but a relative told them about Acheru, and both parents have been supportive in the process of treating their child. God Bless to All'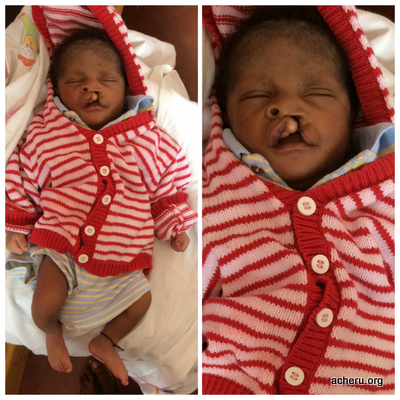 Kinobe Ryan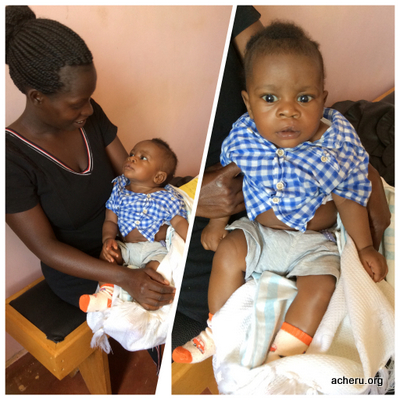 Kinobe Ryan after treatment
Annette (one year old) and Phionah (five years old), sisters from Nakasongola District, were brought to Acheru with deformities to their feet. Their parents faced many challenges, and their mother says 'I have witnessed how problems reveal the true colours of people. Being a mother of two handicapped children is too much to handle in an awkward environment. My girls' problems made society, including my in laws, turn against me. Many suspected me to be coming from a cursed family. My children and the entire family have been called names and this was increasing my pain. I lost the emotional support of friends and family members but I thank God my husband stood firm. I'm so grateful for the person who directed us to Acheru, where we have received the best care.'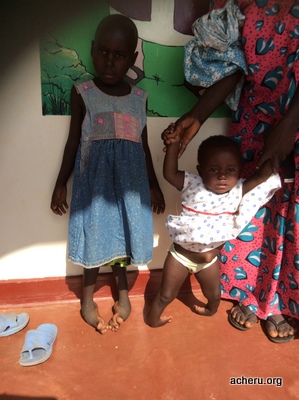 Annette and Phiona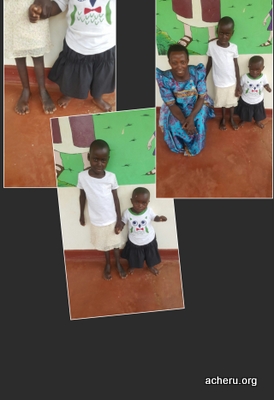 Annette and Phiona after treatment
Brian Dorman