Circular - June 2018, Problems faced by community workers
The Acheru community work serves a number of purposes. Visits are made to villages to provide basic instruction on nutrition and health care as so many children brought to Acheru are suffering from neglected conditions which could have easily been prevented. We are helping enable people to identify potentially serious problems and ensuring they know where to take the child for help, but also addressing the very serious problems caused not just by ignorance but by adherence to damaging traditional practices resulting, for example, in perceiving the child as cursed and of no value or trying to treat the child in the village with substances or methods which make things much worse. Most serious of all is witchcraft, still widespread and immensely damaging. Through these educational visits and clinics children are brought forward for treatment and it's a big step in the process of education and sensitisation when a successfully treated child is returned to the community. It's an effective witness, and a counter to the failed attempts of traditional healers or witch doctors, with other children more likely to be brought for treatment. With osteomyelitis for example early intervention could mean simply cleaning and dressing a minor injury whereas too often neglect, possibly for years, means surgery is required with time consuming and costly treatment and rehabilitation.
Children sent home from Acheru after treatment are followed up. This may require monitoring or further treatment, and some parents aren't very good at bringing children back. These visits also provide help and advice for parents in the care of the child, and additional help may sometimes be provided for families enduring particular hardship or deprivation. Gradually attitudes are changing but there's still a lot to do particularly in more isolated areas, but it's encouraging to see such a change in the attitudes of the families of children who have been treated and who see that their child is valued like any other rather than being a stigma on the whole family or community.
Community and home visits are carried out two or three days every week over a wide area, and travel is difficult. Usually Harriet and Rose travel, but it can also be necessary to bring back patients. They use public transport but that often means small motorcycles on very poor roads, so it's a very uncomfortable way to travel.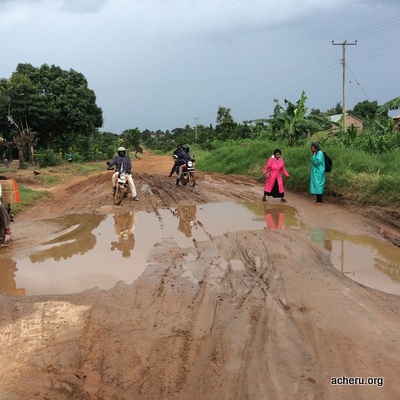 Harriet and Rose on community visits. The motorbikes are taxis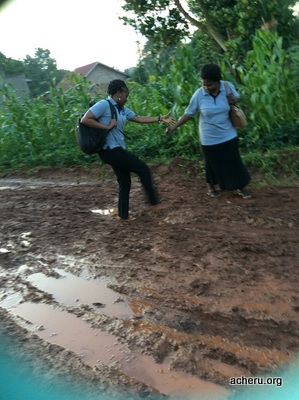 Harriet and Rose sometimes have a long way to go after leaving public transport
Having an Acheru vehicle for this work would make a big difference, making the journeys much easier but also much quicker enabling more visits to be made. Sometimes when using hired transport in a remote area they've to pay for the waiting time meaning they have to hurry and possibly compromise the quality of their work. Having their own transport would put them in control. In the wet season the work has to go on but they have to travel on motorcycle taxis with no shelter, often on very muddy and slippery tracks. It's not too good in the dry season either with the problems of heat and dust. There's danger too. Ugandan roads can be hazardous anyway, but it's much worse for the small motorcycles.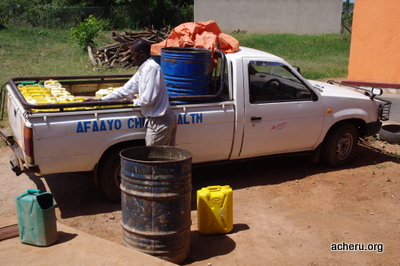 The Acheru pickup for general use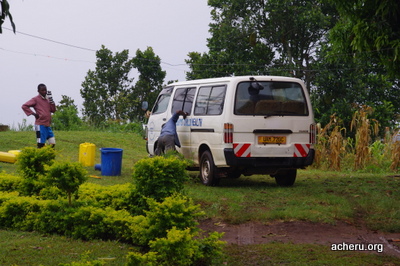 The Acheru van, old now but still giving good service
The answer could be a twin cab four wheel drive pickup to serve for the community work as well as general Acheru work the rest of the time. I'm cautious about buying vehicles in Uganda. I've seen charitable agencies with fleets of vehicles, all used to what seemed to me to be very little purpose but costing a lot of money. We've looked very carefully at Acheru's use of transport and I'm satisfied that the present minibus and the pickup truck are used for essential transport and operated at very low cost. The next step now is to sell the present pickup and buy a twin cab. New vehicles in Uganda are very expensive so we buy used Japanese imports. There's usually a wide range available, and we choose a type of vehicle which is in widespread use meaning maintenance and spare parts don't present difficulties.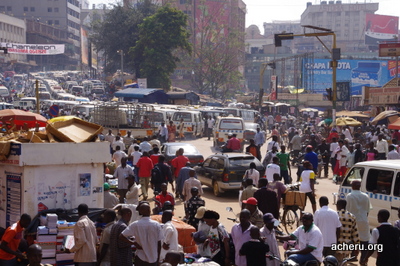 Typical Kampala traffic encountered on CoRSU runs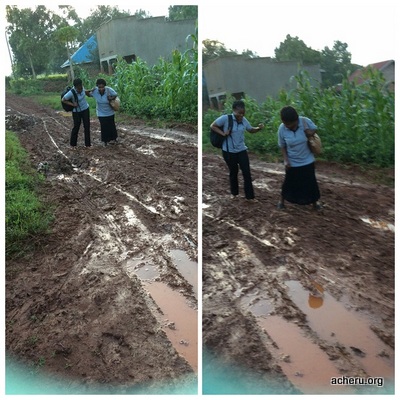 Why a 4wd twin cab pickup would be ideal
Harriet and Rose are very enthusiastic about their work, and grateful for the support which has enabled it to grow. The biggest impediment to further growth is transport so we now want to deal with this. They don't need to convince me of the value of the work as I've been privileged to see so many examples of it in what they're achieving.
GDPR
The new General Data Protection Regulation (GDPR) effective from 25th May relates to how organisations handle personal data. We have taken steps to ensure we are fully compliant but please contact us if you would like further details. Please note that the only personal data we retain relates to our mailing list and whatever financial information we require to meet Inland Revenue requirements. Under no circumstances do we share personal information with any other individual or organisation.
Brian Dorman