Circular - March 2020: News of Acheru patients, and reports from two mothers
I have often written about the problems we face with attitudes to disability in Uganda, but while deploring some of what we encounter it's not hard to understand. It's not all one sided though and I find it increasingly difficult to understand some of what goes on in our own 'enlightened' culture. We've just admitted another child with a cleft palate. This, like many other conditions we encounter, can be successfully treated in a relatively short time yet here in the UK, many children are being aborted for these same conditions. At Acheru we treat them; here, many of them are killed.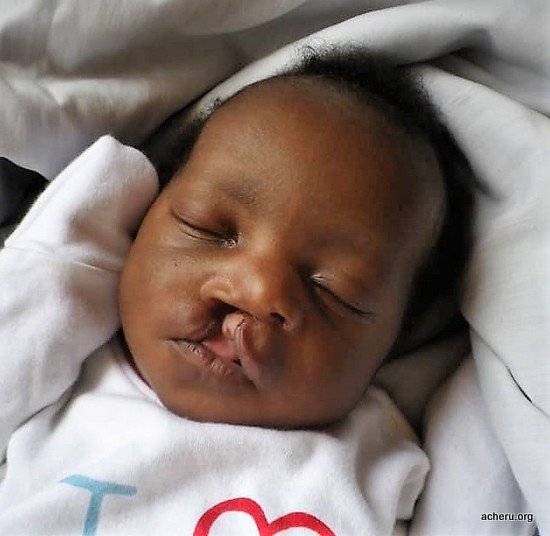 Joshua, our most recent cleft palate patient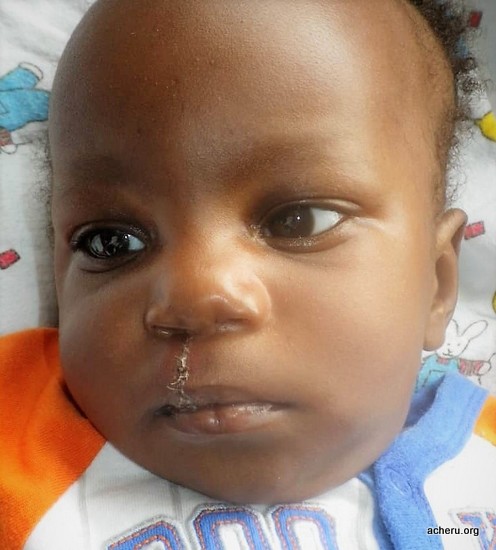 Joshua after treatment
Development: In February I wrote about our wish to carry out improvements at Acheru, and some work is now under way. We've received enough help to replace the perimeter fence and are discussing priorities for other work. Please get in touch if you'd like to see the draft development plan.
Last month I wrote about Eric, and the very difficult bus journey he endured to get to Acheru. I am now happy to be able to report that his leg has been saved and he is making good progress. He arrived at Acheru on 24th December 2019 following his discharge from hospital in Gulu district. In 2018 he had suffered multiple fractures of his left leg. Intramedullary nailing was carried out but infection set in and the implant was removed. By the time he came to us there was a lot of discharge from the wounds and his leg was badly swollen.
At Acheru he was put on daily dressing of the wounds together with nutritional support, till he was taken to CoRSU on 9th January for orthopaedic consultation. He had blood tests, and x rays of left tibia, knee, femur, and hip joint and he continued on daily dressing and nutritional rehabilitation in preparation for surgery. On 27th January he underwent surgery, with sequestrectomy and external fixation of the left tibia and femur. He is now on daily wound dressing and monitoring and can smile again.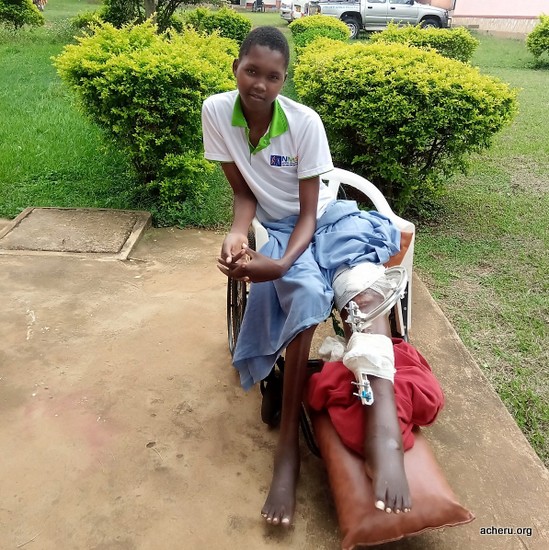 Eric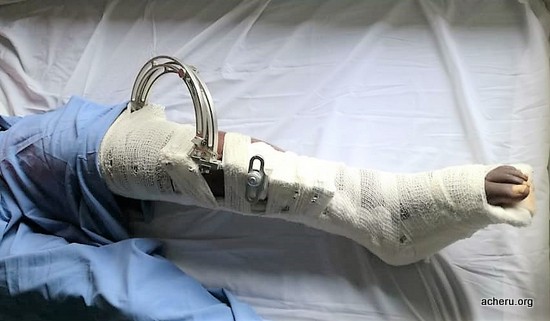 Fixator on Eric's leg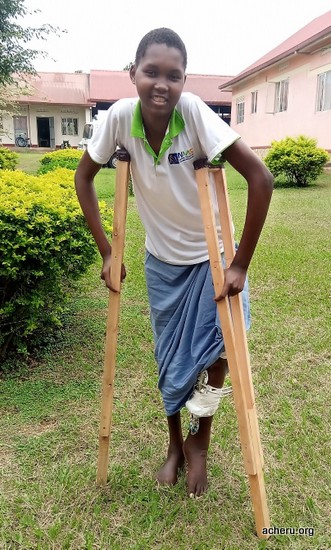 Eric recovering at Acheru
The following accounts, from the Acheru magazine, were written by the mothers of two of our patients. They illustrate the difficulties faced by the mother of a disabled child.
"My name is Nakabugo Rahuma, I am 35 years old, a mother of seven children and I stay in Bulijjo village, Mukono District. I am the mother of 12 year old Nakazi Shagida who was born with hydrocephalous. This affected my daughter's development. She failed to develop as a normal child, things like sitting, crawling, standing and talking failed to activate at the right stage. The toughest thing in life is raising a child with a disability and it becomes worse with a child whose mobility is affected.
I want to send my great thanks to Acheru where I went in 2015 after being directed by a friend. This place has not only changed my daughter's life but the entire family. We have been given different kinds of therapy at the unit and at home. My girl who could not do any kind of movements before is now so amazing. She can talk, she can move from one place to another and the most important thing is that she understands everything. All my worries and tensions were taken away with much love, care, and kindness. The kind of comfort we received made us love our child even more. We learnt to ignore what others said about our child. Before, I used to cry when I heard people say I was a cursed woman but today all that has changed after the lovely counselling we received. We are happy seeing our daughter changing every day.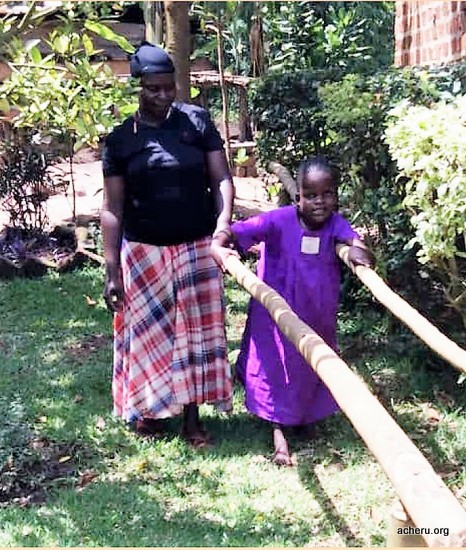 Nakazi
Acheru has not only changed my daughter's life but the entire family.
God bless Acheru."
"My name is Namukasa Regina, I am fifty years old, a widow, and a mother of three children from Namaliga, Mukono District. I am mother of 17 year old Jjuko Richard.
Richard was born a normal boy and he developed very well. He went to school at the right age and did all his work perfectly. At the age of thirteen my son started complaining of weakness in the lower part of his body and he stopped walking. Different medical interventions were done, but none helped. He started feeling a lot of pain all over his body. One day in 2015 when I was not at home Richard was trying to crawl down to get some water and he fractured his thigh. The neighbours just helped me to tie the leg in one position.
We had terrible days, and the only option was to cry out for God's help. Our prayers were heard when God sent our saviours. These Acheru people came with no idea of what was going on in our lives, it was just a normal community visit but they came when we needed them.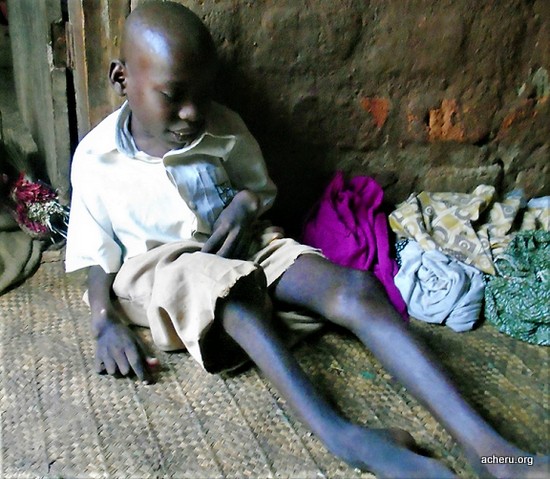 Jjuko Richard
Richard had a full year of treatment and rehabilitation at Acheru and during that time we saw God's healing hand through the people of Acheru. The pain started slowly diminishing. The boy who could not sit started sitting, he started feeding himself and ever since then he has never looked back. Today Richard can do most of his work with little support. He can wash his clothes, he is walking all over the village and the most amazing thing is that my boy went back to school after so long.
He is a clever boy whose self esteem is very high. He has never considered himself as someone who is going to fail in life, despite his problem. He does not look his age due to deformed bones but this does not stop him from seeing himself as a normal person. He is so active at school and I was shocked when they told me that he was a candidate for Head Boy, and now he wants to be a doctor. Thank you so much for the comforting words and counselling you give us.
God bless your work."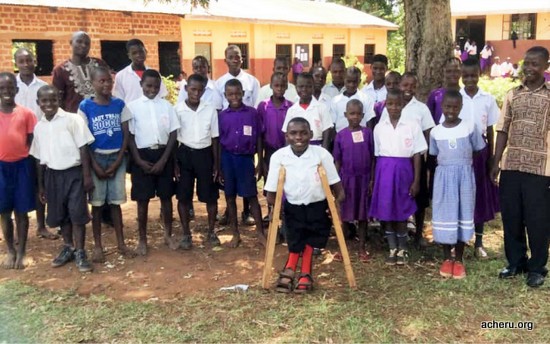 Richard at school
And finally, some news of equipment. I no longer have so much involvement, but still enjoy the occasional opportunity to 'get my hands dirty'. The picture shows several of the diagnostic scanners I have been testing and preparing. Two have already gone to Malawi and I hope more will be under way soon. I know from feedback we've had in the past just how valuable these machines can be.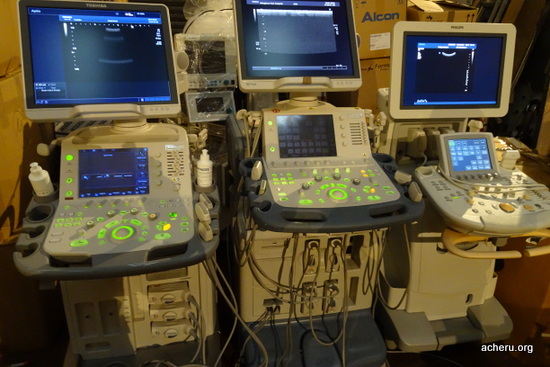 Diagnostic scanners