Circular - September 2020: The spread of Covid 19, progress with our development plan, and some happy former patients
I recently wrote about the big increase in charges for surgery on Acheru patients. Other medical facilities have been developing and improving and we continued to look for centres which might have the capability to carry out operations to high standards. We now have the possibility of two new partnerships which could facilitate surgery being carried out free of charge on older patients while under fives continue to be taken to CoRSU.
More news from Uganda about Covid 19 - Up to now any impact on our work has been as a result of the restrictions introduced to try to limit the spread of covid rather than the virus itself. The infections identified seemed mainly to be clusters around people who had travelled internationally - those returning from Dubai or South Africa, and a number of lorry drivers entering Uganda from Kenya. Now, the latest information is that infections are rising. The numbers are still small compared to our situation in the UK and Ireland, and we don't know how accurately this reflects the true scale of transmission, but the trend is certainly upwards, including a rising number of deaths. There are clusters in the prisons as well as a number of businesses and organizations, and health workers. At Acheru guidelines are being followed and precautions taken while still trying to ensure the work continues as effectively as possible. We want to do everything possible to keep working but must also remember the possible vulnerability of some of the very sick children we work with.
Earlier in the year we had started to implement our development plan for a range of improvements at Acheru but this had to be put on hold with the Covid lockdown. With restrictions eased, we will take whatever opportunities we can to proceed with the work already planned. The priority had been identified as a need for a secure fence to keep in our Acheru animals and keep out wild dogs which could have brought disease. Work had just started on this at the time of the lockdown, but the contractor is now back on site and work continues.
The next step is to look at power. In view of unreliable mains electricity with frequent lengthy power cuts we want to install solar powered backup systems for the outpatient unit and treatment rooms and hope this can be completed soon. Such systems used to be very costly but are now common and costs have come down to the point where it is now realistic for Acheru, compared to the expense of having to run a generator.
We wanted to buy equipment to enable our orthopaedic officer Ronald to produce braces and splints at Acheru, saving the cost of having to buy them. This will no longer be necessary as Joyce has arranged a partnership with another Ugandan NGO which can provide orthoses for our children free or at very low cost. They will also be able to provide artificial limbs.
I see as a priority the need to develop our community work. So many of the conditions we see should have been preventable, or much more easily treated with earlier intervention, hence our wish to expand Acheru's community programme. To help with this we now intend buying audio visual equipment to enable the community team to show films in the villages, churches, schools, and rural clinics to reinforce our message. Also central to the community work is following up on children who have returned home - remember that these may be children who were previously rejected by their own families. The most effective 'advert' for Acheru is a previously disabled child seen to have been successfully treated. Of course not all children can be completely cured, and the CBR team tries to help with supports, walking aids, CP chairs etc. These are produced under Harriet's direction in the CBR workshop at Acheru and as part of the development plan we want to provide additional tools and materials to help with production of a wider range of aids and appliances.
The community team work not just with the child but the whole family. As well as needs experienced by the child, there can be the issue of what the family can continue to do to help with their rehabilitation, or on a more basic level to ensure acceptance by the family. With a disabled child they may be ostracised by their community or even suffer physical abuse. We try to maintain a Community Fund so that Harriet and Rose can use their discretion to help families; for example a sewing machine, bicycle, or radio (all of which can be bought cheaply in Uganda) can do a lot to improve the quality of life for a whole family. Community work also involves representatives from local churches and community organisations and can cover a very wide area, including in the north where a team from Acheru regularly visits to supplement the efforts of our Minakulu staff.
Water is a concern at Acheru. We depend on rainwater which is stored in two big underground tanks but as Acheru has grown, and particularly in dry periods, this hasn't been enough. This meant going to a well, or paying for a tanker delivery. Our shared borehole at a local school, provided by Fields of Life, was a big step forward but the water still had to be carried to Acheru in jerry cans. There had from time to time been talk of a mains water supply to the area, and this has finally happened with a single stand pipe installed at Acheru. This is metered and will have to be paid for but it is so much more convenient and rainwater will continue to be the main source so charges should be minimal.
We are encouraged that even in the current climate with all the difficulties surrounding covid, we are still able not just to continue the work but to extend its reach.
Brian Dorman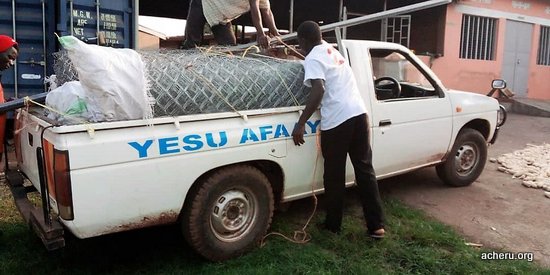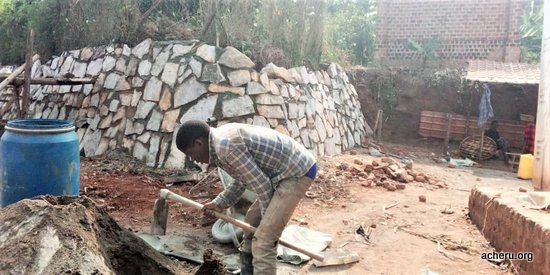 Work restarted on the security fence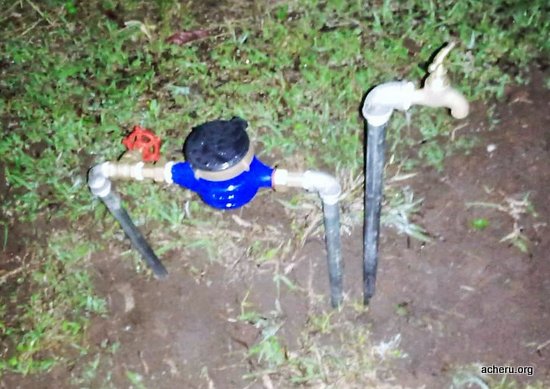 Mains water supply to Acheru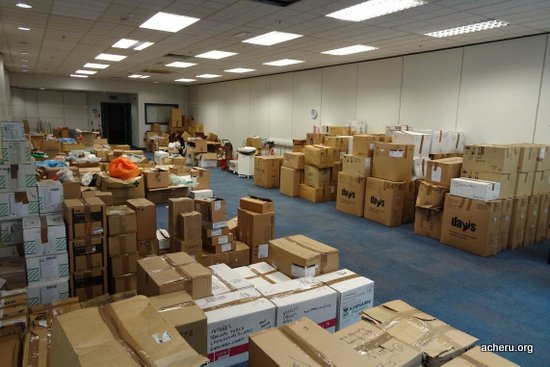 Packing medical supplies in Carrickfergus, for hospitals in Malawi and Zambia