Circular - December 2021: The container contents are put to use in Uganda
This month I am concentrating on medical equipment, and will catch up with Acheru news in the next update including news of the Acheru Christmas parties we are now planning for Kabembe and Minakulu. They've become an important part of our witness, and promotion of the work.
Our involvement with Uganda started with Mengo Hospital, and we started sending containers there in 1984. As our work grew, we continued to send containers with medical supplies, building materials, educational material, literature, tools etc for Mengo, Kiwoko, ECM, Besaniya, Cherub, and then Acheru. As the responsibility for Acheru became more demanding, and as we were able to source more of our own requirements within Uganda, we handed over our medical connections to a partner organisation, MedAid4Kids, run by our friends Bobby and Ray. We retained some involvement, helping prepare some equipment or getting urgently needed items from them for sending by air freight to Uganda. Because of our long connection with Malawi we also helped with packing medical supplies being sent there in conjunction with PCI.
We thought we were completely finished with containers but I sometimes looked into the store to see what Bobby and Ray were working on. It was on one of these visits that Bobby started urging me to send one more container to Acheru. Bobby wouldn't take no for an answer and showed me end of lease equipment they were getting from Philips Medical and Draeger including Xray machines, ultrasound scanners, C arm image intensifiers, and operating lights. There were also large quantities of much needed PPE. When I made inquiries with our partner hospitals in Uganda I found that these things were badly needed so I agreed to a container before I had a chance to think too much about all the work involved.
We intended sending the container to Acheru, and from there equipment could be delivered to the other recipients. It was soon clear though that most of the heavy items (with some weighing over half a ton each) were destined for Kiwoko Hospital, so it made more sense to send the container there. We were happy to do this, we'd been involved with Kiwoko from the outset and valued the work being done there so the container in effect became a gift to them, while also holding things for Acheru, Mukono Hospital, CoRSU, and Rapha Medical Centre. Thus began months of preparation, filling our Carrickfergus store with medical supplies for packing, then having crates made for scanners, operating lights, or other fragile items. All our planning was based on filling a 20ft container, but as more things became available we thought about the possibility of changing to a 40ft. We were surprised on checking rates to find that shipping a 40ft container would only cost 25% more than a 20ft, so the decision was made.
Everything we sent had been donated by hospitals and medical companies and we estimated the total value, had we been buying these things, to be almost one million pounds. This made us feel better about all the hard work. It was demanding preparing, packing, and loading it all but then came the paperwork and this presented some real headaches. In the period since we'd last shipped a container a lot had changed. There was Brexit creating a need for additional documents, and also changes in the information required for importation into Uganda.
The container was shipped in June and should have taken around two months to reach Uganda. We liaised with Kiwoko, engaging a clearing agent to deal with the formalities and thought that was our part of the job done. But we'd relaxed too soon; the shippers had made what looked like a trivial error on the manifest but this was to cause us a great deal of time, stress, and expense. Having thought we'd dealt with everything required to correct the manifest, the container eventually reached Kampala. Only then did we find that what had been corrected only provided a temporary fix to get the container through Oman and Mombasa. Now it was stuck at Kampala and it took another month to release. In all the years we'd sent containers we'd never had an issue with customs, or lost anything. That all changed now, a lot of damage was done, and we're still trying to work out what might have been lost. Thankfully the really high value items had been loaded first so were deep in the container and hadn't been disturbed. It was a huge relief to hear that the container had at last arrived at Kiwoko Hospital. There, they quickly dealt with unloading it and used their lorry to deliver to the other recipients.
We've been getting feedback on how some of this equipment is now being used. Our aim was to enhance the witness of Christian medics there and we hope what we've sent will benefit large numbers of patients. Even after all this there was still equipment around, including two Xray machines, and we decided to send these to Livingstonia in Malawi where their only machine had failed, as we've a long standing connection there. These, along with around 60 boxes of PPE and other supplies, will go there soon in the next PCI container. We will also be continuing to send any urgently needed items to Acheru by air freight.
Thank you to everyone involved in the donation, preparation, packing, transport, and distribution of all this equipment. We expect many lives to be touched by it.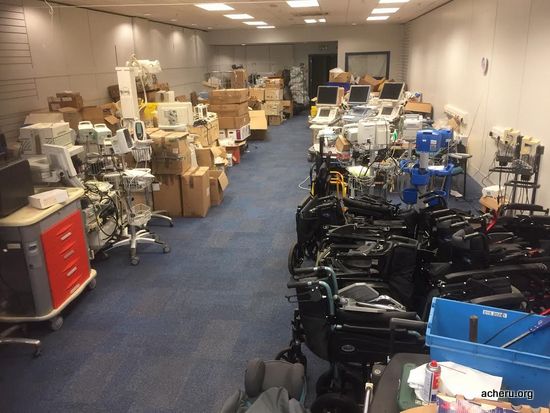 May 2021, packing in Carrickfergus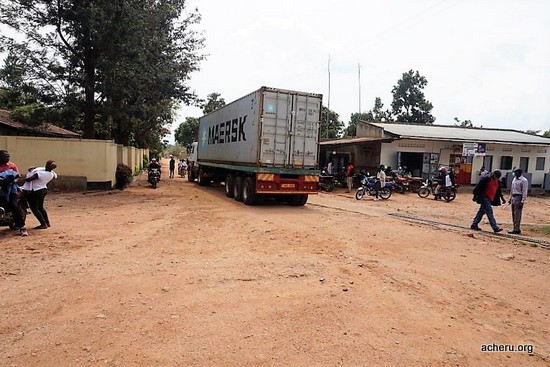 September 2021, the container arrives at Kiwoko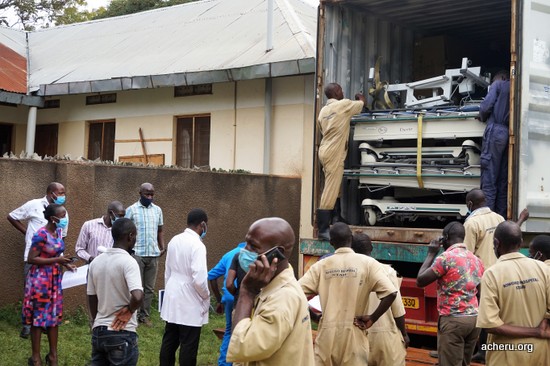 Unloading at Kiwoko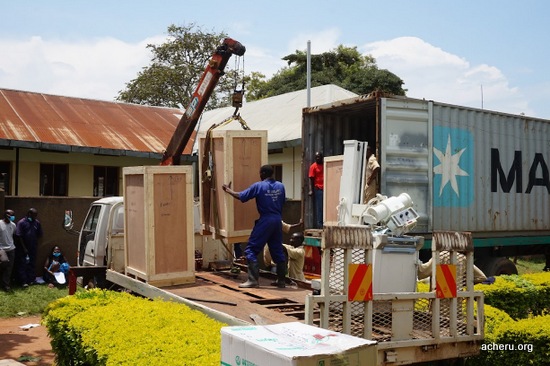 Unloading ultrasound scanners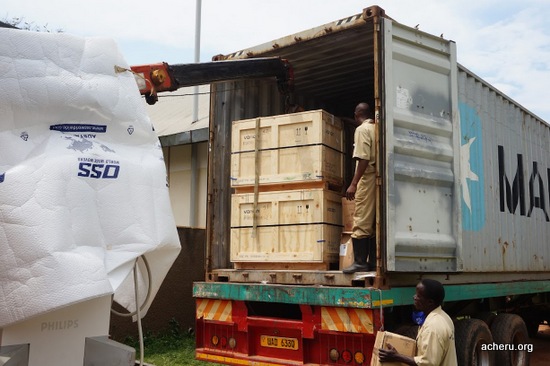 Unloading operating light sets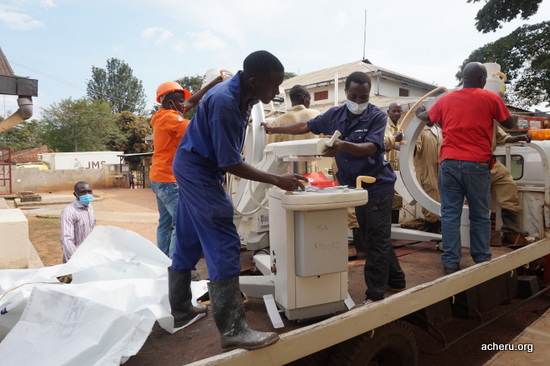 Unloading C arm image intensifiers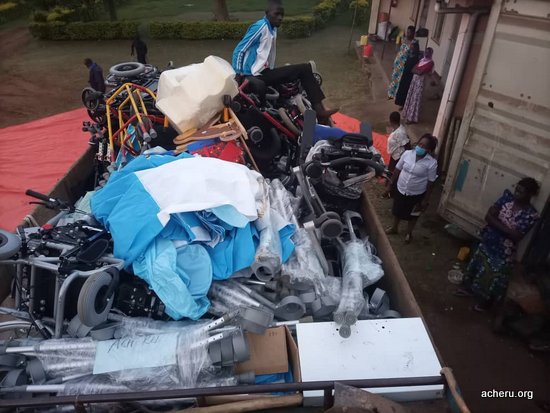 Equipment arriving at Acheru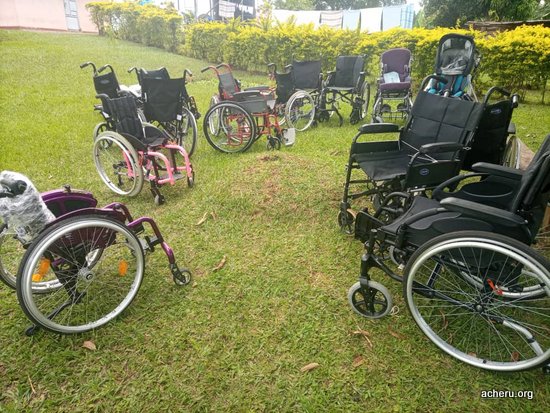 Some of the wheelchairs sent to Acheru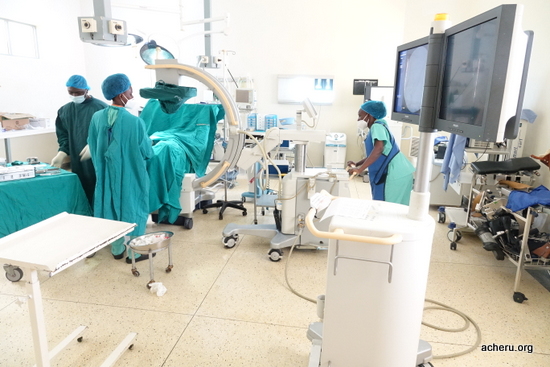 C arm image intensifier in use at CoRSU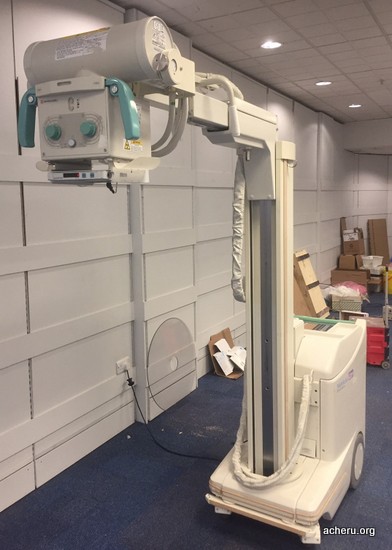 X ray machine consigned to Livingstonia in Malawi
Brian Dorman