Circular - June 2022: Partnership, the benefits of cooperation.
Acheru does not work in isolation. It is part of a widespread network of health facilities throughout Uganda, both charitable and government run. Acheru is accredited by the Ugandan Ministry of Health, leaving the way clear for us to be recognised by and work in conjunction with other hospitals and clinics. When we started this work we entered into a partnership with CoRSU (Comprehensive Rehabilitation Services for people with disability in Uganda), a memorandum of understanding stating what services we could access there and any costs involved. The partnership continues, and children are referred from Acheru for orthopaedic and plastic surgery; it is a relationship which has been beneficial for both of us. CoRSU depends on Acheru to locate children in the community and to deal with post operative treatment and rehabilitation, while Acheru depends on CoRSU for surgical procedures.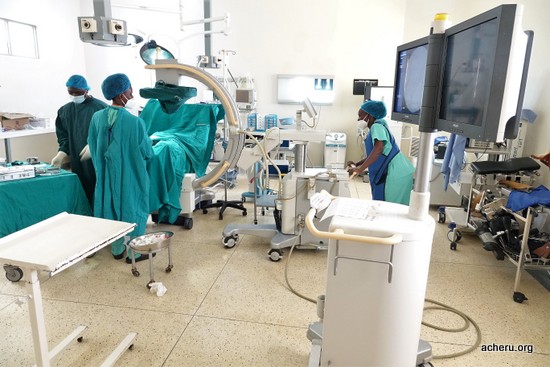 Using equipment we donated to CoRSU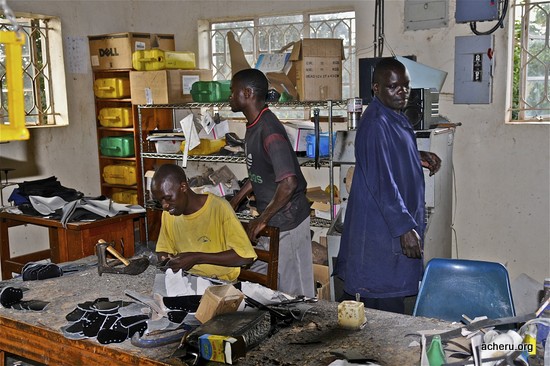 Katalemwa appliance workshop, a long standing Acheru partner
We looked at the implications for costs and staffing of offering a wider range of services at Acheru including surgery, X rays, and laboratory testing, but this would be unrealistically costly hence our dependence on partnerships, leaving Acheru to concentrate on community work, outpatient services, post operative treatment, and rehabilitation. Our work differs from hospitals, where they need to treat patients and get them out to free up beds for new admissions, whereas we can accept those needing much longer term care and rehabilitation. We are certainly not in competition with any other medical services, we fulfil different roles so working relationships are very good.
The closest medical facility to Acheru is Mukono Church of Uganda hospital. We have a long relationship with them dating back to its time as primarily a maternity unit under the direction of Mengo Hospital. It has a significant role in Uganda's history but suffered years of decline so it's good to now see it functioning effectively as a major regional hospital. I have been able to help them with equipment, and Joyce used to work there. We refer children for blood transfusion, Xray, laboratory investigations, and management of complicated illnesses, and we can accept referrals of disabled children from them.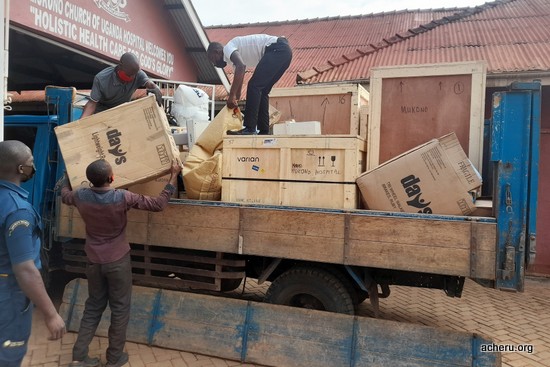 Unloading equipment we sent to Mukono Hospital
Our relationship with the Ugandan government is important, with opportunities for cooperation. Working with local government helps make the services offered by Acheru more widely known, and there have been times when a government official has been able to help us, or when Acheru has been able to help support local government structures. Working closely together helps to avoid any misunderstandings. One Acheru partnership is with Nakasongola District Local Government.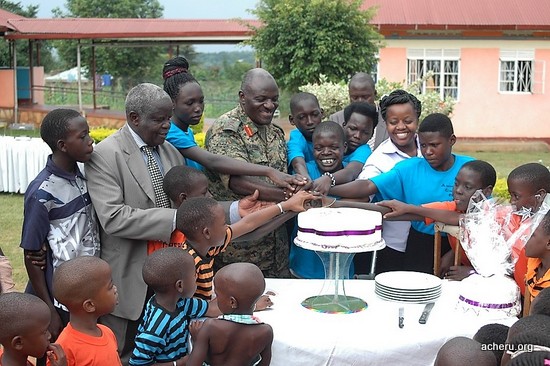 General Katumba Wamala, minister of works and transport, at Acheru Christmas party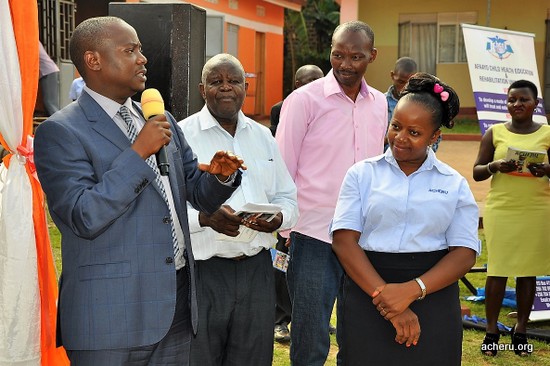 Hon Kibuule Ronald, former minister of state for water and environment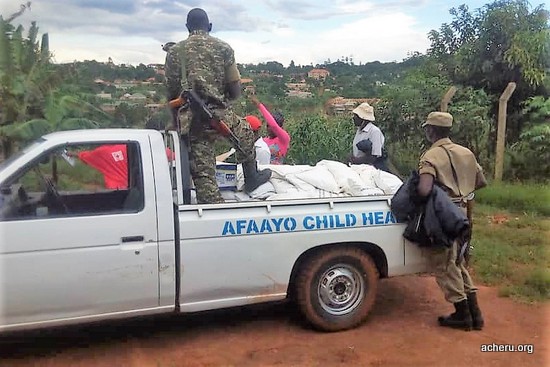 Working with the army to distribute food during Covid lockdown
In northern Uganda our closest partnership is with the government services there who provided the building we use at Minakulu. This has been a very worthwhile relationship; children are referred to Acheru through health centres there or located through jointly run rural clinics. Treatment available in the government health centre beside our Minakulu unit can enable us to send children home from Acheru much earlier than might otherwise be possible and has also enabled us to reduce our staff numbers in the north as we try to avoid duplication of services.
The Acheru work in the north has led to us working with two refugee support organisations, BONDEKO and CoHERE. Through partnership with Acheru, they sponsor assistive devices and home learning materials (including CP chairs, standing frames, wheelchairs) for children with particular needs. In a recent two day community programme, 58 children were helped and this meant a lot to carers who can't afford to properly support disabled children. Acheru is helping them implement a disability programme to promote education for refugee children. Some were given educational materials, others were helped with mobility devices which can now enable them to get to school.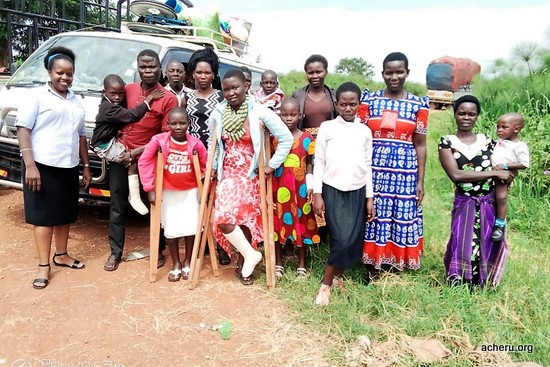 Children treated at Acheru ready to return to the north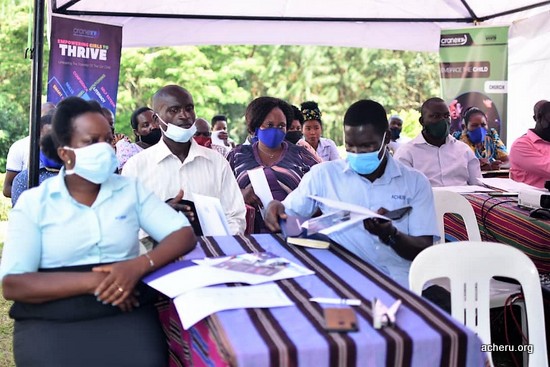 AGM of CRANE (Children at Risk Action Network) held at Acheru
Many people simply don't know how to care for a disabled child, they may live in an environment where disability is stigmatised and feel excluded from their own community. Through these outreaches they learn from and support each other, share advice and skills, and realise they are not alone. The CBR team looks tirelessly for possibilities to work with organisations providing different services, the outcome being an enhanced quality of life for many. The reach and witness of Acheru can thus extend far beyond what we could achieve working alone.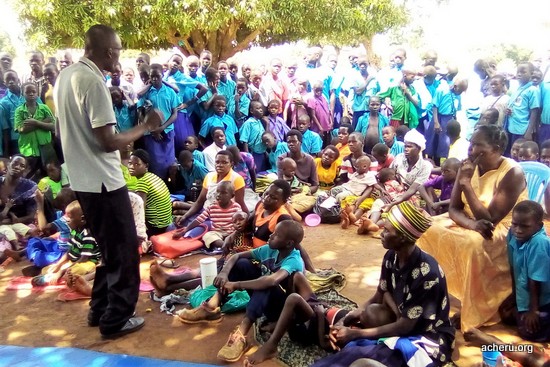 Community outreach at rural school
Acheru was quick to establish a partnership with the recently opened Children's Surgical Hospital at Entebbe; they leave orthopaedic surgery to CoRSU, which isn't far away, but have three operating theatres dealing with other types of surgery and can accept referrals from Acheru.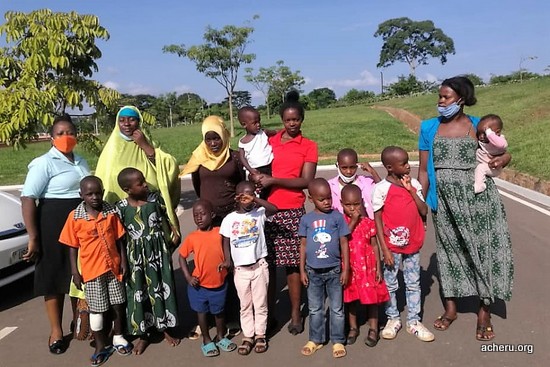 Joyce with the first group of Acheru children referred to the new Children's Surgical Hospital
Some of our relationships are 'formalised' with a memorandum of understanding, others are more informal, perhaps through knowing staff members there or having other connections. One example is Kiwoko Hospital; since the hospital was started we have from time to time assisted with equipment. Sam Mutumba, our Acheru chairman, lives nearby and visits, sometimes encountering a patient needing long term treatment or rehabilitation which can better be provided at Acheru than in a busy general hospital. We have long standing links with the school for blind children at Salama, and Noah's Ark, not far from Acheru, a large organisation taking abandoned babies into long term care. Another Acheru partner is Pro Uganda which makes plastic walking aids and artificial limbs.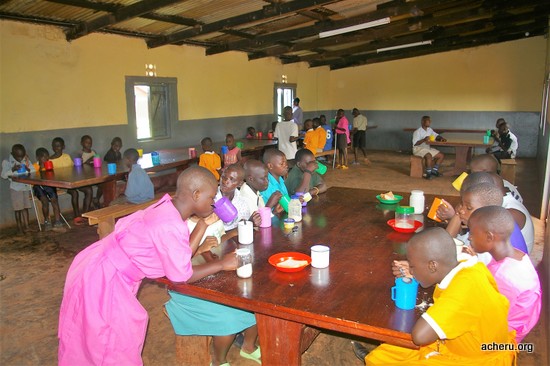 The dining room at Salama school for blind children
There are connections to many other organisations but our most recent partnership is with Rapha hospital. Rapha, in south western Uganda, was built by Fields of Life and is now locally run. It started as a health centre but as facilities and staff developed it is now more of a hospital, expanding the services they provide and now working on a new operating theatre. We have been able to help them with some equipment, and would like to provide further assistance.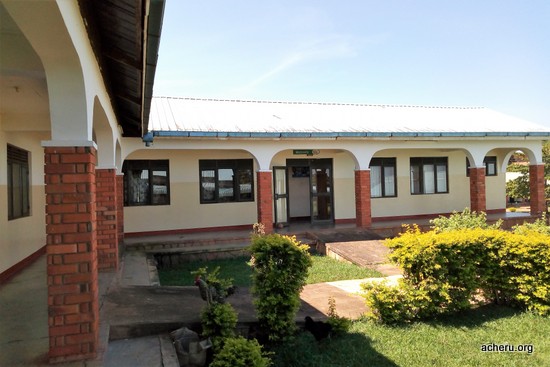 Rapha Hospital
It is an ideal partnership for Acheru, helping us to reach out into a new area. The staff there know the area and can help arrange community visits and rural clinics with an Acheru team. The initial impression, as we've often found, is that there aren't many disabled children in the area, but that's because they are often hidden away and aren't brought to the hospital. Rapha staff want to reach more of them and working with Acheru is a way of achieving this. Jointly run community visits can increase awareness and understanding of preventable conditions and locate children who can be treated on the spot as outpatients, referred to Rapha for treatment, or taken to Acheru if specialist help is needed.
To help establish this partnership, Joyce and Harriet recently visited Rapha and Dr Felix, the medical superintendent there, was able to visit Acheru. There is also liaison with local government to try to make the availability of services as widely known as possible. Dr Felix reports that a mutual partnership will improve access to specialised care for children with disabilities in Gomba, Butambala districts and beyond. He writes 'In order for this to be effective the local government leadership will be made aware of the partnership, its objectives, and the expected benefits. A joint meeting will include the staff at Rapha Medical Centre, district officials and the local leaders to fully inform them about the services Acheru provides.'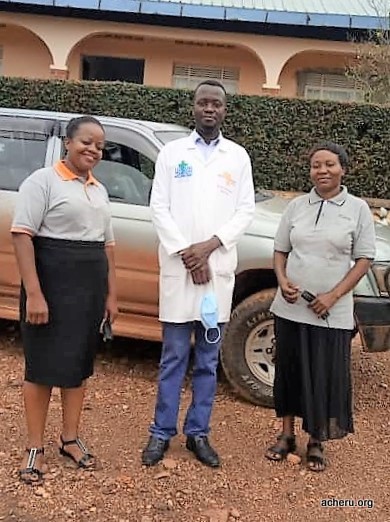 Joyce and Harriet at Rapha with the clinical officer Joseph Mawanda
We are fortunate in having partnerships with two of Uganda's leading universities: Kyambogo University where our social worker Rose graduated, students come to Acheru on secondment from Makerere University, and overseas students are placed at Acheru as part of the Uganda Studies programme of Uganda Christian University. The students help in various ways and I know they value the time they spend with us and the experience gained.
Uganda Christian University says: "The Uganda Studies Program has been working with Acheru since 2011. The USP depends on partnerships like this with local organisations to teach students from North America about life in Uganda. At Acheru, both social work and global health emphasis students get to practice hands-on skills while learning from Ugandan professionals. Students are able to gain a new perspective about their chosen field, learn about children with disabilities in Uganda, and increase their confidence as they work cross culturally with Acheru staff."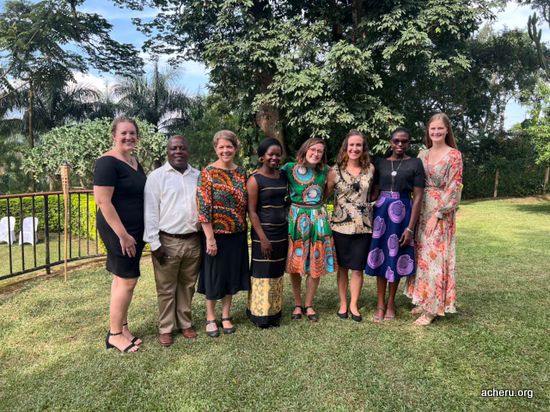 Staff from the Uganda Christian University Uganda Studies Programme
Links to churches are important to us as a Christian organisation. Acheru has avoided becoming formally linked to any denomination as it's important that people feel they can come to us irrespective of their background. However, particularly in rural areas we try to ensure that churches and schools are aware of our work and can make referrals or help us track down children who may be hidden away because of their disability. Working closely with other agencies helps us to understand what services might be available to us and lets us share with them what help we might offer. Ideas and skills can be shared, unnecessary duplication of services avoided, and the beneficiaries will be the children.
To show the life changing potential of Acheru treatment we have recently produced a booklet. If you would like one please contact us and we will be happy to post you a copy.