Circular - December 2022: All the latest news from Acheru.
Disability Life Years:
For years most of our spending has been on Acheru, but it's not a business where we can quantify 'success' by profit and loss figures so is there any way in which we can try to gauge the true value of what we are doing?
Disability Adjusted Life Years, defined by the World Health Organisation:
One DALY represents the loss of the equivalent of one year of full health. DALYs for a disease or health condition are the sum of the years of life lost due to premature mortality (YLLs) and the years lived with a disability (YLDs).
Method of estimation:
DALYs for a specific cause are calculated as the sum of the years of life lost due to premature mortality (YLLs) from that cause and their years of healthy life lost due to disability (YLDs). Years of life lost (YLL) is the number of years a disease will reduce average life expectancy by. Years lost due to a disability (YLD) are the number of years with a lower quality of life due to the disease.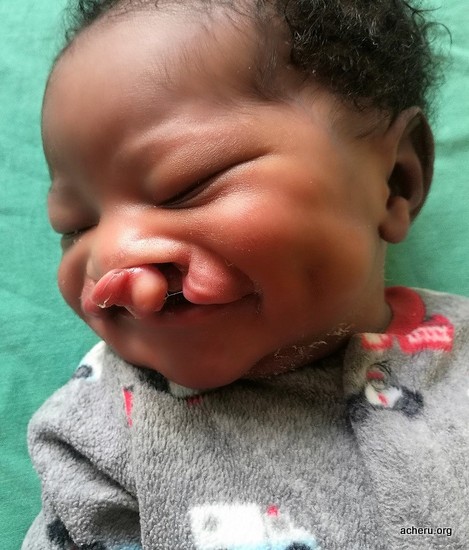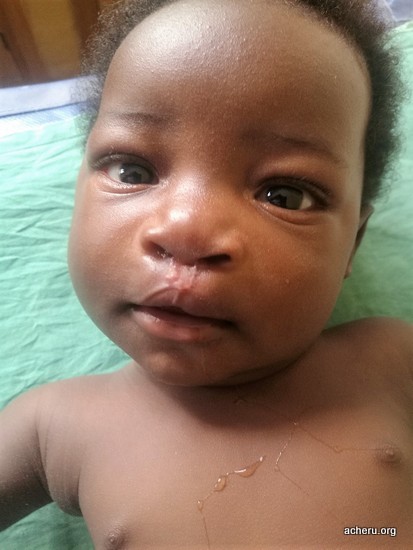 Rashid
Consider some of the individuals we have treated. There are serious cases, children who would have died were it not for our intervention. A child thus treated can go on to lead a full life, so what have we given them? Possibly 50 years or more! Spreading the cost of their treatment over this period of time makes me rethink my initial reaction to what seemed at the time to be relatively expensive surgery.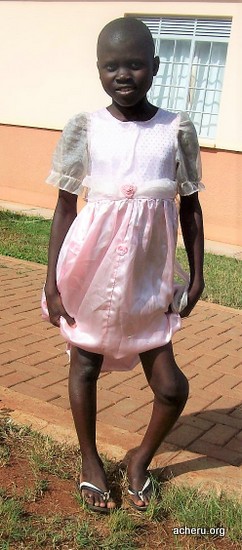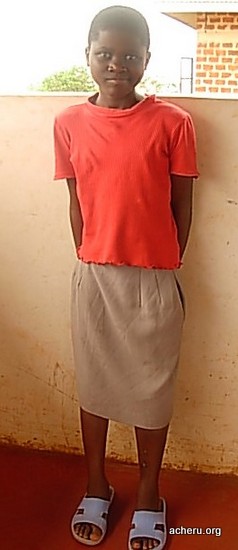 Sarah
Thousands of children treated, multiplied by a life expectancy of 50 years or more from the time of treatment let us start to see the true scale and impact of what we are doing. There are other factors too. This continues to be a work of Christian witness and outreach and I am not going to attempt to quantify the value of this. And while at Acheru, children receive education which we hope will also be of long term value.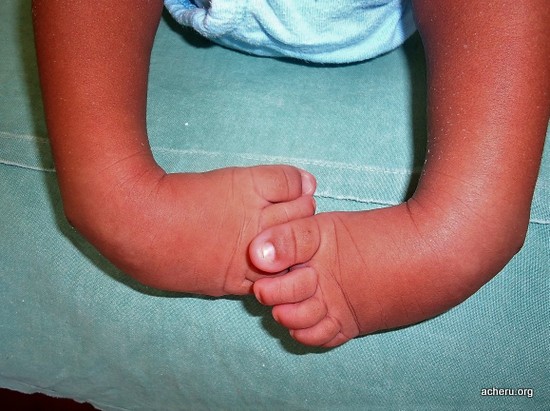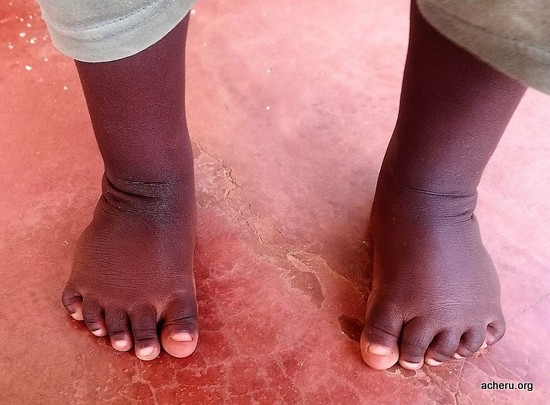 Kanya Hashim
When I receive the monthly bills for surgery or other treatment I worry that some procedures seem costly. I think I will see it very differently now and I hope all who support us can begin to see the true extent of our influence. There are many, many thousands of adults around in Uganda, doing jobs, raising families, benefitting every day from the time they were brought to Acheru.
Economics:
We have to be realistic about the cost pressures we are under and we would like to plan ahead, prepare for the future. But donors give us money to treat children; if there's a child needing help now and we are able to provide the treatment they need, then we should spend what's necessary. Treat the child now, or defer it to balance the budget and then have to pay much more because their condition has worsened as they are forced to live with a disability and its consequent impact.
Charities are under increasing pressure. My view is that while we must do everything possible to control costs, we must push ahead with trying to reach as many children as possible.
The past - and the future: Our disability work started with Cherub, which had its origins in my work with Mengo Hospital. So much has happened since then. Needs have changed, medical services have developed, some of which we have been able to assist with. New hospitals have been established. But the population has also grown, and we continue to see many of the same conditions (most common for us being osteomyelitis and cerebral palsy). And so work goes on, while being kept constantly under review. And it all must be paid for; whatever our earlier hopes might have been, there is no realistic possibility of self sufficiency.
Salama:
I wrote in the November update of the tragedy and since then have been in regular contact with the school to consider the implications. Almost all our resources are designated for the running of Acheru, but I still want to do what I can to help.
The headmaster Francis met with me at Besaniya in 1999 to ask for help. He had been a pupil at the school, and had a deep personal commitment to it. At that time, with my responsibilities for Besaniya, ECM, and medical work, I couldn't support another project but I was impressed by Francis. I went to the school, saw what was needed, and discussed it with Evangelical Ministries, with whom we jointly organised work teams. Some of these teams went to Salama and worked on the buildings. The help given was modest, but it helped turn things around. Boys from Besaniya went regularly to help the blind children plant crops. A programme of Christian education was introduced. The improvements were enough to encourage the government, and they built new classrooms. Salama became a government school - what that means in reality is that government pays teachers salaries, and the school receives a grant of approx £ 2.00 per pupil per term, a long way short of what's needed to run the school.
I won't go over the details here, there are still a number of unknowns, but 11 girls died in the fire and another has subsequently died. Several people contacted me with offers of help and I have been able to transfer money to help with immediate problems. Thoughts now turn to the future, not only the replacement of the dormitory but what other changes and improvements may be needed.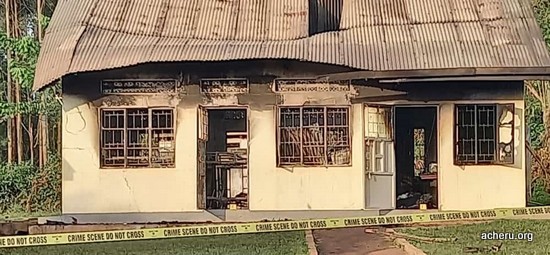 Burnt out dormitory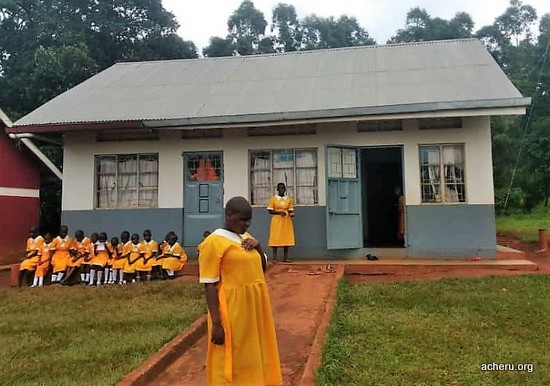 Dormitory before fire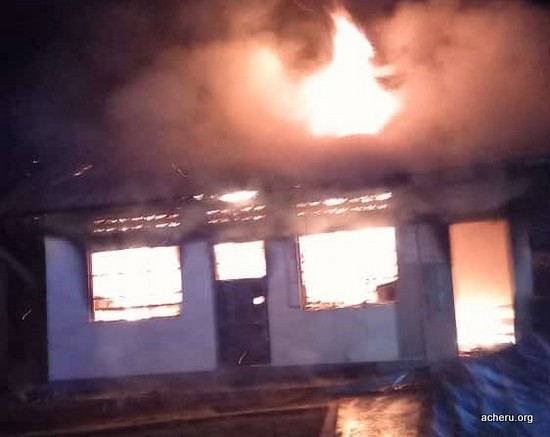 Junior girls' dormitory
The north:
I have previously reported the aim of moving from Minakulu to a new base in the north. Joyce has been meeting with the District Health Officer and other local officials. The first location considered has proved unsuitable because of poor road access, so work continues; we want to serve the community there as effectively as possible.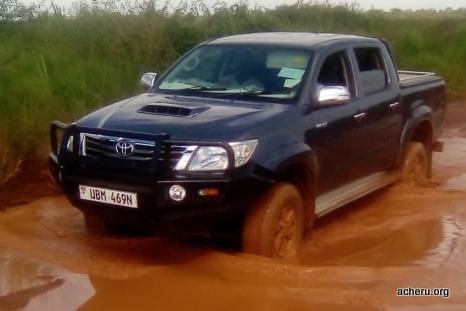 Harriet on road in north
News from Joyce on another Acheru partnership:
REPORT ON THE KAMULI-KAYUNGA OUTREACH HELD ON 16/11/2022
The health camp was organized by International Needs Uganda at Kamuli UMEA primary school. ACHERU was responsible for both orthopaedics and physiotherapy and the team involved the orthopaedic officer/clinician, physiotherapist and the health administrator. These assessed, diagnosed, treated and referred a total of 53 patients.
CONCLUSION
Cerebral Palsy is the most common condition causing disability in Kayunga district.
Epilepsy is at a rampant increase among children.
Most of the children were brought to the health camp by their grandmothers.
There are no accessible rehabilitation services for both children and adults in Kayunga.
People are not aware of the causes of disability.
Poverty noted among the people of kayunga district.
RECOMMENDATIONS
There is urgent need to sensitize population in Kayunga district about the causes of disabilities and their management.
There is need to set up an accessible Rehabilitation Centre to offer services to the community.
There is need for partnership between ACHERU and KISAKYE Rehabilitation Centre which is the only Centre we learnt of in Kayunga.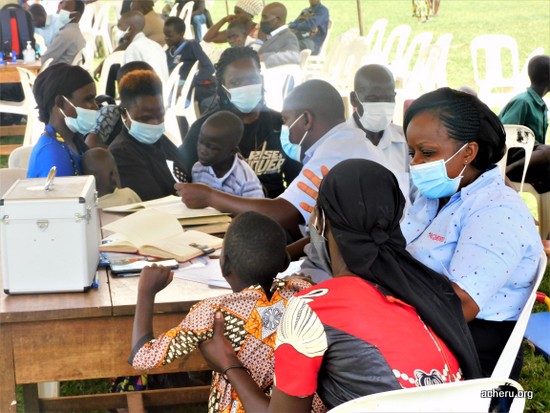 Kamuli - Kayunga outreach
Ebola Fever:
A number of you have asked me about the spread of Ebola in Uganda. There have been several hundred confirmed cases, possibly around 100 known deaths of which 19 were health workers. Most worrying is that there have been outbreaks in Kampala, where it is going the be very difficult to track infected people.
There are currently seven Ugandan districts affected by this outbreak Jinja, Kampala, Kasanda, Kyegegwa, Masaka, Mubende, and Wakiso. Joyce reports that Acheru's work has been affected to a certain extent. Because of lock downs, they can't presently get patients from Kasanda and Mubende.
Club Feet:
I've just watched a BBC news report from Senegal about treatment of club feet on older children. Far from being a 'breakthrough', this is the method we've always used successfully at Acheru. The Ponseti method (with serial manipulation and casting) has been in use for 55 years, and was intended for babies and very young children whose bones were still relatively soft. However, at Cherub and then at Acheru, the staff used the method on older children, including teenagers, with excellent outcomes. Life changing treatment on an outpatient basis at very low cost.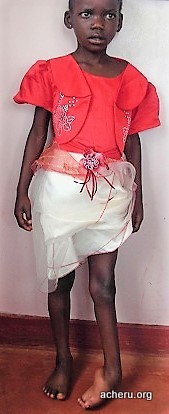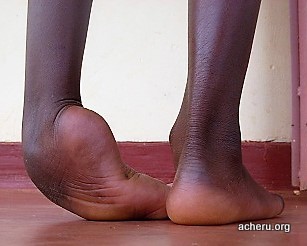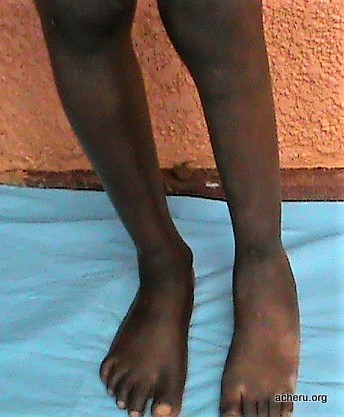 Patience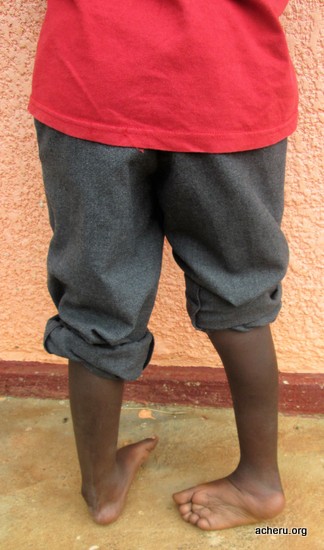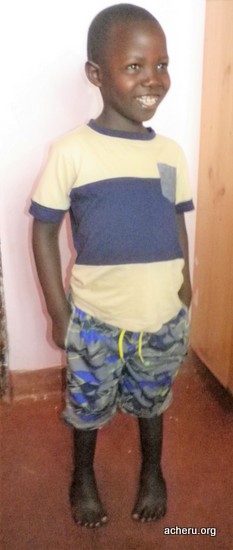 Mwesige Junior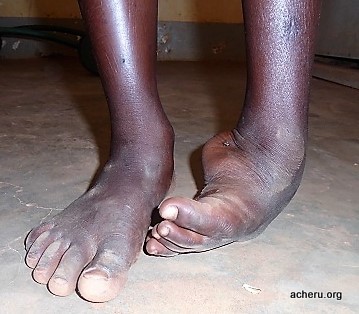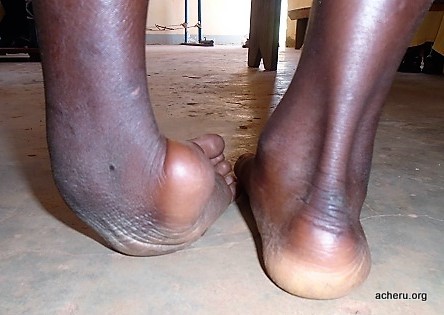 Fildera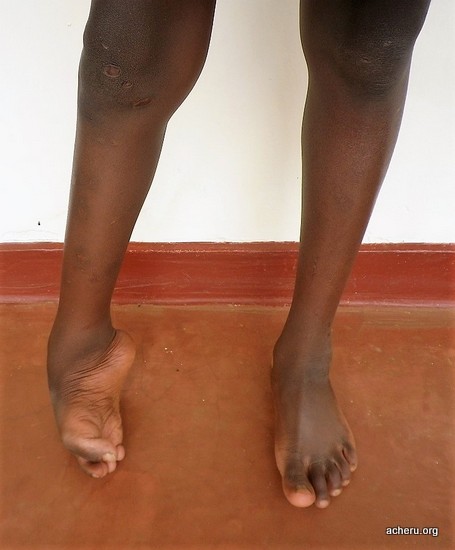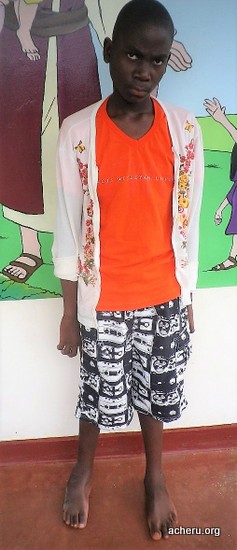 Peter
Cerebral Palsy Day and Christmas Party:
To save money and minimise travel, Acheru deferred their CP day event, combining it with an early Christmas party at Kabembe. The party for the north is due to be held at Minakulu in 9th December.The man with a red tie is Stephen Muhumuza, the Executive Director of COMBRA where Harriet went for her Community Based Rehabilitation training. He has CP, but studied social work at Makerere University. He was nine years old before he could walk, and at university it took him 7 hours to write his final papers instead of the usual three hours. He is married with two daughters. His education and subsequent career showed clearly to everyone attending the CP day event what is possible with determination, if only families and community recognise the potential of a child with CP. The parents loved his testimony and were very encouraged. Gifts were given to each family: A bar of soap, 1kg of sugar, 1kg of rice, 1kg of maize flower.
Stephen Muhumuza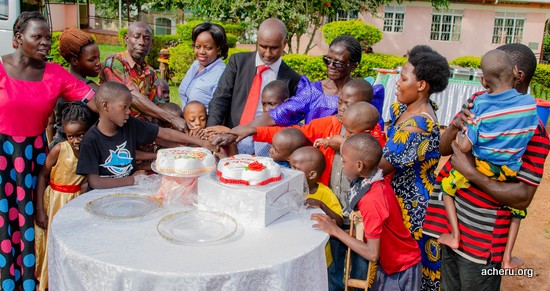 Christmas Party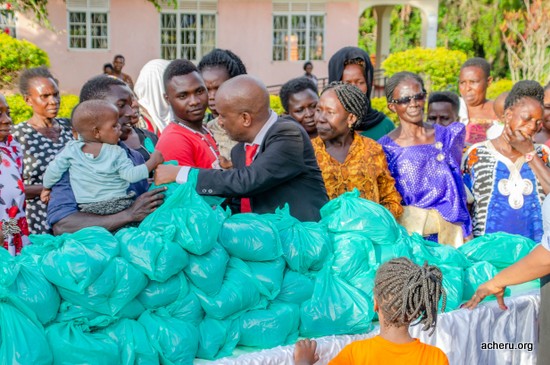 Gifts
Aidah:
Aidah has overcome a number of obstacles to complete her medical training. Because of delays in the university issuing the necessary documents she was unable to start her scheduled internship. Because she had finished her course, she had to leave her university accommodation and was having difficulty finding somewhere to saty. She is now at Acheru having been accepted for a voluntary internship at Mukono hospital, and she can of course help with Acheru children.
Aidah writes: "I was given a pre-internship at Mukono Church of Uganda hospital as I await the next placement in April. This is very helpful in allowing me to get practice time, and I am grateful for this opportunity. "I currently go to the hospital 3 days every week, I am working with the obstetric and gynaecology department. We have ward rounds in the morning with all the staff on duty and afterwards we have an outpatient clinic. Other days there are caesarean sections and we join the theatre team in the afternoons. I am hoping to change departments at the end of the month and either join the internal medicine or paediatrics department.
"This practice time is helping me develop more confidence in treating and making decisions. I was able to finally get my transcript from the university last week and will be graduating in February.
I am very grateful for all the support, since I have to travel from ACHERU and back. I am so grateful for everything including the accommodation at ACHERU.
Thank you so much, may God bless you.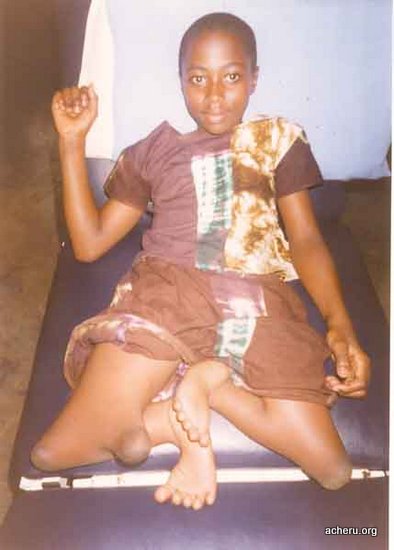 Aidah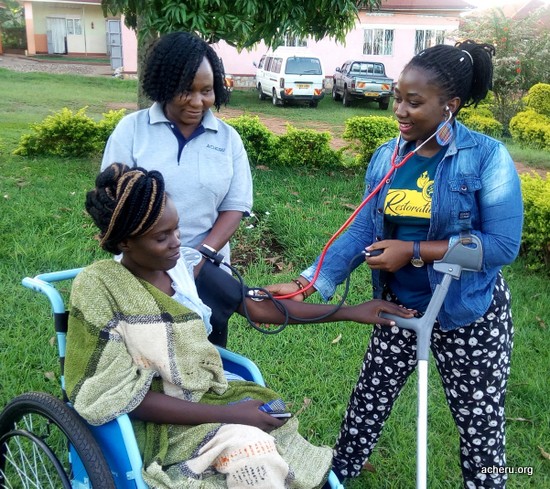 Aidah checking blood pressure of Acheru patient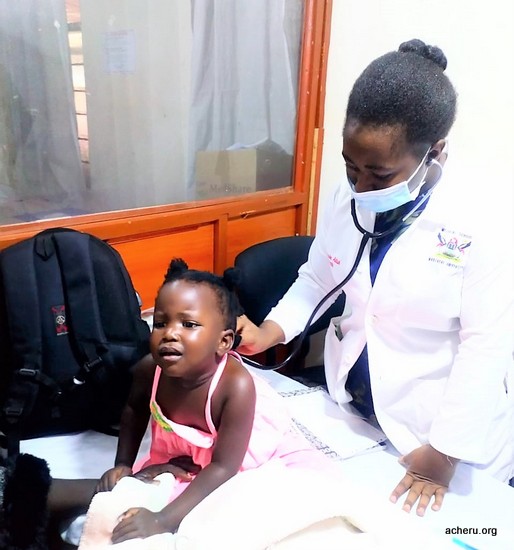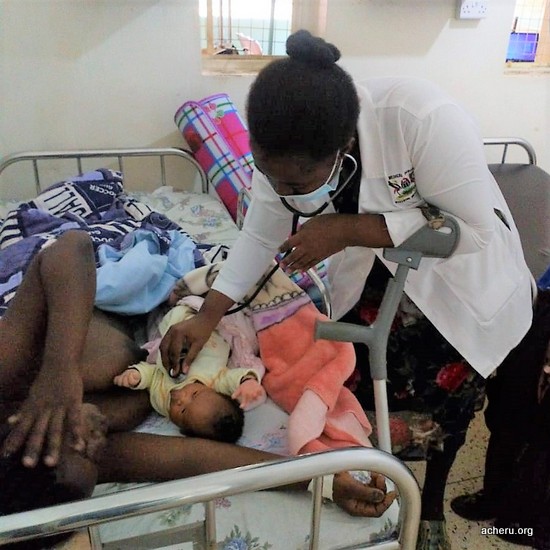 Aidah working in Mukono Hospital
Sam:
Joyce was able to visit former patient Sam Opio on a recent trip to the north, he is doing well and is now married with a son.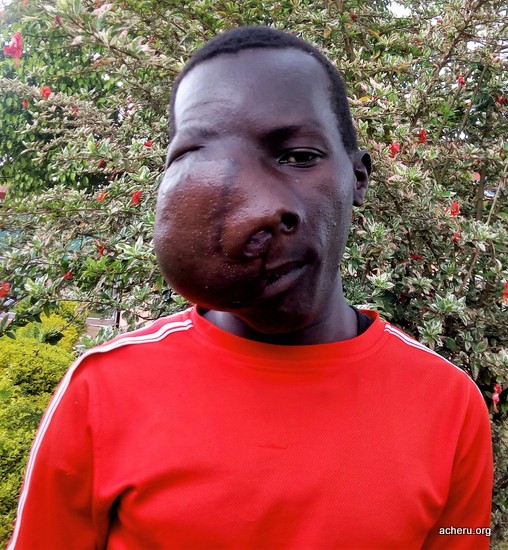 Sam Opio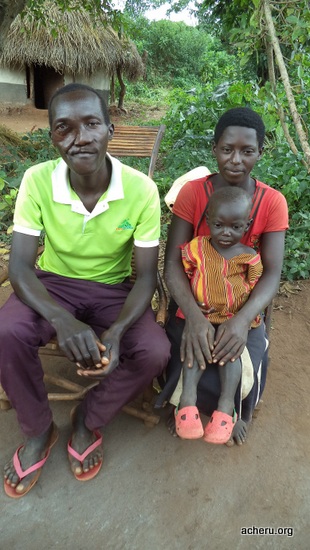 Sam Opio, now married with a son and doing well