Circular - March 2023: Latest news from Acheru, progress following the fire at Salama, and some thoughts on the impact of the work
Child Sacrifice
I'm returning to a topic I've written about a number of times in the past - attitudes to disability, how children are treated and their development stifled. This happens even in families who may treat the child well but simply not realise that they have potential. But there are also those who deliberately mistreat a disabled child, believing them to be cursed. My thoughts turned to this again recently when I read a report about child sacrifice in Uganda - a horrifying story.
Since we started our work with Cherub and then Acheru we have encountered a number of cases where parents attempted to kill a child because of their disability or tried to sell them to a witch doctor. When a child is perceived as having no value, it seems more likely that they are at risk of this. Their body parts may be of use for witchcraft and several times our staff intercepted attempts at selling a child or trying to bury them alive, sometimes in time to save the child but in some cases it was too late.
Ugandan authorities reported 132 incidents of child sacrifice in 2019-2021 - that's reported cases, and leaves me wondering about the true scale of the problem. Some people believe that the blood of a living being can appease the spirits, with human blood or body parts ranking higher than those of an animal. The victims are typically aged between one and eleven and the tongue and genitals, as favoured body parts, may be removed while the child is alive leaving them to bleed to death. Sacrifices have been known to take place on construction sites as a blessing to the new building, and children's body parts have been found buried under buildings and malls in Kampala. Although most Ugandans oppose this, there are still many who believe in witchcraft; a 2017 study by World Vision with Columbia University found that a third of Ugandans believed others in their community would use children's body parts if directed by a witch doctor. In some areas parents have been known to give their children earrings as the piercings make the children less 'pure', reducing their value and the risk of abduction.
Examples of children found by a nearby charity in Uganda include an 18 month old girl rescued from a building site where a security guard found her moments before she was about to be killed. Her family could not be located and may have been complicit. An 11 year old boy had been abducted, and watched a witch doctor castrate his twin brother. One girl, abducted when she was one year old, was nine when she was rescued. The witch doctor kept her alive but whenever required he would take a body part. She is in a wheelchair, unable to speak or hear. How can children cope with such suffering?
I continue to be impressed by the outcomes when Acheru is able to provide treatment or arrange surgery for a disabled child but I am under no illusions about the scale of the work still needed in the community to address attitudes to disability, educate families and show them that their child has a value, and ensure children receive the most appropriate care. But we can't judge, we work against a background of deeply ingrained and long standing cultural issues and traditions which foster fear - should people listen to newcomers with seemingly radical ideas, or to generations of tradition which they've grown up with in their own communities? The most effective way for us to communicate what we believe is not through words but by showing them what can be done for their children, convincing them they are a blessing not a curse. It's against this background that we must ensure our work continues to be more than humanitarian, however necessary, and gets to the root causes of these issues.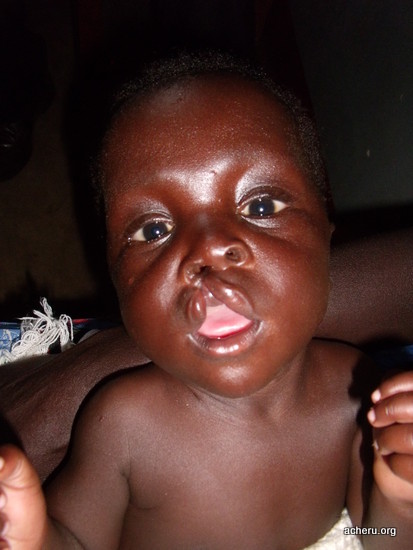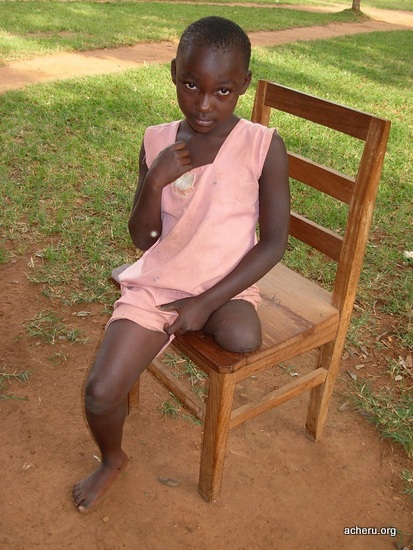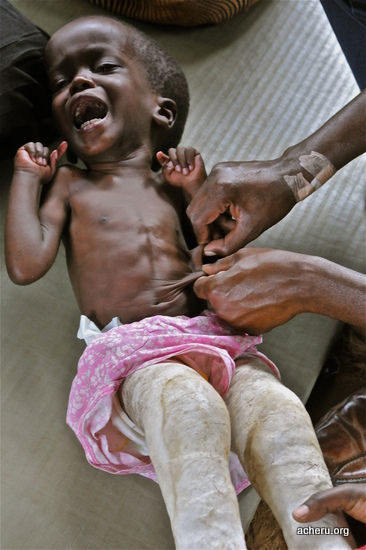 Salama update
The new term has begun and it must have been a very difficult time for returning children and staff. Thanks to the generosity of those of you who helped, several classrooms were pressed into use as temporary dormitories and preparations are under way for a new building, with a donor agency pledging support if we deal with the preliminary work and site preparation. But a building alone will not be enough to address the problems faced by the school. They already struggled for funds, trying to operate on a small government grant based on the number of children. Now, with 12 children lost in the fire and some other parents deciding not to send their children back, they face serious difficulty. They are planning to get out into the community and actively recruit new applicants for enrolment there which won't be easy after the tragedy, but it's a good school and I hope more blind children can benefit from an education there.
The latest news is that a donor agency has now committed to building the new dormitory. The official police report into the fire has not yet been issued, but we know that the fire, as suspected, is believed to have been due to 'external causes', ie deliberate, and no blame attaches to the school. This is a burden lifted, as if the school was found to be negligent there might have been issues around liability. I have now transferred out the balance of the money we had been given so that work can proceed.
A number of pupils were due to sit their primary leaving exams in the days following the fire. The tests went ahead, which was a struggle. Results are now out and are much better than could have been hoped for in the circumstances. In Uganda, there are four grades. One pupil got a grade 1, the highest, and all the others got grade 2, which reflects well on the efforts of the school.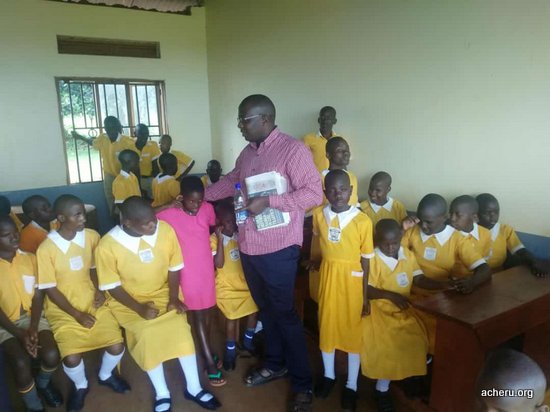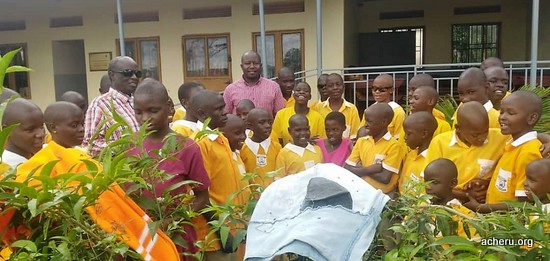 Some of the Salama pupils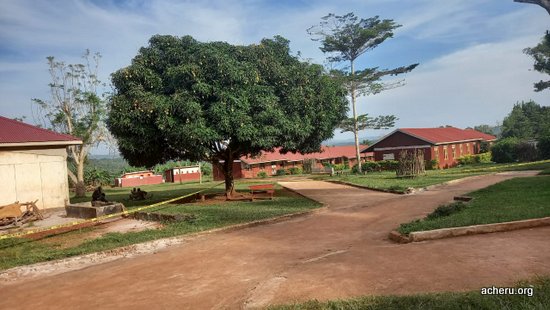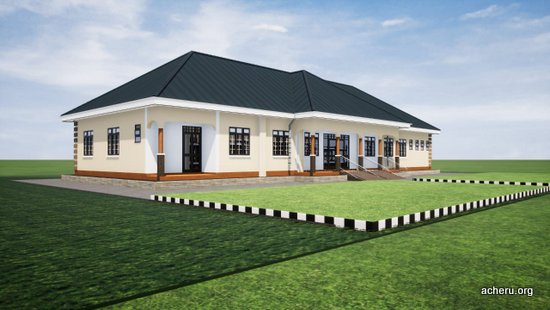 The classrooms at Salama, and an illustration of the proposed new dormitory
Northern Uganda
For many years now Cherub and then Acheru have had a base at Minakulu in northern Uganda. The building was provided by the Ministry of Health and was located beside a government health centre. This base, where children could be assessed, treated, or referred, enabled us to run clinics over a wide area. As news of the work spread, more children were brought to Acheru and of course the government staff in the area became more familiar with what we can do.
Now there is an opportunity to develop a base for Acheru at Napak in Karamoja. Joyce has met with local officials and it is clear there is a need for the work, nothing like this having been done in the area before. Discussions continue as we consider the full implications of this.
Napak, 210 miles by road NE of Kampala in Karamoja sub region, northern Uganda is district headquarters for an area of 5000 square kilometres. It is relatively sparsely populated, but numbers are increasing rapidly, probably well over 300,000. Primary school enrolment is 68%, with 4% attending secondary school. Napak town is the commercial, administrative, and municipal headquarters of Napak District. There is a history of ethnic clashes, food shortages, and cattle rustling. The main language spoken is Swahili.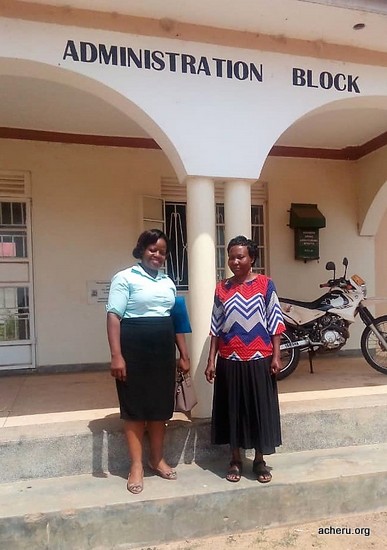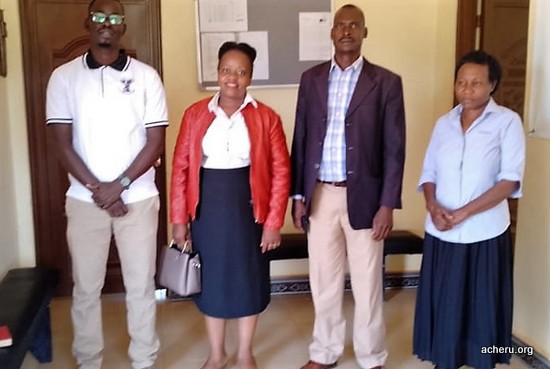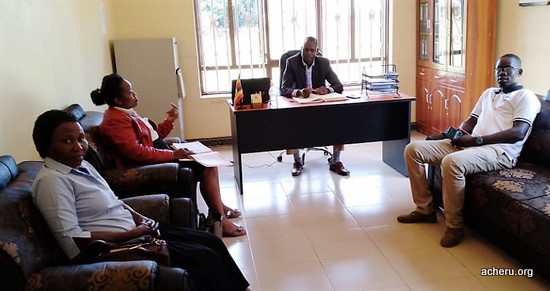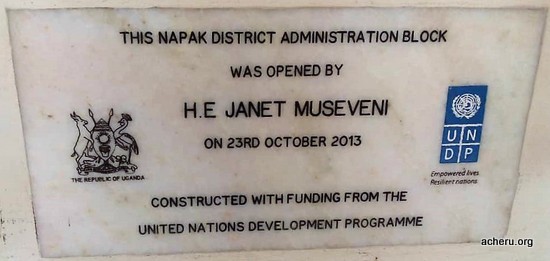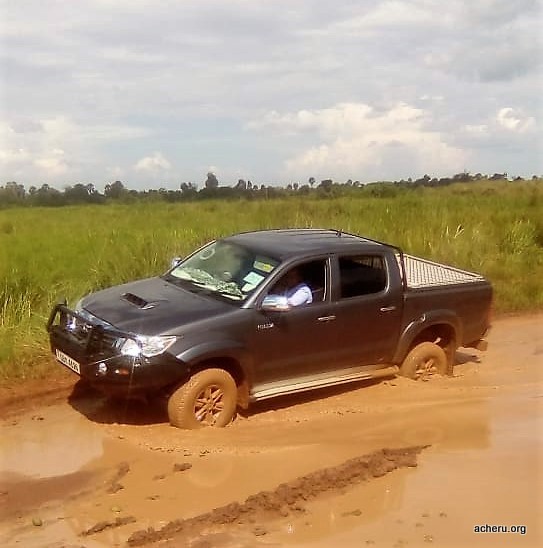 Discussions about the work in northern Uganda, and what it's like travelling there after rain.
Store
My work now is mainly office based - promoting the work of Acheru for which I still have full responsibility. But I still have the keys to the York Road store, it's too much of a wrench after all these years to give it up! My friends/colleagues Ray and Bobby (MedAid4Kids) have wide interests and have been using it for consignments to Malawi, Uganda, Ukraine, and other countries. I try to help out when I can as I get withdrawal symptoms if my hands are too clean, so I've recently been helping to test and prepare equipment including ultrasound machines and endoscopy systems. I've spent enough time in African hospitals to know very well the difference such equipment can make and the number of lives which can be touched. I've always wanted to ensure that Christian medical personnel are properly equipped; the first step in their witness is to ensure that patients have the confidence to come to them for treatment.
I always have a good look through anything coming into the store to search out things which might be needed for Acheru. I want them to have what they need to work effectively, and we are fortunate that almost all their requirements (including medical supplies) are available either locally or from specialist suppliers in Kampala. However, there are gaps, there always seem to be a few things they can't get or which might be too costly, so from time to time I send out a box by DHL. It seems costly, but the value of the contents puts this in perspective and it's very effective, reaching them in days and particularly valuable if there's an urgent need.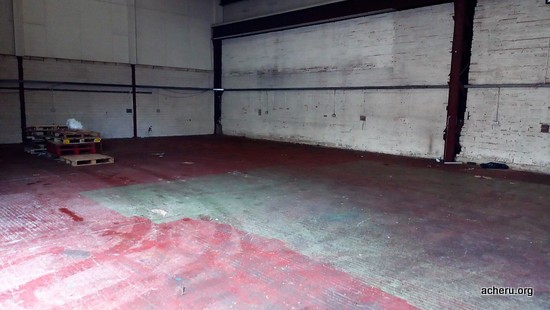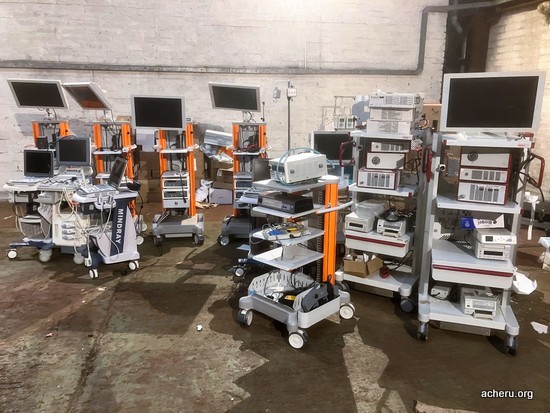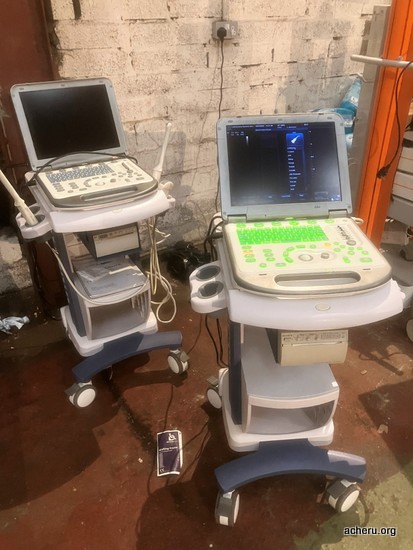 The first picture shows that we did in fact get the store cleared, but as you can see in the other pictures it didn't last!
We face a lot of problems in our work but there are great encouragements too. The pictures show two children who required lengthy and complex treatment, I have written about them a number of times. These pictures were taken in February, Mubarak on his first day at school after such a long time, and Aidah, now Doctor Aidah, at her graduation ceremony at Makerere University.