Circular - September 2023: Latest news, and report on work in the north.
Aidah:
I have written a number of times about Aidah (page 42 of the booklet). There have been encouragements and there have been setbacks, usually completely beyond our control but very discouraging. After the delays in her medical training, and the deferrals in issuing certificates, all seemed clear for her to start her internship and practice as a fully qualified doctor. Then the Ministry of Health said they had no money for internships! This was very hard on the graduates, all keen to start work, but at least Aidah was able to stay at Acheru and work voluntarily at our partner hospital in Mukono, gaining good experience. Now at last she has been able to start work in Mulago, the main government hospital. It's a very big hospital and will be difficult to get around, but she should gain a breadth of experience there, benefitting her future career.
This will be a very demanding time for Aidah. As an intern, she shares a room at Mulago with five others, must work very long hours, and won't be paid for her first four months there. We've been able to give her a wheelchair to help her get around the extensive hospital site, and while she has moved on from Acheru we will continue to keep in touch, and she will have help from friends here to keep her going till she gets paid.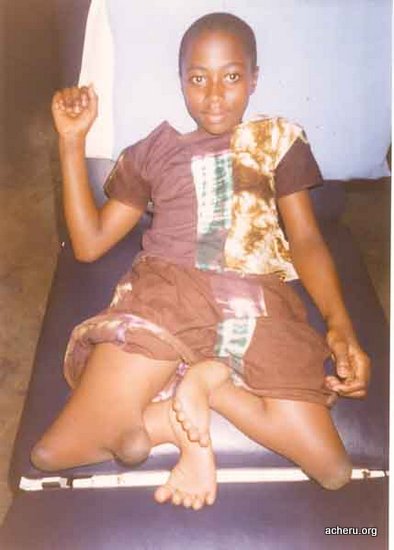 Aidah, as we found her in the village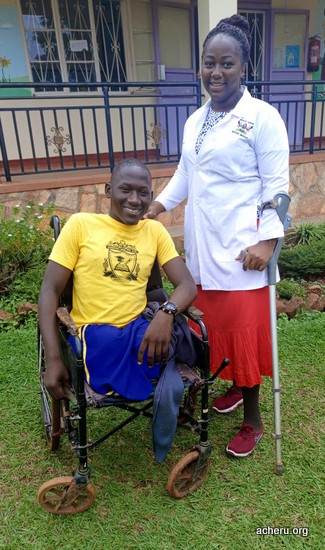 Aidah saying her goodbyes at Acheru
Salama:
Work there hasn't been without problems but there's been a lot of progress with the replacement dormitory and we hope it will soon be ready for occupation. We want to thank those of you who contributed after the fire. Our commitments are such that we couldn't use Africare money for this, but we were happy to pass on funds from people who wanted to help.
MTN, the main Ugandan telecoms company, sponsored the building of the dormitory but would only send in a contractor if we dealt with a number of issues by their deadline, so we paid the costs of site clearance and preparation, legal expenses, all the relevant planning approvals, and most of all, the fitting out of two classrooms to be used as temporary dormitories so that the school could continue to function. Bear in mind that much of the spending on the temporary accommodation is for beds, bedding, and other items which will eventually be used in the new building.
There are still a number of issues to deal with and if anyone wishes to help with Salama we are happy to continue to send money there, I have regular contact and can provide up to date information for anyone interested.
Salama is officially a government school but has always been run with a strong Christian ethos and we want this to continue. Following the fire, a number of organisations have taken an interest and this has, in the main, been positive with people wishing to help. We are however aware that other groups, with whom our aims might not align, would like to have influence so this is being watched carefully. We don't want to overreact, and the expectation is that things will soon settle down.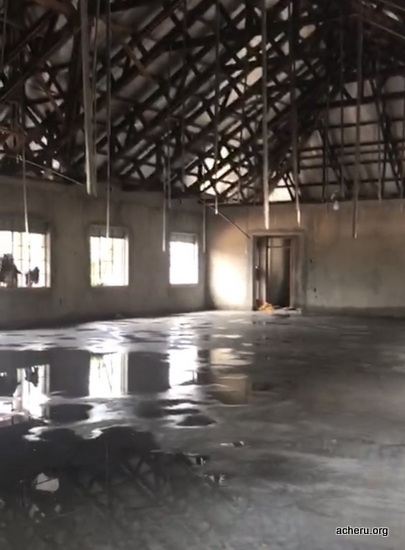 Progress with new Salama dormitory
The North
From the earliest days of our Cherub work we wanted to do something to help in northern Uganda. We'd heard of the devastation and suffering caused by the activities of the LRA with their bizarre mixture of Christian and pagan philosophy and we knew there'd be a lot of disabled children denied any access to treatment. A number of clinic runs were undertaken by the Cherub staff, relying on other agencies, churches, schools, working in the north to make the arrangements and gather children for assessment. We anticipated referring children to local hospitals in the north for surgery but it was soon clear that, despite the willingness of some medical workers, standards were very poor and we had no confidence in the treatment available. This meant bringing children back to Cherub (and later Acheru) for surgery.
With the establishment of our satellite unit at Minakulu we were able to place workers to provide outpatient services and referrals. This was done working with others but some didn't apply the same standards or wanted to take all the credit for themselves-and the children were the losers. Having our own staff based there let us focus solely on the needs of the children.
I remember very clearly my own visit to Minakulu, accompanied by visitors I'd brought to Uganda to see the work for themselves. We stayed for several nights, spent time at Minakulu clinics, and also visited Pabo where Acheru has maintained a connection. Pabo is 39 km north of Gulu on the Great North Road to Sudan (though I didn't see anything great about it-dust or mud, and very dangerous). Pabo was the location of one of the biggest camps for people displaced by the activities of the LRA-up to 67,000 in 2005. It's hard to imagine now the terrors experienced throughout the area; when we were there all appeared peaceful and relatively normal. Then we got talking to people and the true story began to emerge. Most people had by then left the camps to move back to their villages. Not because the threat was gone, but so that 'progress' could be claimed. The villages they went back to were virtual wastelands, crops destroyed, houses burnt.
One memory stands out. We were used to the women being the primary carers for children, but we were greatly encouraged to see the efforts one man was prepared to go to, and the difficulties he overcame to get his child to Acheru for treatment after she was assessed at Pabo. We saw for ourselves how worthwhile the whole trip was.
And so the work in the north continued. Not with big numbers but certainly life changing for those we were able to help. Now it's time for further change. There's a lot still to deal with but we hope that later this year a new 'front' will be opened up for our work the north, in a region where the services we can offer have never been available before.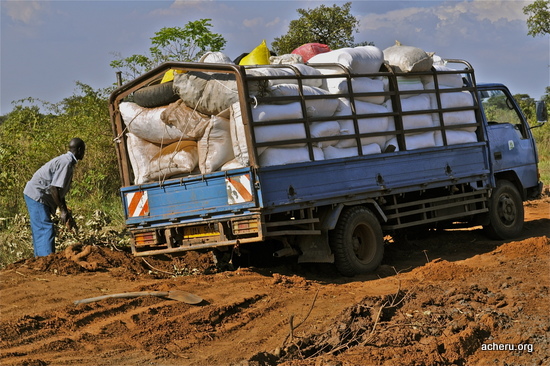 Great North Road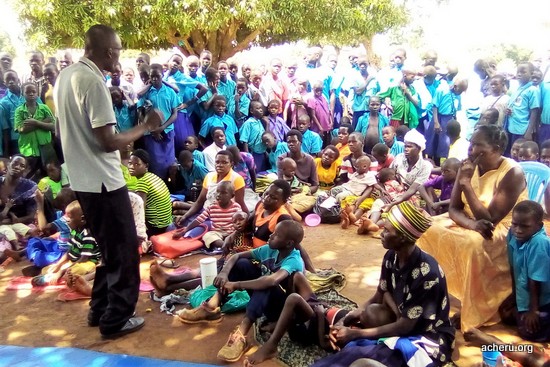 Northern Uganda outreach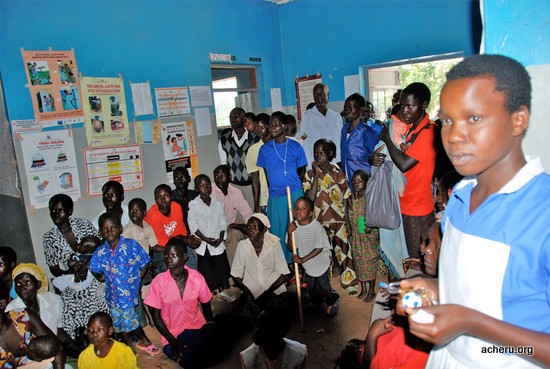 Minakulu clinic 2010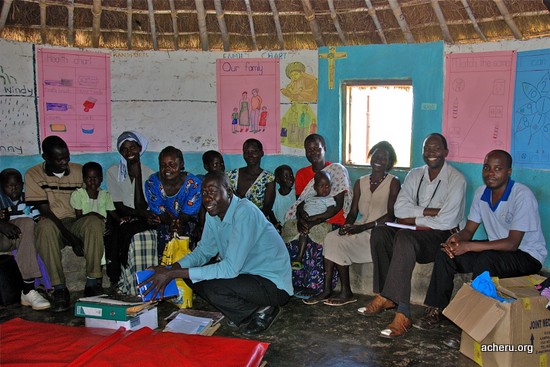 Pabo clinic 2010, Paul and Apollo on right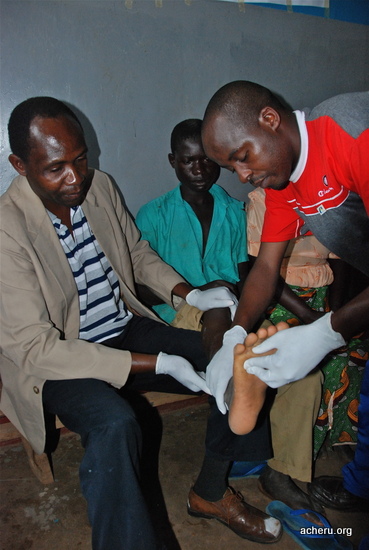 Paul and Apollo
The link with Pabo continues and I've received the following report and pictures from an outreach there on 16th August. In the north, Acheru works with Gulu Disabled Peoples Union, Gulu District Local Government, Amuru District Local Government, and Oyam District Local Government.
Following repair of the road (to Sudan) some business structures have been put in place, though many in the area struggle to make a living. Four people travel from Acheru - Joyce, Harriet, Akena (nurse) and Fred (driver). For outreaches they are joined by the two Acheru staff still working at Minakulu.
Report from Pabo and Iamogi August 2023:
Pabo Town Council and Iamogi Subcounty are found in Amuru District.
These are the places where we had a one day health centre outreach clinic.
We saw a total of 31 children and one adult.
8 of these had orthopaedic conditions
4 children had cerebral palsy
4 had a mixture of CP and malnutrition
We arranged to come back with 5 children and 4 adults:
2 orthopaedic cases, 2 with post burns contractures, and one child with severe malnutrition.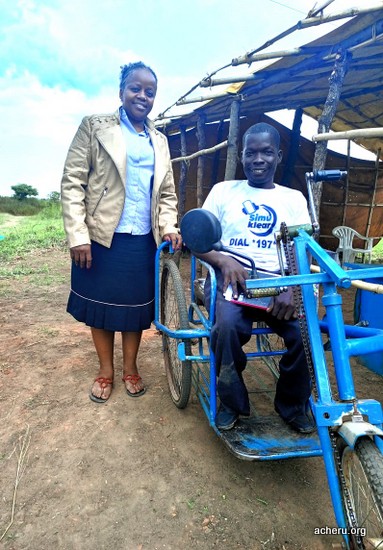 Joyce with Francis, local pastor who organized a clinic at Pabo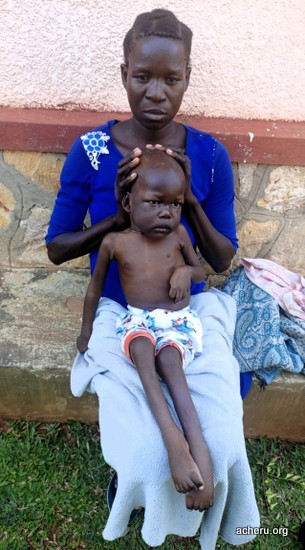 Pabo patient. Jonathan, 5 years old, blind, cerebral palsy, severely malnourished, now at Acheru. Mother, very disturbed, also receiving treatment. She has a cleft palate which Corsu are correcting free of charge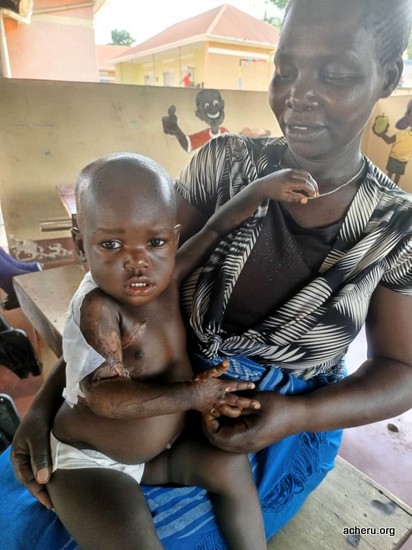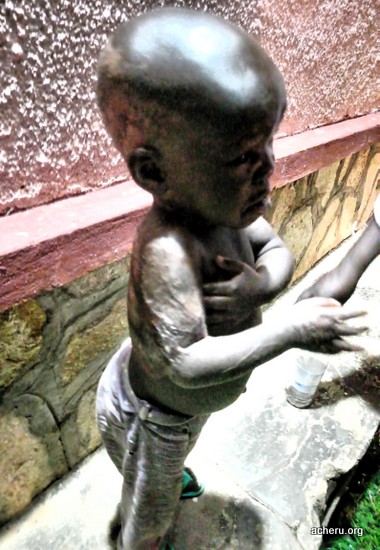 Girl brought from Pabo with burns contractures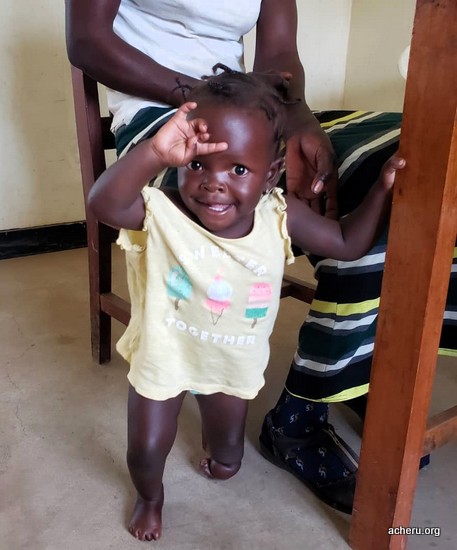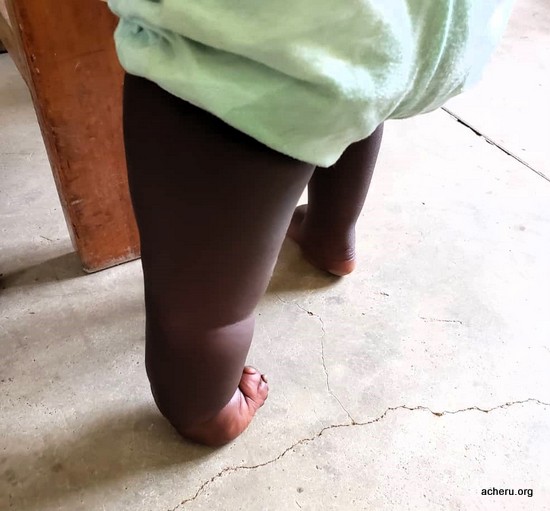 Another child brought back to Acheru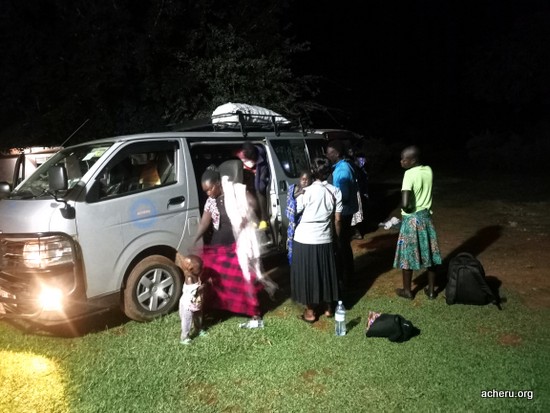 The van arriving back at Acheru from Pabo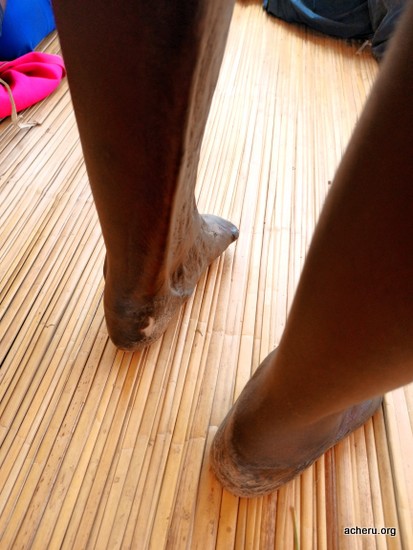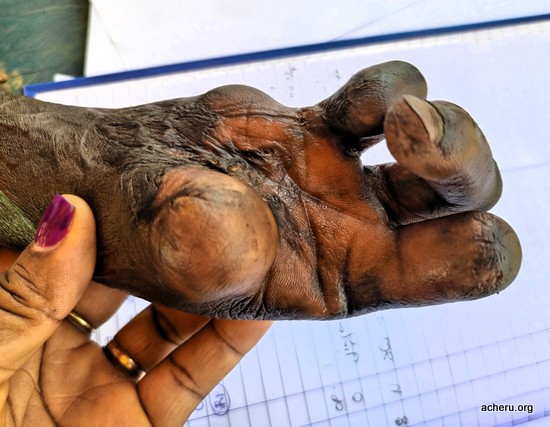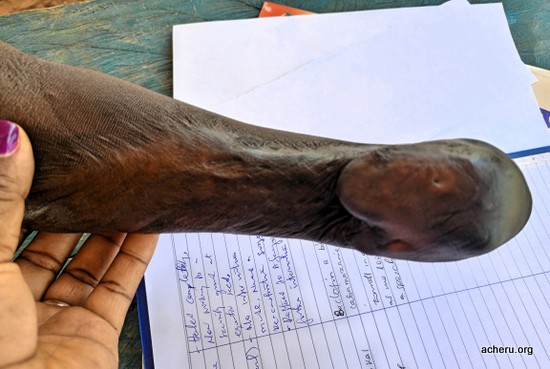 Burns patients, Pabo
Plaster:
A lot of the Acheru work involves plaster casts, particularly club feet with serial manipulation and casting. Much of this is carried out on outpatients, but Plaster of Paris doesn't last long when a child goes back to the village. The ideal is resin casting materials, much more durable but unobtainable in Uganda and very costly here. We are sometimes given boxes of resin casting materials, possibly short dated or left over from training programmes, and this is very valuable for Acheru. They can still use several layers of Plaster of Paris, with resin for the outer layer - waterproof and so much more durable and sometimes letting them send a child home who might otherwise have had to stay at Acheru.
I recently sent out another DHL box with educational and occupational therapy materials, and several boxes of resin casting - this was made for use with children in various colours. The beneficiaries at Acheru were delighted, very proud of their coloured casts which must obviously be superior to white casts!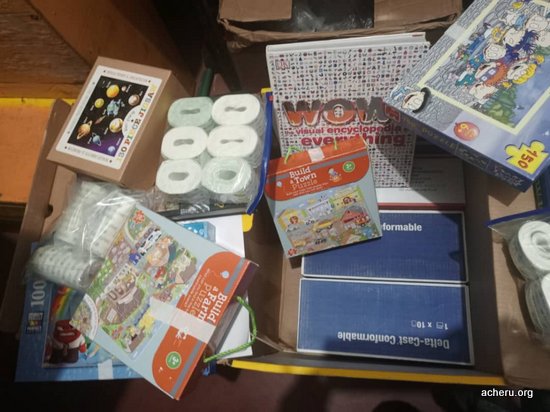 DHL box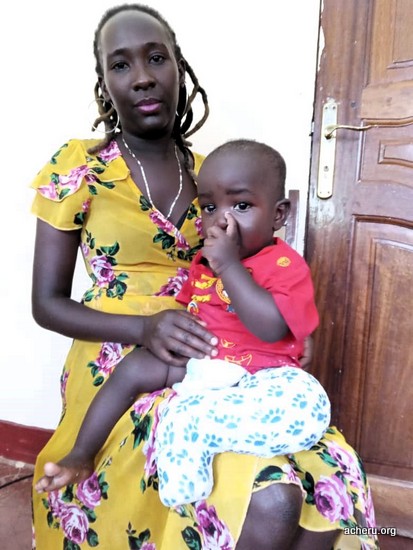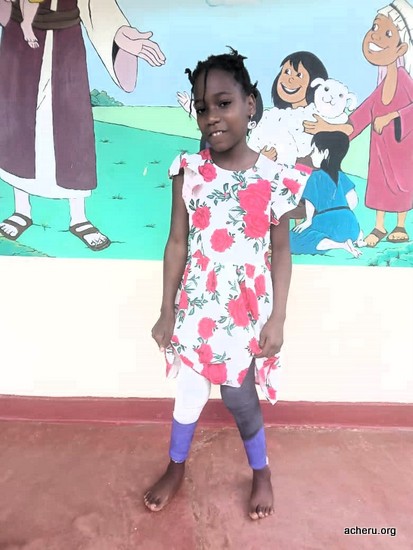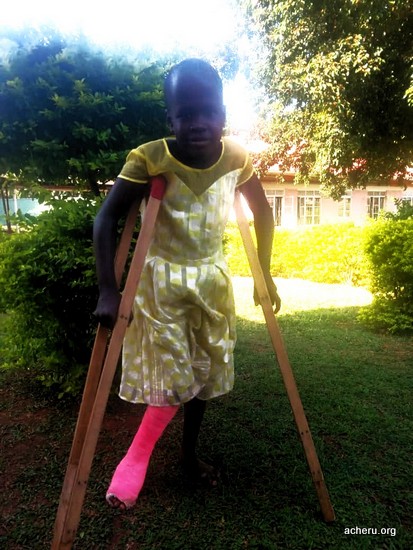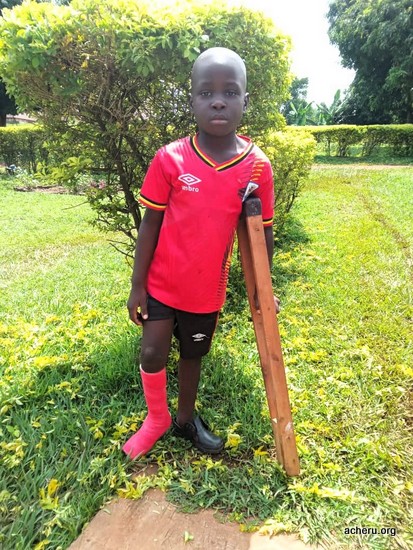 Children with resin casts