July 2011 - Case History - Auma Harriet
Harriet was born on1st. Jan. 2000. She studied a bit and stopped in p.3.
Historical background
Harriet was born with a congenital abnormality deformity of the lower limb and hip. From the history taken shows that even the father has the same deformity. Harriet stays with her grandmother. The mother separated saying if she continues with the same man she will continue giving birth to deformities.
Harriet has never been taken to any hospital. When she was about three months, the grandmother used to do massaging of the lower limb. This showed no improvement at all, so they concluded that the condition is inherited from the father and gave up.
Harriet was admitted to ACHERU 26TH. Jan. 2011. As ACHERU was on its outreach to Gulu she was taken to CoRSU for consultation and later admitted for operation on 28th.Feb.2011.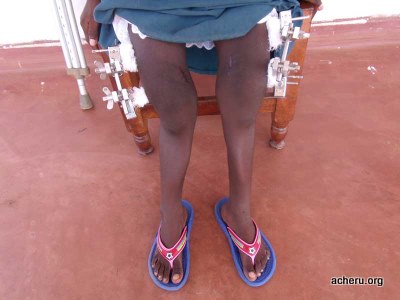 Auma Harriet with fixator, April 2011
Diagnosis
Severe genuvalgum secondary dysplsta r/o rickets.
Operation done
She was admitted to CoRSU on 22nd. Feb.2011 and done corrective osteotomy on both femur plus fixator. On 3rd. March 2011 she was discharged to ACHERU for rehabilitation.
Post surgery
She was given pain killers, antibiotics, daily dressing and physiotherapy. From ACHERU stitches were removed, she is on daily dressing & physiotherapy.
Auma Harriet (Update shortly after surgery and going to Acheru)
She is doing well!
She will be taken for a check x-ray next week.
She tries to stand and walk without crutches
Auma Harriet (June 2011)
This girl has been on an external fixator for 10 weeks.
On 19/5/2011 she was taken to CoRSU where an X ray was taken; it shown good callus formation so the fixator was removed.
She is now on physiotherapy along the illio tibial tract and knee compression; she will also need an insole.
We hope to discharge her to Gulu in two weeks.