August 2011 - Case History - Bogere Amuza
This boy is 16 years old. He was brought to ACHERU from an organization called Abaana Ministries.
When we took him to CoRSU for consultation they told us to do daily dressing.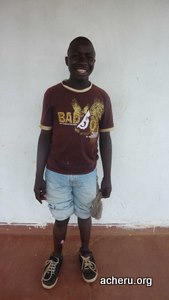 Amuza before treatment (Aug 2010) and after treatment (Jan 2011)
For the three months he was at the Unit, he was able to associate with other children but because he had used drugs for a long period sometimes he would be short tempered and uncontrollable.
Putting that aside, the lad greatly improved as you can see in the photographs before & after treatment.