September 2011 - Case History - Nantongo Robinah
She is 12 yrs old. She caught osteomyelitis at 5 years. It started with swelling of the left thigh, then had too much pain. Was taken to hospital but after 2 weeks on treatment resulted into an abscess which was cut and drained.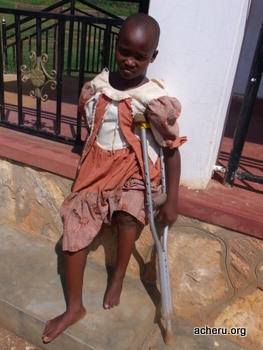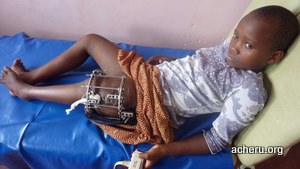 Robinah 2 days before surgery, and Robinah with Ilizarov frame
Unfortunately, the severe infection caused shortening of the left femur, tibia and fibula by 17cm.
On April 17th, 2011, she was admitted at CoRSU for surgery where an Ilizarov external fixator was put. Before lengthening the femur, they want the bone to first unite because an x-ray shown a gap.
She recovered well on pain killers and antibiotics, on 28/4/2011 was transferred to ACHERU where she is on daily dressing and physiotherapy.
She has hope for a good future and has no complaint at the moment. We will take her for a check x-ray after 6 weeks.
Update received 31/7/2011
Patient was taken back to CORSU for review on 07/06/2011, X-ray was done and showed mild callus formation.
Patient was given another appointment for review on 14/07/2011.
Another X-ray was taken on 14/07/2011 and it showed inadequate callus formation.
A shoe brace with prosthesis was provided to help her put weight on the limb to help the bone become stronger enough.