February 2012 - Case History - Agonya Viviana
Vivian is 12yrs old in primary three.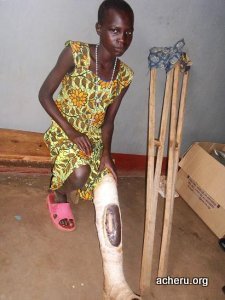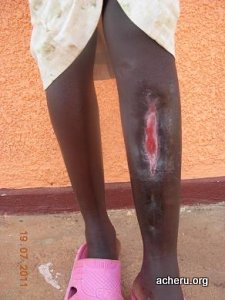 At Minakulu (May 2011), and 3 weeks after surgery
She stays with her parents in a family of 20 people and she is the last born of 8 children. Both parents are peasants.
She was born normally. It was not until last year, July 2010, that she started realizing a pricking pain in the Tibia bone. Then after two weeks, there was a swelling at that very area.
She was taken to Gulu hospital for surgery and was discharged with P.O.P cast. When they went back, they were told to stay for a month and amputation would be done.
The family met the ACHERU team in Minakulu Health Centre iii. She was one of the patients who needed urgent surgery so she was taken to ACHERU for rehabilitation on 19/05/2011. She was taken to CORSU, an X-ray was done that showed sequestrectomy ready to be removed.
Was admitted to CORSU on 23/05/2011 with chronic osteomylitis of the left tibia. An operation (sequestrectomy and biopsy) was done on 24/05/2011
Post operation
Analgesia, antibiotics given and daily dressing done. An X-ray showed clean tibia. Patient was discharged to ACHERU on 31/052011 for daily wound care, antibiotics and analgesics.