March 2012 - Case History - Emmanuel Mulema
This boy is 11 years old. He was admitted to ACHERU on 30th November 2011 from Kiwoko town where he was staying with a Good Samaritan who works with TASO (The Aids Support Organisation) Kiwoko who picked him from the village to get medical treatment. Sam Mutumba always encouraged them to bring the child for rehabilitation but it was a challenge until they hired people to look after him at ACHERU.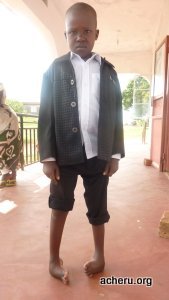 Emmanuel (November 2010), and after surgery
This gentleman had picked him from his grandmother who he was staying with since he was deserted by his parents at 1 year.
He was diagnosed with neglected bilateral club foot. He has been on casts for 4 months and 3 weeks where manipulation under PONSETTI method has been done and changed every 3 weeks.
On 19/4/2011 he was admitted to CoRSU for soft tissue release. 3 re-manipulations where done, then he was discharged to Acheru on a cast.
16/6/2011 He was taken to CoRSU for review and the Doctor suggested to measure him for plastic shoes (AFOS), then take him for review on AFOS.
It will take one month for his shoes to be ready.