March 2012 - Case History - Zulaika Bbaale
She is 10yrs and was in primary two. She stays with an auntie who doesn't know her medical history but took her over at 5 years of age with the deformity.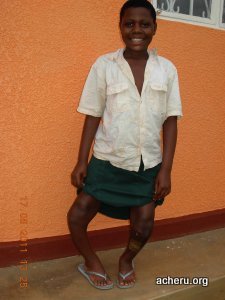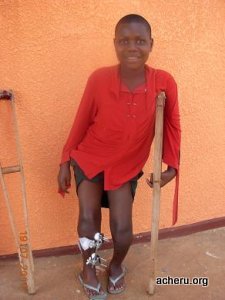 Zulaika before surgery (2009), with her 1st fixator removed and after her 2nd surgery
She has both parents though they give fishing the 1st priority to treating her.
They have a family of 5 siblings.
Her auntie learnt about ACHERU through a neighbour whose son was treated at Cherub.
She has severe Blount's disease affecting both tibia bones. Because of the bowing, she had reached an extent of crawling because as her knee joints had become weaker, she could fall whenever she tried to walk.
On 11th March 2011, corrective osteotomy and hoffluman external fixator was done on the left Tibia.
She spent 14 days at CoRSU for Surgery, treatment & physiotherapy.
We are continuing with daily dressing, physiotherapy & treatment at ACHERU.
She has to go for an Xray after 6 weeks. She still has a long way to go; the second leg is not yet worked on.
Update received in June 2011
She has been on a fixator for 3 months (from 17/3/2011 – 16/6/2011).
It was removed after an Xray was taken and the correction was perfect. She is now on daily dressing, pain killers and antibiotics. She is to be reviewed in 3 weeks and be booked for surgery of the right limb. She is happy and has already experienced an improvement.
Update received 31/07/2011
Zulaika was admitted on 10th July to CoRSU so that the right leg would be operated on.
A corrective osteotomy was done on 11th July with an external fixator. She was given pain killers and antibiotics, then on 14/7/2011 she was discharged to ACHERU.
On 15th July, the girl was vomiting; a blood slide was taken and she was found to have Malaria. She was given anti-malarials and she is now in good condition.