January 2015 - Case History - Nassali Esther
Nassali Esther is a 13 year old girl who was admitted in ACHERU in April last year. She comes from a family of 8 children and her family are peasant farmers.
When she arrived at ACHERU she had very visible swellings on both ears which she said was very painful. She was born with perfectly normal ears, however, as she was growing both ears started to developed swellings which eventually progressed in size.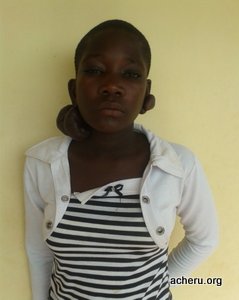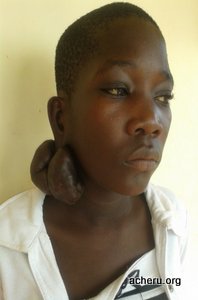 Her father believed that Esther's swellings were caused by having her ears pierced as a baby. He said that they had pierced them at home and that it was done using a needle and managed using hot water with salt and the ears healed well. However, when Esther was two they noticed that one side of the ear developed a swelling which to their mind was not serious as she was not complaining of having any pain. Rather than seeking medical attention they tried to treat it locally using onions as directed by community members, however this was painful for Esther. Her parents quickly stopped this treatment, but did not seek any further medical attention. Instead her swellings continued to grow and they were becoming more painful. Esther was becoming increasingly unhappy, she blamed the community members for giving her parents poor advice and she was scared of attending school due to being laughed at. It was in 2012 that due to concern for their daughter that Esther's parents took her to a government hospital. They operated on the left ear first, however, within 6 months, the swelling on this ear reoccurred with tremendous speed. This left her parents too scared to return with her for surgery on the other ear. It was only due to a good Samaritan directing them towards ACHERU that Esther found an end to her worries.
When Esther arrived at ACHERU, assessment was carried out and she was diagnosed with bilateral ear keloids. As a result she was sent for surgery on 17th November where intralesional excision of keloid and injection triam was performed. After surgery she was provided with medicine and daily dressings were required. Esther also received counselling while at ACHERU and this along with her dramatic physical transformation has helped her to regain her self-confidence and integrate back into society again.