April 2015 - Case History - Anuru Dominic
Dominic is an 8 year old boy who was admitted to Acheru on 23 February 2015, presenting with an exposed bone on his leg. The history of his condition is unclear however 3 years ago he developed osteomyelitis in the lower 1/3 of the right femur. The history of medical attention is also not clear. The child was found in the community and residing with a grandparent who was elderly and blind. Sadly Dominic's parents are separated and neither he nor his grandparent know where they are.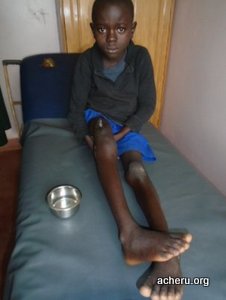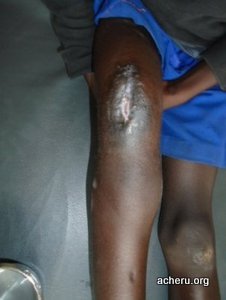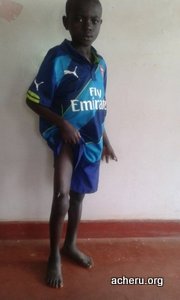 On his first assessment at Acheru, Dominic presented with exposed bone particles in the lower 1/3 of the right thigh. The site of the exposed bone was clearly infected as there was a considerable amount of pus discharging form the site and there was a bad smell.
After examination and assessment, investigations in form of x-rays and laboratory tests were done. On 2nd March 2015, a sequestrectomy and biopsy surgery was carried out. This was followed with medication, nursing procedures and physiotherapy at Acheru. So far he is making good progress and is still at Acheru.