July 2015 - Case History - Kyolaba Margaret
Kyolaba Margaret is a 13 year old girl who came from Nakasongola district which is in the Northern part of Uganda and was identified by the Acheru community outreach team which is based there. Her family are peasant farmers and she is one of 6 children. She was admitted to Acheru on 3rd February 2015 with a deformity in both knees which started at the age of 5 years. The family did not seek any mediation for Margaret before coming to Acheru.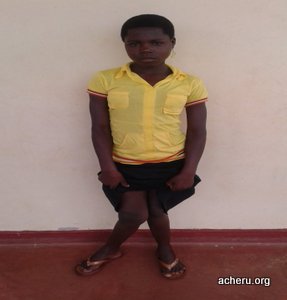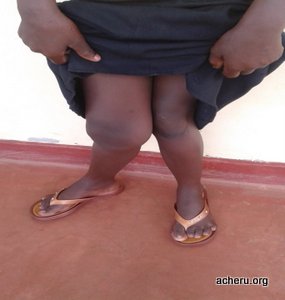 Before treatment
Her mother informed us that Margret was born normally and was just like any other child, however she did not walk until she was 5 years old. As Margaret grew, so did the problem. As she got bigger, her legs continued to grow towards each other and knocked together when she walked, this became very painful. This cost Margaret her education as she could no longer walk to school. The family kept her at home, doing some simple chores, but the pain did not subside. Other than painkillers, Margaret was not given any medication for the pain as the family did not seek any medical help for her. The family did not have enough money to seek treatment and her father did not see it as a priority. Not being able to attend school was not a major issue as women are considered to be a source of wealth in their local culture due to the dowry system. Her father believed that any man could take her as a wife even though she had a disability compared to a boy who would have to work hard to take care of a family. He had little consideration for the pain that Margaret was in.
Thanks to the work of the community team in the North, Margaret was offered the much needed help she had longed for. She told Acheru staff that she was so hurt to be only referred to as 'omulema' which means lame person in Luganda but now after treatment she could return home as a new person with her own name once again.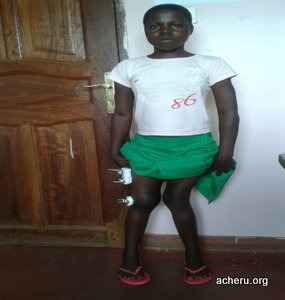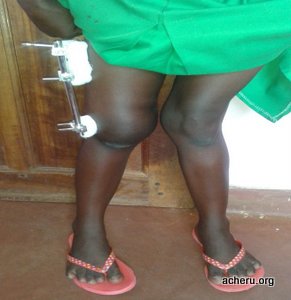 After Surgery