May 2021 report: Progress with development plan, and preparing to send out equipment
Work on improvements was initially disrupted by Covid so I wasn't optimistic about progress but money came in, work gradually resumed, and while it is all taking longer than anticipated, many improvements have been made to Acheru.
When the security fence was completed attention shifted to the next items on the list. One of our concerns was water; Acheru was dependent on rainwater, collected and stored in underground tanks, but this wasn't always adequate meaning water had to be carried from a well. We considered ways of improving collection, storage, and distribution, but we then had a breakthrough which we hadn't really foreseen. When Acheru was officially opened by Hon. Salongo Kibuule Ronald, government minister for children and youth, we made him aware of our water supply problems. He was a local man, and assured us that eventually there would be a mains water supply to the area. There was, however, no timescale for this, so we didn't factor it into our plans. Hon. Kibuule went on to become Minister for Water so we thought there might be the possibility of something happening, and we were told that a mains water pipe was being laid to the area. When workers appeared on site and installed a standpipe things were beginning to look more optimistic! Soon, a water meter was installed and the mains supply connected. To control costs most of our needs are still met by rainwater but at times of short supply it's much more effective to pay the metering cost rather than the time and expense involved in carrying water from the well in the pickup.
Other improvements were under way too. AV equipment was purchased to help with CBR work, and we were able to allocate money for work in the community, with the emphasis on reaching the most vulnerable people with practical help - particularly important with the introduction of Covid restrictions. While we could now buy more tools for the Acheru workshop, one part of our plans was overtaken by circumstances. We intended buying an oven and materials to enable Acheru to produce their own orthotics instead of having to buy them, but before we'd spent anything we found that another charity had started producing them and was willing to supply Acheru. All this meant that instead, as is so often the case, of running over budget, the implementation of our development plan was in fact well within budget.
A high priority was our electricity supply. Mains electric was unreliable, with sometimes lengthy power cuts. The way forward was solar panels, charging batteries to provide a backup supply. We already had a small installation provided by another agency, along with a video projector so that films could be shown in Acheru. Now that they're widely used the cost of solar powered systems has become much more affordable and instead of small systems for emergency lighting in some of the buildings we were able to install systems throughout the inpatient and outpatient buildings, including outside security lights. These have proved so effective that instead of just being used during power cuts they are often used as an alternative to mains electric with consequent cost savings. We've also now approved additional systems and are awaiting news of progress.
One major item was transport, the ambulance, on which they depended heavily, was really showing its age and a replacement has now been ordered. Like most vehicles in Uganda it's a used import from Japan, and we are tracking its progress.
We wanted to upgrade equipment at Acheru and were looking at the cost of sourcing things locally. Now there's been a change. While I've remained involved to some extent with the sending of equipment from here to a number of countries, notably hospitals in Malawi for which we recently prepared over 400 boxes of medical supplies, I thought my days of sending containers to Uganda were long behind me. That was a mistake. When suitable equipment began to appear in our store, I simply couldn't resist and so have now got preparations under way. The balance of what I'm sending is different from what we send to other countries, taking into account what is already available in Uganda compared to the cost of shipping a container. Also, unlike some countries, we can't send short dated or out of date medical supplies. We are planning carefully to ensure that everything sent is of suitable quality and meets a real need. Also, I must make it clear that customs requirements are such that I will be sending only medical supplies and equipment.
There's lots we could send to Acheru, and I'm sure it would be useful, but that doesn't mean it would be cost effective. To justify sending a full container load we have instead looked at Kiwoko hospital and at Acheru's partner hospitals, particularly Mukono. The heaviest items will be for Kiwoko, so it makes sense to consign the container to them - they've a lot of experience at the hospital so can cope with unloading, and we can then make arrangements to transport things elsewhere as appropriate.
To give you some idea of what we're sending, the main items are an image intensifier, ultrasound scanner, dental chair, and x ray machine for Kiwoko, operating theatre light sets and patient monitors for Kiwoko and Mukono, physiotherapy plinths, examination light, trolleys, for Acheru, quantities of Ilizarov frames, dressings, instruments which Joyce can distribute to our partners. This is hard work which I really thought I had put behind me; what keeps me going is my own experience of Ugandan hospitals leaving me acutely aware of how valuable this equipment is, the number of lives it can touch, and what it means to the witness of Christian institutions to be able to provide a high standard of care and treatment. This equipment comes through our link to MedAid4Kids, much of the items coming through Philips Medical at the end of lease.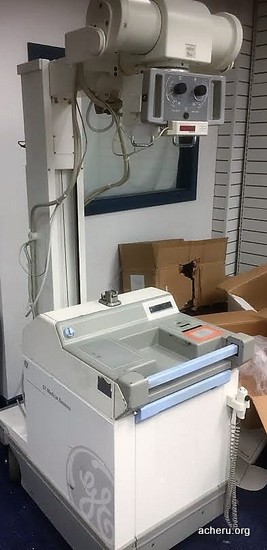 X-ray for Kiwoko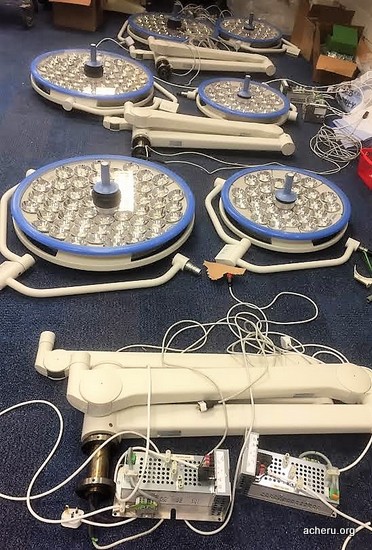 Operating lights for Kiwoko and Mukono hospitals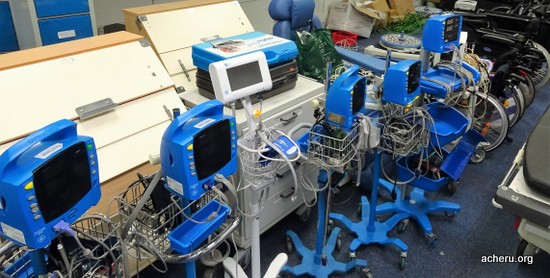 Some of the monitors for a number of different hospitals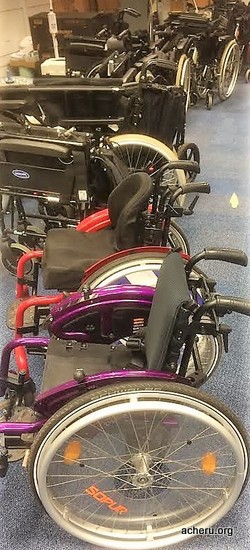 Some of the wheelchairs for Acheru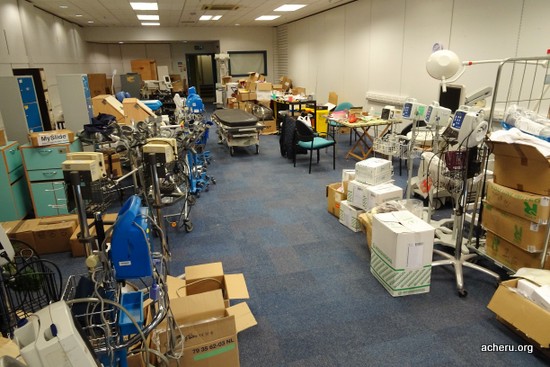 Carrickfergus store
Anaesthetic equipment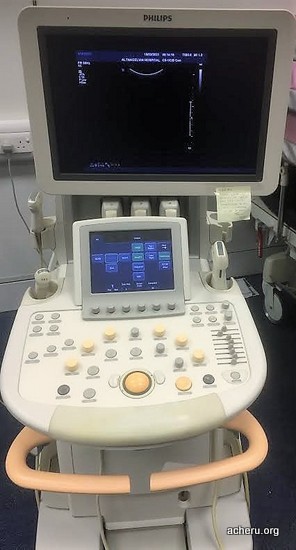 Diagnostic ultrasound scanner for Kiwoko Hospital


Return to full Acheru website