Apollo Kigondo
We've just had a terrible shock with news of the murder of Apollo Kigondo in Uganda. Apollo, who was around 30, started work with us 8 years ago as clinical orthopaedic officer. He had heard of our work and came to us on completion of his training. It was a mark of his commitment that he worked four days a week for 16 months unpaid, before we were able to start paying him a salary. He quickly became a valued member of the team, and his skills were instrumental in changing the lives of many children.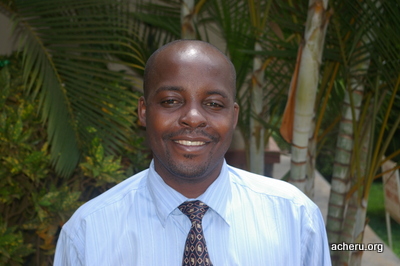 Others recognised his skills too, and a surgeon offered to pay his fees at medical school. We paid his living expenses and he enrolled at university with the aim of training as a surgeon. At his own request he remained contracted to Acheru and came back to work there during holidays. We saw Apollo as an important part of Acheru's work in the future, and he continued to serve on the management committee.
He came back from university to attend an Acheru management committee meeting on Wednesday and it was after that, on his way home, that he was murdered, having his throat cut. We know no more than this at present; it could have been an attempted robbery, or a targeted personal attack. Whatever the reasons, we've lost him. Our thoughts and prayers are very much with his parents, and also with the Acheru staff who thought so highly of him.
We're going to miss him badly; what has happened has serious implications for the future of Acheru, the immediate impact being a heavier burden on the remaining staff, and the loss of his skills when we face so much need. We need to absorb this shocking news before thinking about how we need to react.
Please pray for Apollo's parents, and for his friends and colleagues at Acheru.
Brian Dorman