October 2014 report
Last month we focused on the work of Harriet and her community team and this month we return to them again as they encountered two very interesting cases recently.
The first was that of Babirye Aisha. Babirye is a 3 year old girl with two older siblings. When she was born she had severe upper and lower limb deformities and as a result she had both of her legs and her right hand amputated.
The community team first met Babirye last year when she was admitted at Acheru. She was then referred to CoRSU where she had a finger on her left hand amputated and her stump refashioned. At that time she was given artificial limbs to assist with her mobility. However, when Harriet and the team met with her for review they discovered that she had outgrown her artificial limbs. The team immediately referred Babirye back to CoRSU for measurements for new prosthetics.
Her rehabilitation has been going well and she experiences a good quality of life. She is able to use her hands reasonably well. She is able to play with a ball, write and draw. She is even able to assist at home with the washing!
Her parents are very happy with her progress and they plan to take her to school next year.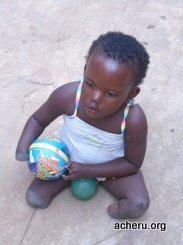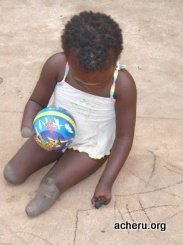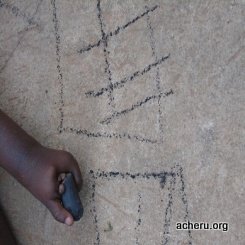 The second case study of interest from the community team is that of a set of triplets, Ezra, Fred and Amoni who are now 6 years old.
When the children were only 6 months old, their mother left them at home alone while she went to a nearby shop. Unfortunately she had also left a candle burning in the home which then caused a mattress to catch fire. The children were rescued by their aunt who was staying close by. Ezra received burns to his right hand and left foot and Fred received injuries to his right hand. Only Amoni escaped without harm. While the thought of what happened to these children is horrifying, the situation could have been much worse. Despite having a severely deformed hand as a result of his injuries, Fred does not need surgery. Only Ezra requires surgery to release the contractures of the fingers and the feet. He will be admitted this month to receive his surgery at CoRSU.
Once again we thank the community team and the staff at Acheru for all of their care and hard work.