September 2015 report
Dominic, 17 years old, was taken to Acheru on 26th May this year with severe ulcers on both legs, and evidence of malnutrition. He was admitted, then taken to CoRSU for three days of treatment before being brought back to Acheru for continuing dressings, medication and a special diet.
Our social worker writes:
The problem started two and a half years back and he was given medication. The wounds healed and re occurred, and they had given up through lack of money. The mother of another child who had been treated at Acheru advised them to come to us.
Dominic reports:
"The problem started as a small blister, but the swelling progressed and turned into a wound. We were directed to local herbs, but it just got worse. The pain was so bad I stopped going to school. We went to different hospitals for treatment and the wounds would start healing for a short time but then recur. My parents sold off most of the things they had, but we had to give up going to hospitals because we lacked money. The wounds smelled and this hindered me from associating with other people. I used to cover the wounds with pieces of rags to keep flies off."
Dominic says he had lost hope, but it was God's grace which helped him. He started going to a local church and that was the only place he found peace, people in the church were so welcoming and this made him realise that it's only God who can understand his situation and heal him from the pain he was going through. It was during this time when he was directed to Acheru by the mother of an Acheru patient from the same village.
Dominic has now made a full recovery.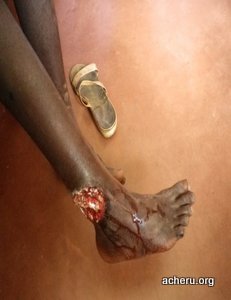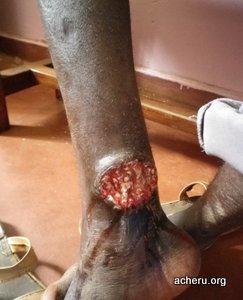 Musa, a 9 year old boy, was seen at Acherhu on 27.1.2015 with chronic osteomyelitis affecting his right arm and left leg. He was referred for an orthopaedic consulation on 5th February, but wasn't brought back, so he had to be followed up by our Community Based Rehabilitation team. He was eventually brought back on 9th July and, following X rays, was booked for surgery at CoRSU on 24th July.
The problem had started some time ago, and because they hadn't sought proper treatment the elbow and ankle joints had fused.
His father says:
"It started as a small swelling but we didn't pay attention as there was no pain. Then he started crying in pain and the swelling covered his whole leg. We did not seek medical intervention because the community were saying he was bewitched."
The allegation behind this is that if a bewitched person is injected they will die so to avoid this, instead of consulting hospitals they went to traditional healers who performed rituals and told them weird and scary things, as told by his father: "We went to many witch doctors and they were all saying different things; what they had in common was that they said the boy was bewitched. They made us do and believe awful things like entering shrines at night with no lights when we found devils talking in different voices. We had to give sacrifices of chickens and goats, and the boy had to drink blood and smoke herbs. We were told if we didn't do this our son would die and the same problem would pass on to the whole family. We gave everything that was asked and did everything as instructed but it only got worse. We regret very much the severe pain he has gone through and the money we wasted."
This is another typical Acheru story of a child who can now smile again.


Some figures for August:
Inpatients were treated for the following conditions:
Osteomyelitis 12
Club foot 1
Plastic (burns contractures etc) 5
Neurological 1
Post injection paralysis 1
Cerebral Palsy 2
Other orthopaedic 19


Outpatient treatments included:
Osteomyelitis 10
Club foot 14
Plastic 7
Neurological 3
Cerebral Palsy 9
Post injection paralysis 5
Other orthopaedic 51