December 2015 report
Why Acheru is needed
There are still large areas of Uganda which remain beyond the reach of medical services. Even if there is a hospital or clinic not too far away children may go untreated, or may be badly treated resulting in further problems. Children may suffer for years for lack of effective intervention.
The stories of the following two children from the north show why Acheru is needed.
Abang Evelyn Ketty is a 14 year old girl from Kal village in Gulu district. She suffered ongoing problems following a fracture 4 years ago. She has now made a good recovery following treatment at Acheru and says:
"The knee became stiff. I couldn't fold it because of pain and it started bending from the side. The wound smelled and this gave me a big challenge, my friends at school didn't want to associate with me and I also started hating myself. Going to school became a problem because of the abuse I was going through, and walking was so painful. At home it was the same and I hated it so much. I am so happy for the treatment, it has changed my life. I am no longer sad like it was before. I'm going back to school and I'm sure nobody will laugh at me again. I want to thank all people in Acheru for the hospitality and the good work they are doing."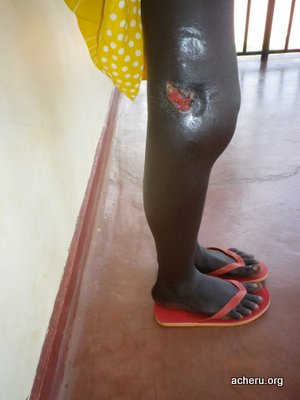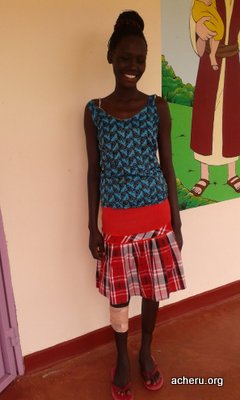 The story of Odoch Innocent is one of real determination in the face of serious problems. He is 16 years old, from Bidati village in Nuuoya district. He's presently being treated at Acheru following admission on 10th September, and the pictures show the change which has already taken place.
"My grandmother told me I was born with the problem and as I have been growing and adding weight my legs have been getting more deformed. I started experiencing pain but no treatment was given as my grandmother is poor. It hasn't been easy for me to live with this condition. It became difficult for me to walk because of the pain and it was worse during rainy seasons when I used crawl due to lack of crutches to support me. School was distant from home but I had no option because from my childhood I love going to school. My grandmother couldn't afford treatment and staying deep in the village the situation became worse. I have lived a difficult life with the pain and how people are treating me because of my deformity. I come from a community where people with disabilities are treated oddly, we are given offensive nicknames and are treated as people who are not able to do any kind of work.
It became worse when I joined secondary school. Students treated me more badly than I expected and this is portrayed in the language they use to us, the names we are called, like 'Langori', meaning a deformed person. I felt so discouraged because the other students think I cannot perform well, they say that teachers are cheating for me by giving me higher grades, they think I can't perform better than them because of my physical appearance. Day to day activities weren't easy, things like getting food from the kitchen, taking water to the bathroom. All these things made my self esteem low. At primary school I used to participate in music, dance, and drumming but that all stopped. I think the students despise me because of my physical appearance."
Innocent says he will never forget the day his teacher gave him the news that his legs could be corrected; it was amazing but also frightening. He thought of them having to break his legs and the pain he would endure as they put in metal to support his knees till healing was complete. He is now so happy for the counselling he received, resulting in him accepting the treatment.
"I have gone through much pain but it was worth it to get better. I wanted to study to become a lawyer because I thought I would only use a wheelchair to move about but now that Acheru has worked hard to make sure I can walk, I will instead work hard to be an orthopaedic surgeon, to help children who will have such problems of movement like I had. From today onwards I'm going to fulfill my dream."
Great thanks to all the people who have helped me. God bless them all."