March 2017 report
Hazel and I are still in South Africa, and are due back in Ireland on 9th April. Joyce and Harriet have returned to Uganda, though not without difficulty, being left stranded at Johannesburg when their flight from Cape Town didn't leave enough time to make their connection. The airline would take no responsibility and it wasn't easy to get it sorted out. Despite this, they enjoyed their time here and we found their visit very useful.
What became clear from our talks is the firm grip they have on the running of Acheru, and I don't want to interfere. My aim is primarily to encourage. We had an agenda to discuss and I've reported back on this to the Acheru board in Uganda, but we didn't disagree on anything and continue to share the same vision for the future.
We talked about individual children, and bearing in mind the numbers going through Acheru I was impressed with the effectiveness of the follow up work and how many children are monitored. We don't want to get involved with child sponsorship as we must remain focused on treatment and rehabilitation, but some children stand out as having particular gifts or determination and we'd like to see their full potential realised. They now have the chance of a future where, before being brought to Acheru, there may only have been hopelessness and despair. We are following the progress of a number of children and may, for example, be able to help them find scholarships if they continue to do well.
We continue to receive statistics and reports from Acheru and hope to make more use of them on the website. The following are two of the most recent patients.
Namusisi Elizabeth: Treatment and rehabilitation of orthopaedic patients can take a long time whereas some plastic surgery patients may be with us for only a short time, but their treatment can still be life changing. Namusisi is one such. She was assessed on 10th November 2016 and diagnosed with cleft lip and malnutrition. She was placed on a nutrition programme then brought back for surgery on 21st February. By Acheru standards this was a very straightforward case but it still had significant implications for the girl and her family. Her mother talked of the things said in the community, alleging witchcraft and demons in the family, and saying they were cursed with such a baby. The family are now very grateful to Acheru for putting an end to this. Such visible change can be a positive influence to a whole community, helping to overcome fear and superstition.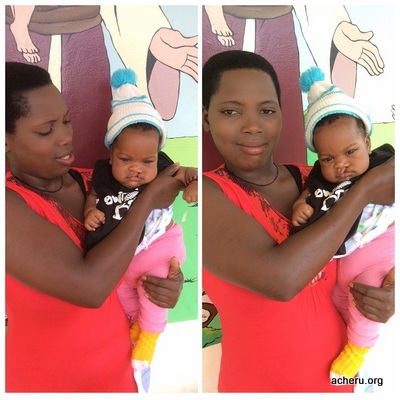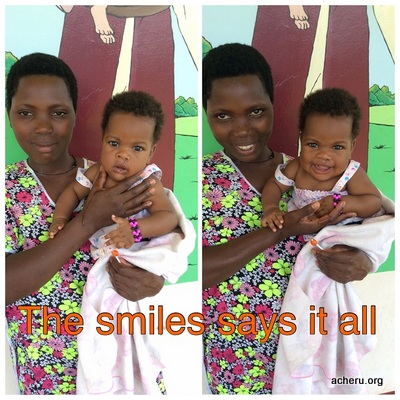 Treatment of 15 year old Mukembo Zephania took longer and he's still at Acheru, but should be well enough to go home soon. He injured his leg playing football but instead of being brought for medical treatment he was thought to be bewitched and had to endure two years of 'traditional' methods. He was only brought to Acheru when the wound became so serious that amputation seemed the only option. By then his leg was severely deformed.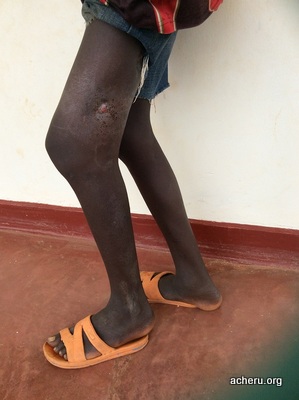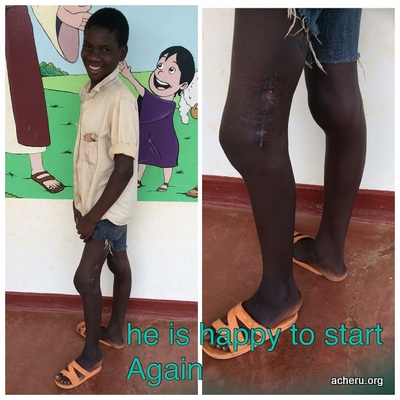 Brought to Acheru on 9th January 2017, he was diagnosed with chronic osteomyelitis, taken for surgery on 1st February, then back to Acheru for post operative treatment and rehabilitation. His latest review, showing good progress, was on 7th March and he hopes to renew his studies soon, having missed two years from school as walking became too difficult, and people avoided him because of the smell. So many cases of osteomyelitis are seen at Acheru, almost invariably the result of neglect following a minor injury. By the time they are brought to us the infection can be widespread, taking a long time to deal with after the initial surgery. Education can help to reduce the damage caused by inappropriate treatment or witchcraft, and each child returning home from Acheru is evidence of the effectiveness of proper medical treatment.