April 2017 report
Hazel and I have now returned from South Africa and are trying to catch up with a number of things. While in South Africa, I finished writing another book and hope to have it ready for publication soon. It's a compilation of stories from Africa, mainly from our time in Malawi and Uganda, which I hope might be of interest.
I am now trying to follow up on some of the things I discussed with Joyce and Harriet when they were with us. One of the issues we talked about was voluntary help at Acheru. We've often benefited from the efforts of visitors there, though it's a relatively small place so not really suited to work teams. Individuals with medical, educational, or technical skills can however be welcome. We've a couple there at present, staying for a few weeks and using their experience to consider some aspects of long term planning. The biggest gap I can identify could be for a volunteer, whether long or short term, who could help with maintenance and repair of buildings and equipment and possibly use the workshop to provide some instruction.
Reports and statistics from Acheru continue to be encouraging, reinforcing the need for the services provided. Two recent case histories help illustrate the problems most commonly encountered.
Nakira Ruth, 9 years old, from Kayunga district, was admitted on 5th January with severe discharging wounds on her right leg, and diagnosed with chronic osteomyelitis. She was referred for surgery on 11th January [sequestrectomy and biopsy] and brought back to Acheru on 14th January for post operative nursing care. She was reviewed on 16th February and discharged home.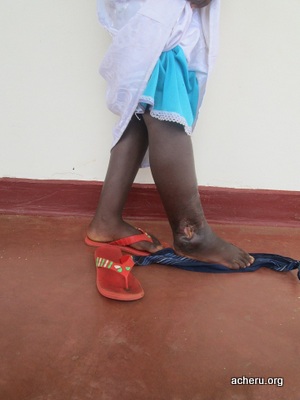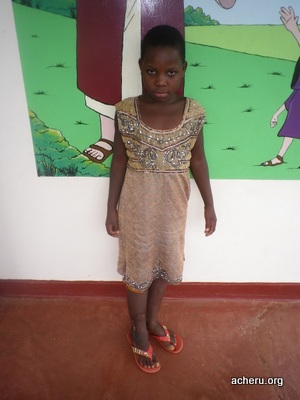 Ruth before and after
Masolo Fred, 6 years old, from Buikwe district, was brought to Acheru with a knee deformity and diagnosed with genu valgum. He was referred for surgery [ hemiepiphysiodesis] and returned to Acheru for three months of nursing care, physiotherapy, and medication before being discharged home.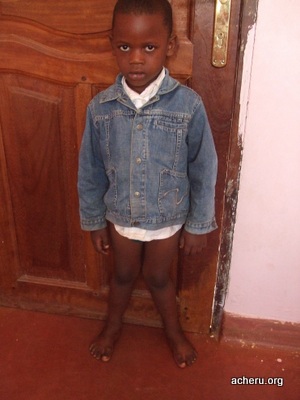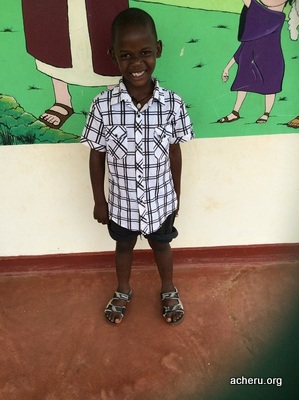 Fred before and after
Both cases were routine for the Acheru staff, but not for the children or their families. Ruth, who had been abandoned to her grandmother at three months old, suffered for seven months before being brought to Acheru, enduring the efforts of 'traditional' healers because she was thought to be bewitched. Her grandmother says "I am so happy that before things became even worse we heard about the beautiful place called Acheru through a Good Samaritan who saw her difficulty and directed us there. We thank the great team of Acheru for giving us incredible care and hope".
Fred suffered for years. Some of his relatives had grown up with the same problem and it was seen as something to be endured rather than as a disability which could be treated. His mother says "Our eyes were opened when we reached Acheru and met a number of children being treated for the same problem. If such problems arise again in our family we now have the living example of our own child being treated".
Just two from so many we encounter who go through needless suffering, often for years.
Brian Dorman