September 2017 report
Asia Mutesi was brought to Acheru at the age of three with an open wound. Asia had been separated from her mother when she was one year old. There were family disputes, her mother was very young, and Asia was taken away.
When she became ill she was returned to her mother. By this time she was in severe pain, malnourished, and could not walk. Her mother says "I received a call from my daughter's father telling me that my girl was critically ill and I was pressured to see her as soon as possible. There was no explanation of what was wrong. I was told she was bewitched with 'etalo', traditional medicine was used to treat her, but all was in vain as the problem was just persisting."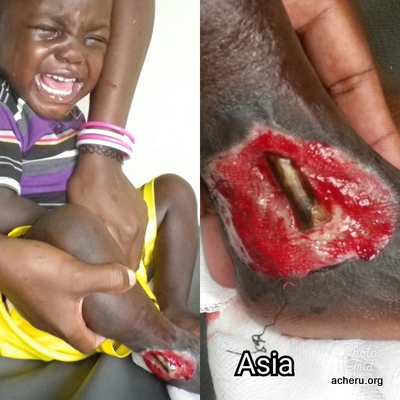 Asia before
The family and the entire community had lost hope of saving this little girl but as we know God appears to show how strong He is and this was the time to save the little girl. A Good Samaritan directed the mother to Acheru and this is where all hopes have now been restored. Many people from the community visited her and found her with 'Great' change and their perception towards 'Etalo' (witchcraft) is now different.
All the thanks goes to the Almighty God and Acheru.
Asia was examined and diagnosed with chronic osteomyelitis. She was referred to Corsu and had surgery on 28th July. On 31st July she returned to Acheru for post operative care (daily wound care, medication, and physiotherapy). Having made a good recovery she was able to return home on 4th September, and will be reviewed next February.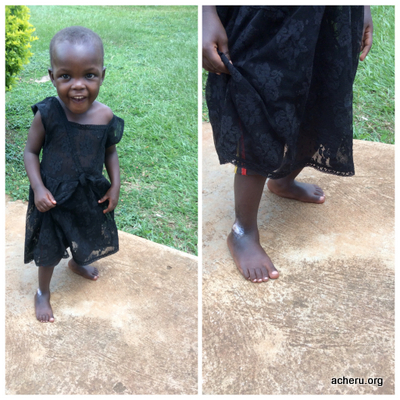 Asia after
The above report from the Acheru staff tells a very common story. Many of our Acheru children have suffered for years before being brought to us, with osteomyelitis being one of the most common, and most neglected, problems.
Lukyamuzi Mahad was admitted to Acheru in June at the age of 14 with an open discharging wound on his foot, which he'd endured for over two years.
Nakabugo Matilda, a 15 year old girl, also had a severe discharging wound. By the time she was brought to Acheru she had suffered for eight years and had been unable to complete her education. Her life has now changed after treatment.
We see so many like these, and we can help them. The lives of children and their families can be transformed through the treatment we can provide, but we have to find them first hence the importance of the Acheru community work, reaching out into the villages with a programme of education and information. We're encouraged to see these children successfully treated, but concerned about the numbers who continue to suffer through misguided traditions and practises.
Brian Dorman