October 2017 report
I've been reading through the latest reports and statistics from Acheru. The numbers indicate that there's no reduction in demand for the work, and the individual stories and photos reinforce how important Acheru is to all who receive treatment. Clearly there are still many children out there who need our help.
I also get reports on Acheru's Community Based Rehabilitation programme. The work in the community often locates new patients perhaps children who had been hidden away or whose parents simply didn't know who to turn to. Former patients may be followed up through the community programme, or when they come back to Acheru for review, and it's encouraging to see how they have progressed since their time at Acheru, living a life free of pain, able to return to education, develop a career. So many lives changed thanks to your help. And of course each child successfully treated is a very visible testimony to what can be achieved at Acheru, leading to others coming forward for treatment.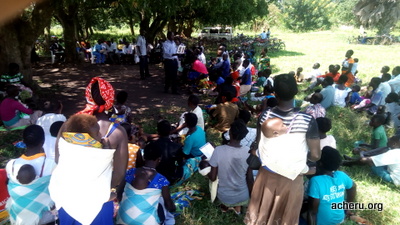 Northern Uganda outreach October 2017
A Christmas party has always been valuable in the promotion of Acheru, and in maintaining links with former patients. Planning is now under way for this year's parties, one at Kabembe on 25th November and another at Minakulu on 9th December. A Christmas party can be a big event with present and former patients and relatives, guests from the community, churches and other organisations, and a high profile guest of honour who will attract publicity for our work. I suspect there's also the hope that they may bring gifts.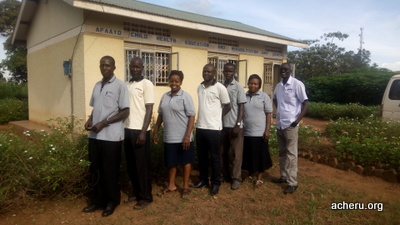 Acheru staff at Minakulu
The 'tradition' of a party goes back to the Besaniya days, when I once heard the Christmas party described as a preaching contest followed by an eating contest. I remember once looking at the estimates for food and being amazed at the quantities, but it was all eaten. It's a great day for all concerned and helps strengthen relationships, particularly with many of the former patients and relatives who have come to regard Acheru as an extension of their family. The preaching, the speeches, and the food, are usually followed by dancing and games, some of which look decidedly dangerous to me particularly for disabled children, but everyone seems to have a great time. In the life of a family from the village, with a disabled child and all the associated problems, we shouldn't underestimate the importance of an event like this.
My new book is now available - 'Stories from Africa'. I've written a selection of stories from personal experience of work in Malawi and Uganda, some humorous, some serious, which I hope give a taste of what life can be like there. Please contact us if you'd like a copy.
I wanted something African for the book cover and was delighted to be given two pictures by Steven Boyyi Makubuya, a former Besaniya boy who is now an artist. He lived on the streets of Kampala before being brought to the home. He doesn't know when he was born, but picked a birthday of 12th October for himself, and was brought up in Besaniya without knowing his original name or family. At Besaniya he learnt art and in particular the Batik method. By the time he was aged around 20 he began gathering bits of trash from the streets and incorporating it as colour in his artwork.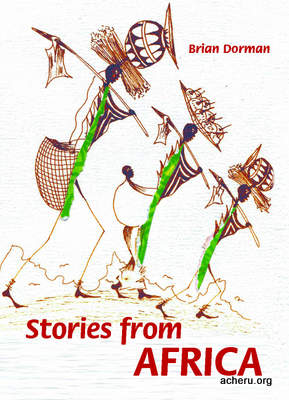 Cover page of new book
He depicts stories of daily life in Uganda with a focus on mothers and children. His dream continues to be bringing art to children who grew up just like him. He exhibited his art in the U.S. and went on to set up Dream of Duluth, a global street outreach initiative, trying to provide opportunities for those of similar backgrounds with dreams and abilities.
Brian Dorman