December 2017 report
We have come to the end of another year. As usual we have had to find a path through various difficulties and also as usual it has been too easy, while trying to deal with all the details, to lose sight of the 'bigger picture,' the encouragement of the support we've continued to receive, of the lives we've seen changed, of all the blessings we've experienced. I've been reading the latest case histories and these are not just stories of sick and suffering children but of hope and transformation.
The Acheru Christmas parties at Kabembe and Minakulu were opportunities to proclaim the Christmas message and to promote the work of Acheru in the wider community. The message we proclaim is of a hope for the future, and the work we do with Acheru brings a practical and very visible manifestation of that hope in the changed lives of the children.
I've attached photos of the parties, and details of some recent patients. Over 500 people in total, patients and former patients, relatives, community representatives and other guests, attended the parties at Kabembe and Minakulu and as well as games and activities heard the testimonies of relatives and patients and what Acheru meant to them. Thank you, on behalf of the children helped at Acheru, for making it all possible. Looking back on the changed lives helps me to look forward to another year with renewed determination.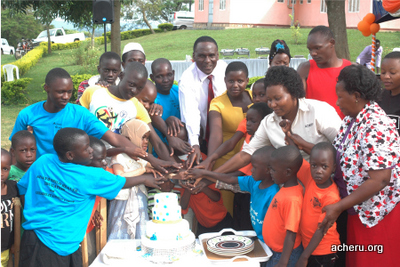 Cake cutting at Kabembe Christmas party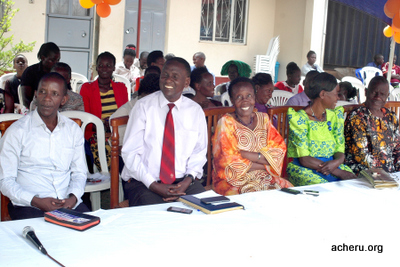 Some of the guests at the Kabembe party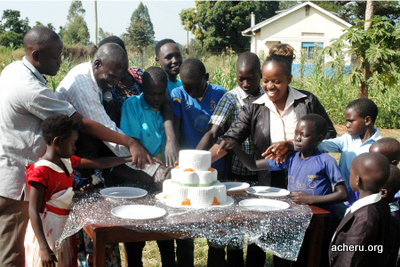 Cake cutting at Minakulu Christmas party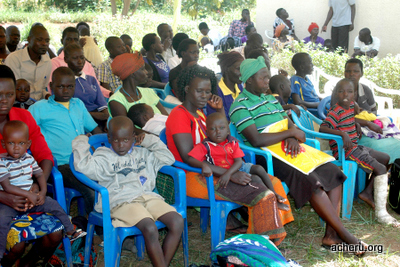 Some of the children and parents at Minakulu
CASE HISTORIES
Shukulu Vivian is a 13 year old boy from Congo whose family came to Uganda as refugees. His father says: 'six years ago when still in Congo Vivian developed a small blister which was not painful and we did not give it much attention. After some time we noticed that the swelling was progressively increasing in size but it was hard to access health facilities due to the chaotic environment in Congo. It took us years before escaping to Uganda as refugees. The situation was not easy in the refugee camps and Vivian's problem became so severe our worst thoughts were that he had cancer and was going to die. We thank God for the good Samaritans who visited the camp with help for the refugees. We were led to different hospitals but the only treatment decided on was amputation, but then someone directed us to Acheru where our hopes and my son's life and happiness have been restored'.
Vivian was brought to Acheru on 1st June 2017. He was taken to CoRSU, reviewed by the orthopaedic surgeon, and booked for surgery on 13th September. Following surgery he returned to Acheru for post operative management and has now fully recovered. Vivian says 'I had lost all hope in myself, I was not feeling worthy to be alive because I could not play like other children, I used to sit alone and cry for hours. But now I am feeling better I do everything for myself'.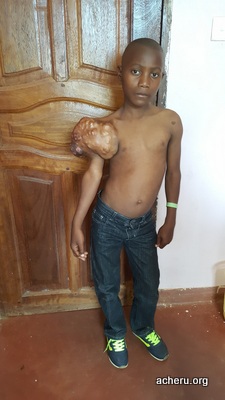 Shukulu Vivian before surgery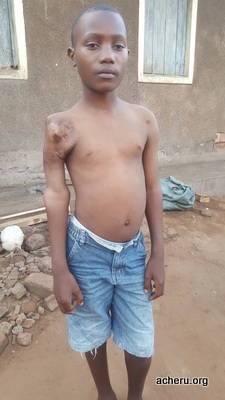 Shukulu Vivian after surgery
Ajok Priscilla, a four year old girl, was brought to Acheru from Ber kimwolo village, Ajul parish of Otwal sub county in Oyam district with bone exposure of the left lower leg, pain, inability to walk, and smelly pus discharges. Her condition began on 13th May 2015 with swelling followed by multiple discharging sinuses. She was first treated in a health centre followed by referrals to two hospitals, but with no improvement and later bone exposure.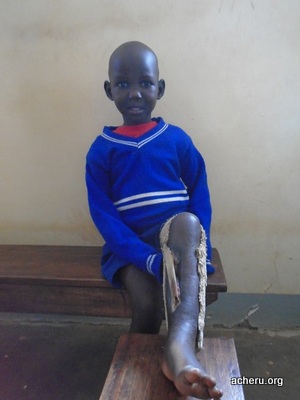 Ajok Priscilla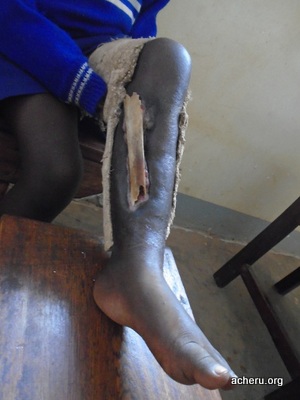 Priscillas leg before surgery
At Acheru she was diagnosed with chronic osteomyelitis of the left tibia and referred to CoRSU for removal of the exposed bone, biopsy, and sequestrectomy. She then went back to Acheru for post operative treatment with antibiotics, analgesics, nursing care, physiotherapy, and psychosocial support. She has now healed well and returned home.
Her parents feared her leg would be amputated and are now very relieved. Priscilla has gone back to school and performs the activities of daily living normally. She is now on our follow up programme with periodic visits to assess progress.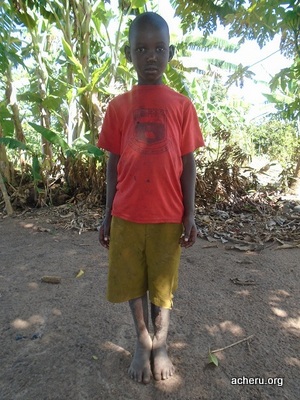 Priscilla after surgery
Brian Dorman