February 2018 report
We have two very experienced volunteers at Acheru this month looking at various issues with the staff. The reports and case histories I receive from Acheru give me a good idea of the work being undertaken but I've asked the visitors to look closely at buildings and equipment, and talk with the staff about their concerns for any repairs or improvements. Buildings deteriorate, equipment wears out, and I understand the difficulty of dealing with all this on the budget we provide. I'm particularly interested in an evaluation of the water supply and electrical services at Acheru. Water is a valuable resource and we want to ensure everything possible is done to collect and store it, and avoid waste. There may also be scope to install solar water heaters. With electricity, power cuts continue to be a problem. They have a generator at Acheru but it's costly to run so we're looking at the possibility of having solar powered emergency lighting. We also want to look at having low energy lights in all the buildings to reduce costs. We can discuss all this when the volunteers get back, and decide what we might be able to help with. I am of course aware of what the staff would like to see by way of development, but I hope these discussions will help us to prioritise. Any improvements we make should help the staff to maintain high standards of treatment and care.

I've been reading some of the most recent case histories. The most common physical conditions encountered continue to be club feet, cleft lip and palate, other deformities the child has had since birth, and problems arising from injury such as burns contractures and osteomyelitis. A common factor in so many of these cases is neglect, or misguided and harmful intervention by witch doctors and traditional healers. It's disturbing to see that this remains such a widespread problem but every child successfully treated and returned to the village is a living and highly visible testament to the care they've received, and encourages others to bring their own children for treatment. There are also difficulties with parents failing to bring children back for follow up treatment or assessment but the reports from the community team on home visits indicate a good success rate, with many children completely healed or experiencing significant and lasting improvement.
There are neurological conditions too. The most common is cerebral palsy, and we see again and again how relatively simple and low cost intervention can make such a big difference. Because they aren't usually admitted as inpatients I don't see so much of this in the reports and case histories, but when I've been at Acheru myself I've seen some of the children, and the difference treatment has made to them.
The story of Acheru is best told by looking at the changes in the children we treat. I am now preparing a large number of case histories and hope soon to add them to the website. Behind each child there's a family and community so the Acheru influence is widespread. Remember the staff who are doing this work, and don't ever underestimate the continuing influence of witchcraft there.
We were saddened to hear recently of the death of Livingstone Mpalanyi Nkyoyo, the former Archbishop of Uganda, who we'd known for many years. When he was Bishop of Mukono he was instrumental in establishing the Besaniya children's home. When he went on to become Archbishop he retained a keen interest in the work as we established and developed Cherub.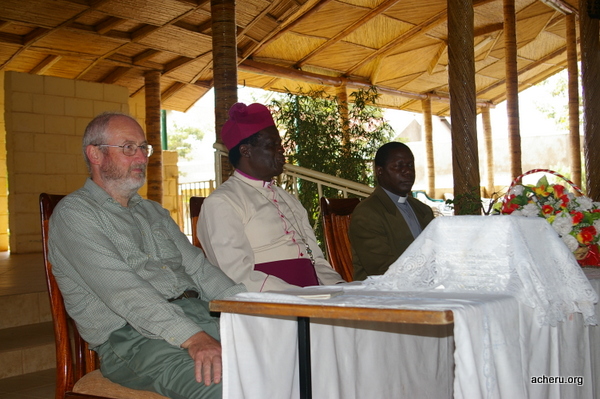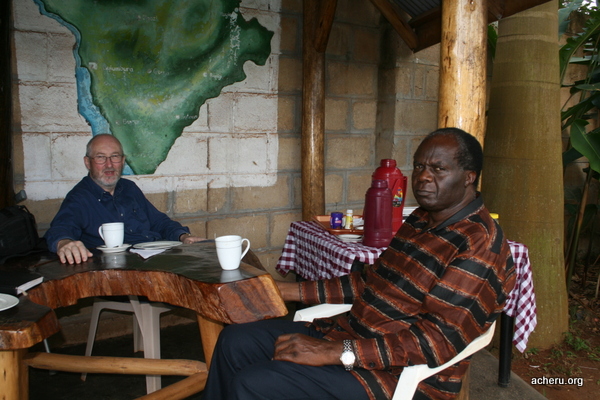 After our local difficulties and the move to Kabembe to develop Acheru he met with us to discuss it all and give whatever help and advice he could. In retirement he lived in the Mukono area and continued to oversee his own projects there, so we still met from time to time. He had a history of motivating others and getting things done rather than just talking about change.
Brian Dorman