May 2018 report - Choices, and Esther's story
I referred in the March circular to an evaluation of Acheru which as well as endorsing the quality of the work raised a number of areas where there is room for improvement. Usually 'improvement' means 'spending' and I'm cautious about any additional expenditure and how it might affect our ability to pay the Acheru budget.
For much of the last year our income has fallen short of expenditure. Not by enough to cause problems, but it didn't seem the right time to pay out for further work at Acheru. Then, in recent months, donations increased. We are aware that donors give us money in the expectation that we will spend it to facilitate treatment of children and to further our witness, not that we will put it in the bank to protect us against what might happen in the future. Taking all this into account we now want to look more closely at how we can deal with the recommendations in the evaluation.
Some are easily dealt with. There's maintenance and repair to buildings, and we want to speed up replacement of lighting with LED lamps to reduce electricity costs. There's a shortage of office space; provision of this hasn't kept pace with all the additional administrative work with growth in the work. At Acheru they've proposed converting a store into an office, and providing better furnishings for the present offices.
These are straightforward things. The office equipment - desks, cupboards etc - can be made in the Acheru workshop, and we also want to buy additional materials so that they can produce more disability aids for the Community Based Rehabilitation programme. Through the community work we get follow up reports on children, some of whom have specific needs or are in difficult circumstances. From time to time we've made additional funding available to provide help which would be outside the usual remit of Acheru. It's time to look at this again, and enable them to have a Samaritan Fund for Acheru's discretionary use. In the past Acheru help has meant a big improvement in the quality of life for families living in deprivation with a disabled child.
We also want to look closely at transport. Any changes will cost a lot so we want to carefully consider all the alternatives. Acheru has a Toyota minibus for transporting children and dealing with emergencies. It needs to be available at all times, so can't be taken away for community work. They also have a pick up for general transport use. Both vehicles are giving good service bearing in mind the condition of the roads but they are old (they were already old when brought to Uganda as imports from Japan). The CBR work is conducted using public transport. This is difficult and time consuming given the remote areas they travel to. The pick up isn't suitable for this, it's small and can't carry a CBR team or patients. Providing transport for community work will also mean additional running costs, but will make things more straightforward for the staff and enable them to make more visits.
Choices must be made, setting improvements to the work against additional expenditure. But we must also keep in mind all the blessings we've seen since starting Acheru, at a time when there was so much uncertainty and so little money, yet look where we are now.
Esther is a six year old girl from Seeta, in Mukono district, brought to Acheru recently. She suffered severe burns two years ago. These had been treated elsewhere, but contractures meant she couldn't move her arms.
Esther's parents separated when she was one year old, and she has been cared for by her father. He says:
"this is the worst thing, which brings tears to my eyes whenever I talk about it. I am a single dad who has been there for my daughter ever since her mother left. I have done all I can to make sure that my girl is happy and fine, I sacrificed my happiness as a young man for her wellness, but satan had his plan for us. It was an evening when I was called by my neighbour to find my daughter severely burned. I was told they were playing beside the pit where rubbish was burnt, and a sealed cosmetics bottle burst and left her almost dead. I found my daughter unconscious, her hands and part of her face had no skin.
I rushed her to a nearby clinic where first aid was done and they referred her to a big hospital for different medical interventions. It has been so hard for me ever since this happened, I shared every pain and tear with my girl, whenever she cried I cried too, but I am glad God cared for us, however much my baby remained with bad scars she is still alive. She could not put her hand up but now she can. She is a clever girl and I am so proud of her, she has remained in school and is performing well."
The before and after photos show the difference made by releasing the contractures.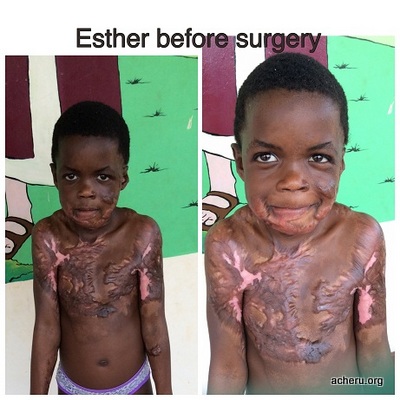 Esther before surgery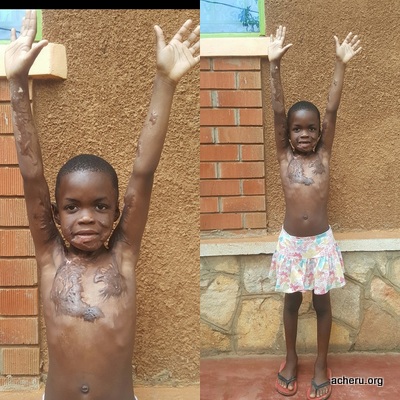 Esther after surgery
Brian Dorman