July 2018 report - Two recent case histories
In June I wrote about the problems of transport for our community workers. Their work is wide ranging and better transport arrangements could enable them to make more visits and bring more children back for treatment. We are now in a position to try to deal with this sooner than I had expected, and want to buy a Toyota four wheel drive twin cab pickup. We've selected a used vehicle, recently imported from Japan, and which should be ideal for our purposes. The purchase process has started, there's a lot of paperwork to deal with to complete importation and registration, and I hope to have more news next month. The intention was to sell our old pickup which, because it had only two seats, wasn't suitable for community visits. We have had it valued and when the transactions are completed I intend allocating some money to buying materials for the Acheru workshop where disability aids are produced.
The following are two recent case histories:
Lamala Mercy is a 16 year old girl from Northern Uganda. She was brought to Acheru on 31st April with severe swellings on both ears. This was the result of having her ears pierced 13 years ago, with the growths becoming progressively bigger.
Mercy says: "I have experienced a lot of psychological pain ever since my ears began swelling. I have been mocked and abused. My mother told me that the swelling started to be noticed about a year after my ears were pierced. Some local herbs were used to try to stop the swelling but the problem kept getting worse.
Lamala Mercy
At first when I started school it did not affect me as it was not so serious then, but every month the growths increased. Apart from itching I had stigma and wanted to stay indoors all the time. I received insults from children at home and at school. I have always been a shy girl and I stopped giving out answers in class because I was always laughed at and defending myself was not easy. I used to put a piece of cloth on my head to cover my ears to try to stop people staring at me all the time. I am so grateful for the Acheru hospital, they reached out to our community and found me, they explained to my parents that the problem I had for years could be treated.
I am strong now, I am a changed person. I know this miracle is going to cause a great impact on my village and entire community. Many people discouraged me by saying my ears were going to be cut off, and others thought I would die during the operation.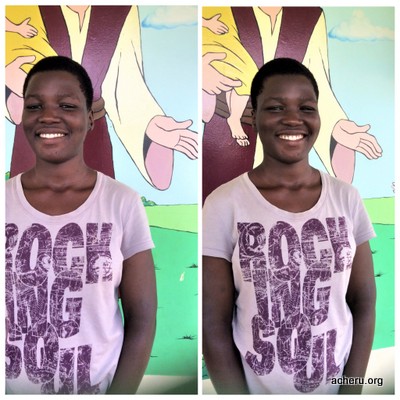 Lamala Mercy after surgery
My dream of becoming a teacher is going to come true.
Long live Acheru, thanks to the entire medical team and the donors".
Mirembe Harriet is a 13 year old girl who for several years had suffered from a severely swollen hand. She had been to several hospitals but none had been able to help. The pain became so bad that she wanted to die.
Harriet was the last born of seven children. Her mother couldn't cope and now blames herself for leaving the children. She says: "I lived in a violent relationship for years, but the time came when I could not stand it any longer and I decided to run away and hide. For a long time I was afraid to go to see my daughter. When I gained the courage to go back and see my children it was not possible because I didn't know where they were hidden and I couldn't find out. Then one blessed day I met a person who knew my family, she gave me the location where I could find my daughter and told me that she had a problem with her hand.
I rushed to see her but my eyes could not believe what I saw, she had a badly swollen hand covering all fingers and she was stinking awfully. I could not hold my tears as a mother. I did not get a clear explanation of what happened, traditional healers had convinced people that the problem was witchcraft. I took her under my care and tried to look for proper medication. In a lot of tears she told me what she had gone through since I left them behind and we all wept. Some people alleged that my girl had cancer and others said she was bewitched. I tried all possible means to help my daughter then a Samaritan directed me to Acheru where treatment changed her life.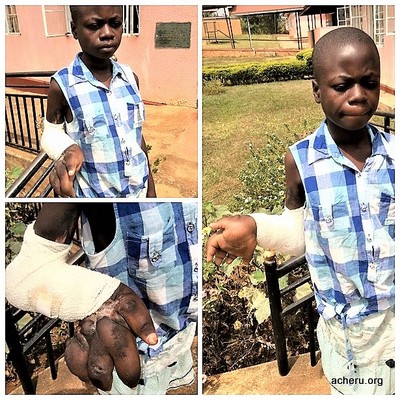 Mirembe Harriet
We had to agree to cutting off her hand as the only solution. I feel bad when I look at her in such a situation and worry how life is going to be when she has to do daily activities with one hand, but I put her in God's hands to prepare a way for her and enable her to overcome the challenges she will face.
Thank you Acheru, God bless you all."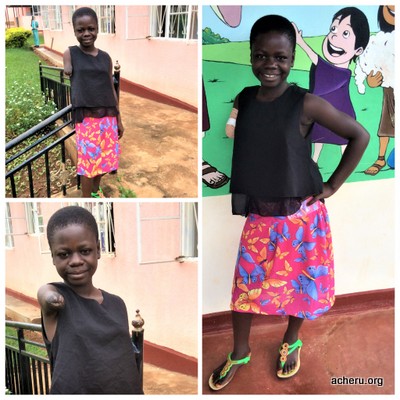 Mirembe Harriet after amputation
These two children illustrate something of the range of problems encountered at Acheru. Both children had suffered for a long time, but once they'd been brought to us their problems were quickly dealt with. There are still far too many children suffering for years. Their families may not know that treatment is available, they may be deterred because they fear high costs, or they may be prevented from bringing their children. We've still a lot to do.
Brian Dorman