October 2018 report - News from recent Acheru community outreach
The community work of Acheru takes several forms and the recently purchased twin cab pickup is proving very useful, facilitating work already under way and enabling plans to be made for additional work. Home visits are made to follow up on children who have been treated at Acheru, making sure there are no recurring problems and that if necessary they are able to access local health services. With the help of other community members the Community Based Rehabilitation team can also identify new patients.
These visits are usually conducted by two CBR workers, teamed up when required with medical workers. There are home visits, school visits, and sometimes wider community outreaches. Children can be visited at school to give encouragement as so many disabled children are failing in education due to the insults and mockery they may have to endure. Teachers and other pupils are involved to try to create a better understanding of disability and how a child can be helped. These home and community visits are usually conducted on three days each week.
Cerebral Palsy is still one of the most common conditions encountered at Acheru and the staff have a lot of experience, bringing about change which the parents didn't previously believe to be possible. They are usually treated as outpatients but many are unable to travel to the rehabilitation centre to keep appointments. Home visits from the CBR team help with counselling, guidance, and physiotherapy exercises. Children can also be assisted with appliances, made using local resources or in the Acheru workshop, including standing or walking frames, parallel bars, and cerebral palsy chairs. The CBR team may also help to coordinate the work of other organisations, for example enabling children to be provided with wheelchairs. Many Cerebral Palsy children also have nutritional problems, with families struggling to feed them properly. The CBR team can work with the parents to try to ensure an adequate diet for the child.
Acheru Community Based Rehabilitation covers all parts of the country and, when a need is identified, wider outreaches are sometimes planned with the help of people on the ground including community and church leaders, and families of previous patients. To make sure as many people as possible hear about the work and attend public meetings there are visits to homes, schools, churches, and mosques. Extensive use is also made of local radio stations to help with promotion.
The most recent outreaches on 21st and 28th August were at Nagojje Nakibana, spearheaded by a community leader who identified disability as a big concern in his own locality. A total of 36 children were brought for assessment and depending on their conditions they were referred to Acheru for treatment or were given information on other sources of treatment. None were left uninformed, and they benefitted from education sessions. Through counselling and sensitisation, many people's attitudes towards disability were transformed. Families and community members felt they were loved and cared for, and it helped the CBR team to motivate and encourage those who had previously avoided seeking treatment for whatever reason.
Despite the extent of the work which had been done it was clear to the CBR team that there is still a great need, with so many people still unaware of the location of units like Acheru and the services which can be provided.
One family encountered was a mother with four children and expecting her fifth. All have the same problem, a number of webbed or completely fused fingers and toes. The CBR team were able to reassure them that treatment can be provided at Acheru.
Another child identified through the CBR work is Kyakura Monica, an 11 year old girl who was born without lower legs. She faces many challenges, like using a toilet or moving through mud when it rains. Her fellow pupils mock her so she keeps silent. Despite these problems she is fortunate to have loyal friends, and they have enabled her to attend school.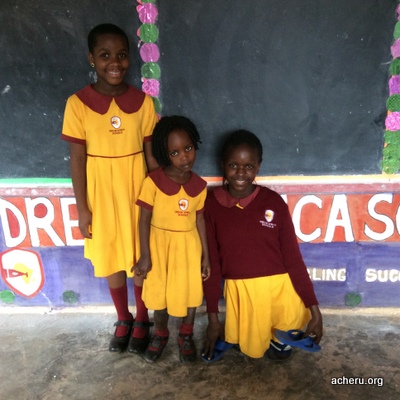 Kyakura Monica
The CBR team were encouraged to see how her friends protected her, with one of them carrying Monica to school on her back when it rains. She is in need of artificial limbs and we hope now that she has come to the notice of Acheru, appropriate help can be provided.
Brian Dorman