January 2019 report - Christmas at Acheru, and some staff details
It's been a relatively quiet Christmas at Acheru. Few operations are carried out, as many patients as possible go home, and most of the staff take a short holiday. Usually in December there would be Christmas parties at Kabembe and Minakulu for patients, former patients, and their relatives, but this year it's all been much lower key, instead concentrating on plans for celebrating the tenth anniversary of Acheru on 3rd March. A range of events are planned around this, to look back at all that's been done there and to focus attention on the future potential of the work and its promotion to a wider audience.
Following re-organisation of work in northern Uganda there are presently 19 people working for Acheru, and the following are details of some of them. They perform a range of tasks, but all are important to us. Whatever their skills, we want them to feel they are part of a team, each with their part to play in the outcomes we see from what's done there.
Nankinga Rebecca: For many coming to Acheru, Rebecca is the first person they meet. She is the receptionist, welcoming children, carers, and visitors, passing information to the relevant departments and entering details in the computer. When necessary she will help out with other needs including shopping.
Rebecca is one of three children, her parents are still alive. She attended St Joseph's primary school then completed her O levels at Makerere Modern School and A levels at Gateway High School, Jinja, before going on to complete a degree in social development at Makerere University. Rebecca and her partner have one child, and live in rented accommodation outside Acheru.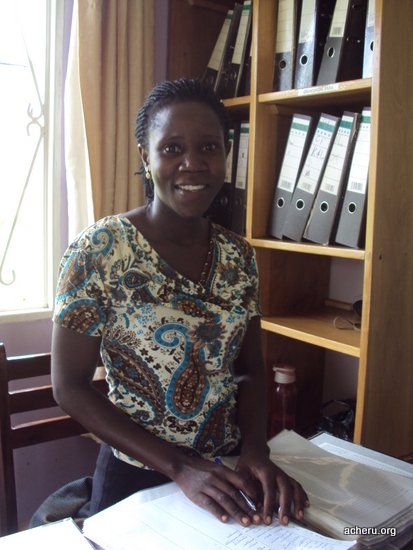 Rebecca
Through her work she endeavours to show love to the children, and wants to see community awareness developed. In her spare time she enjoys reading and craft work.
Johnson Mwima Higenyi: Johnson is Acheru's Orthopaedic Officer. He is from an extended family of fourteen children, the last born of three on his mother's side. He went to Bishop Hannington Memorial primary school, then in 2000 completed his O levels at Namuli High School. He went on to St Mary's secondary school, Kitende, passing A levels in 2002. In 2010 he completed his Diploma in Orthopaedic Medicine at Mulago paramedical school. He has worked at Acheru for seven years and stays on site in a staff apartment. He examines, diagnoses, and treats patients after talking through their history to give him a holistic understanding providing conservative (non surgical) treatment for conditions such as club foot, post injection paralysis, fractures, and other orthopaedic conditions which do not require surgical intervention. He oversees the well being of all the inpatients and carers, engaging staff members in a multidisciplinary setting, either one on one or in team discussions, to improve services. He is part of the Acheru team which conducts outreach clinics, and whenever required takes on additional duties.
Johnson works with a range of children, those born with disabilities as well as others who for whatever reason have become disabled, and sees all children who are brought to Acheru for consultations. In addition to those he treats himself, he refers around 700 children each year to CoRSU for a range of conditions including chronic osteomyelitis, angular deformities, neglected club feet, septic arthritis, cleft lip/palate, and post burns contractures. It is demanding work, and Johnson liaises with a team of six surgeons at CoRSU, transporting children there himself. The surgeons are central to much of Acheru's work and take a close interest in what happens there. Many of the CoRSU services are heavily subsidised but even for those which are not a surgeon may volunteer his services, including one who has personally sponsored two total hip replacements for girls referred from Acheru.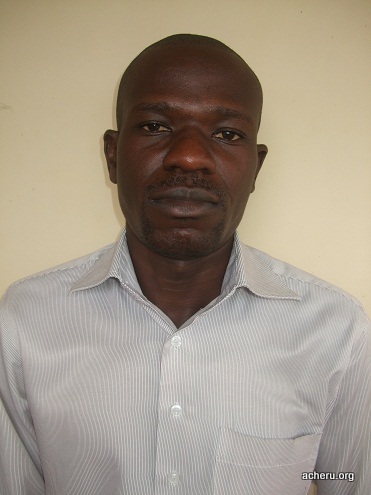 Johnson
Problems faced by Johnson include shortages of medical supplies. Most are bought from Joint Medical Stores in Kampala, but some things can be difficult to obtain. Johnson must also face the dreadful Kampala traffic problems on his CoRSU runs, starting out as early as possible.
At Acheru there's a lot of emphasis on Cerebral Palsy and Community Based Rehabilitation, and it's hoped these areas can develop, but there's still a need for all the other services too and Johnson would like to see more clarity on the direction of future development. From his experience working at Acheru he has ideas which he hopes can be discussed with the staff and management.
Johnson's ambition for the future is to develop professionally and be of value to his family, community, and nation.
Mugenyi Asuman: As security officer Asuman has an important function at Acheru. He is from Luwero, his ancestral area, and has two brothers and two sisters. The loss of his parents when he was still young meant he was unable to study beyond primary school.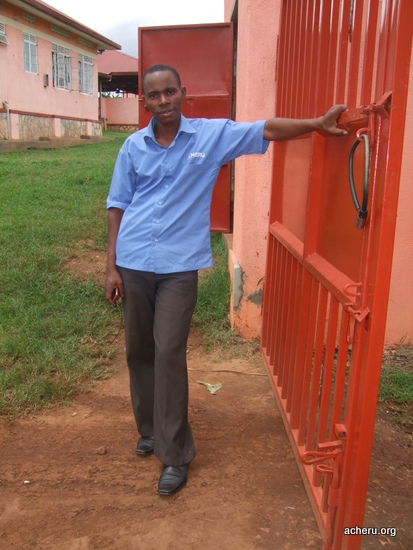 Asuman
Asuman is married with two children and lives in rented accommodation outside Acheru. He has now worked there for three years and takes responsibility for the safety and protection of patients, staff, and property. As with the other staff, he engages with the children when possible through games and activities.
Stephen Kisa Kkungu: Stephen is estates manager at Acheru, and also does much of the driving. He is seventh in a family of 11 children. He was educated to O level, then studied organic agriculture and extension work. He is married to Juliana and has four children. Stephen's home is in Ngogwe sub county but he usually stays at Acheru.
Stephen has been at Acheru since work started there, helping supervise all the building work as well as general maintenance of buildings, grounds, and equipment. As well as driving, he is responsible for maintenance of the vehicles.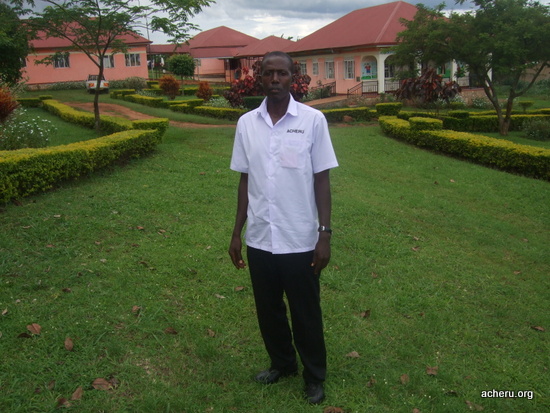 Stephen
Stephen says: 'I am from Mukono. My father was a lab technician in the entomology department of Uganda Virus Research Institute. I did O levels, and studied accounting, computers, and agro forestry. I worked with Uganda Institute for Social and Economic Progress, I was a field monitor in the agriculture department for three years, and programme manager for micro finance for five years.' During this period he worked part time with Evangelical Christian Ministries, then joined them full time when the Uganda Institute for Social and Economic Progress broke up. He served as a child evangelist and coordinator for Mukono Diocese. Stephen enjoys sport and is a keen photographer.
I hope this information on individual staff members, added to the previous stories of many of the children, will help give you a better 'picture' of what goes on at Acheru. At the end of another year we are now working with the Acheru staff to look at all the relevant statistics, to see how we can better prepare for the future. They hope to produce their annual report in a magazine format, and when it's ready I want to use extracts on the website. What we know already of the work done through 2018 helps us face this new year with some confidence.