February 2019 report - Preparations for anniversary celebrations, and more staff details
Arrangements are progressing for the anniversary celebrations on 3rd March. Several events have already been organized in Uganda by Acheru, including a sponsored run and a concert to help promote the work and raise support. The main event will take place at Kabembe on the day of the anniversary, and I imagine will include lots of speeches, food, and entertainment - but it will be a busy day for the staff and we intend on another day to arrange something just for them, to recognize their years of service.
At CoRSU, operations are carried out free of charge on the children we send there but Acheru pays other costs including transport, subsistence, X rays etc. CoRSU have had to increase some of their charges and now medications, previously provided at no cost to Acheru, have to be paid for. This is stretching the Acheru budget but at present we are cautious about increasing our payments to them and thus possibly risking our ability to guarantee our monthly transfers. Rising costs are something which have to be faced, and any planning at Acheru will have to take this into account, one possible option being a gradual reduction in the surgical work (hopefully without too much impact on children as other medical services develop which may provide alternatives) but an increase in the outpatient and community work where I think there is still so much potential. I am waiting to hear the views of the Acheru management.
Now some more details of Acheru staff:
Sam Mutumba, chairman of the Acheru board:
Sam worked with Africare for many years, firstly with Evangelical Christian Ministries, then with his wife Mary at Besaniya Children's Home and Cherub.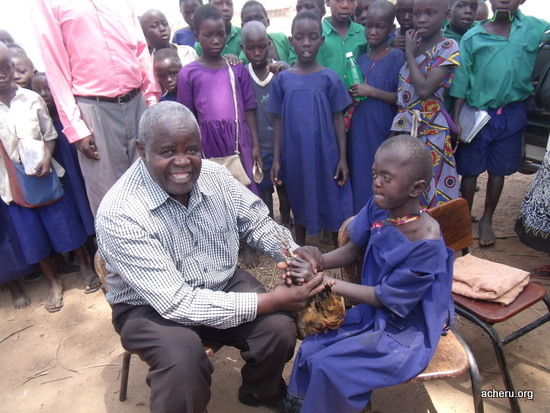 Sam, chairman
Sam says: "I became a Christian in January 1993. I was born second last in a family of 13 children, seven girls and six boys. We were a peasant family where my father had to work very hard growing coffee and cotton to pay for our school fees. This forced us to work hard digging and planting for other people. My formal education was to Senior 2 as the system was at the time, my father stopped paying school fees as he was growing weak. My elder brother who was a taxi driver promised to pay for my secondary education but couldn't continue after his own children started going to school. I joined a garage where my older brother was training to work as a mechanic. When I had worked there for three months my aunt, who was a teacher, heard of it and took me away to a teacher training college. I didn't like it at first because the chances of driving were minimal. The course lasted for four years and I qualified in 1967 as a grade 2 teacher. I did my O level in 1967 and continued studying privately for A level. In 1982 I entered Makerere University for my BA/Educ degree and graduated in June 1986. I taught in secondary school for five years and was a primary school headmaster for 10 years, retiring from active classroom teaching in 2002. I remained in evangelism and worked with Africare for orphans and disabled children."
After the move away from Besaniya and Cherub, Sam oversaw much of the development of Acheru and was closely involved in establishing the Minakulu unit in the north. Since stepping down from an active involvement in day to day work at Acheru he continues to use all his experience to serve as chairman of the board.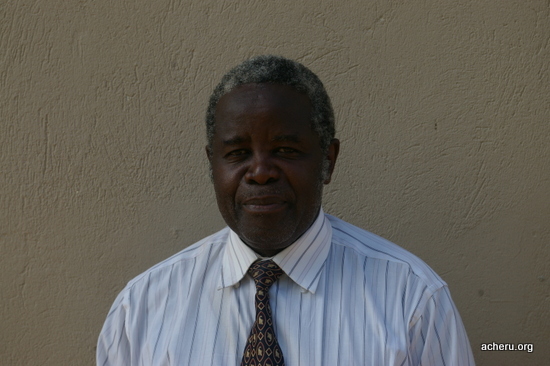 Sam, chairman
Apangu Richard: Our most recent recruit, working as security officer at Acheru. He comes from Arua district and completed secondary education to O level. He is married with 2 children and stays in rented accommodation outside Acheru.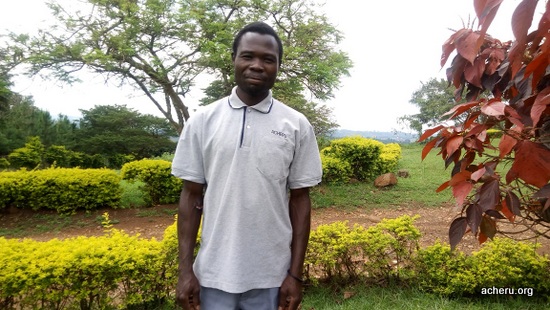 Richard, security officer
Richard would like to see team work developed at Acheru, and would like to see improvements made to the perimeter fence. His personal ambition is to be able to go for further studies.
Paul Ochen, former Cherub and Acheru physiotherapist:
Paul was central to the work at Cherub, and instrumental in the establishing of Acheru, gaining a well- deserved reputation for the quality of his work and the very obvious changes brought about in the children he treated.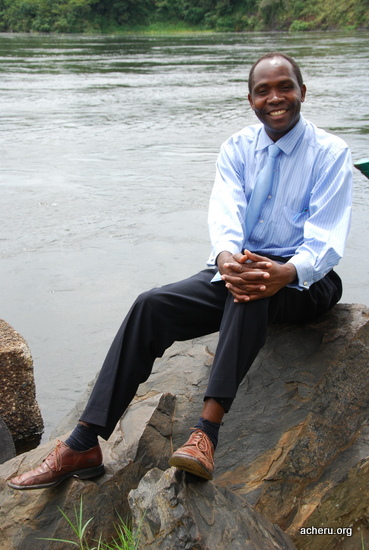 Paul, former physiotherapist
When he came to work with us he wasn't qualified as a physiotherapist, but he had completed several training courses, had a lot of experience, and did everything possible to enhance his skills. What set him apart from others doing similar work were the lengths he went to to involve the whole family in treatment, reasoning that only thus can the child be properly cared for in the long term. Paul had a thoroughly professional and deeply caring attitude to his work, and was always anxious to undertake further training. Several years ago he got the opportunity he was waiting for when he was sponsored to go overseas for training. He was a loss to Acheru but has now completed his training and is back in Uganda using all his skills and experience to benefit many children.
Nantongo Juliet:
Juliet is our teacher at Acheru. Her parents are still alive. Juliet is the youngest, and has five brothers and one sister. Her qualifications are a certificate in education and a diploma in business management.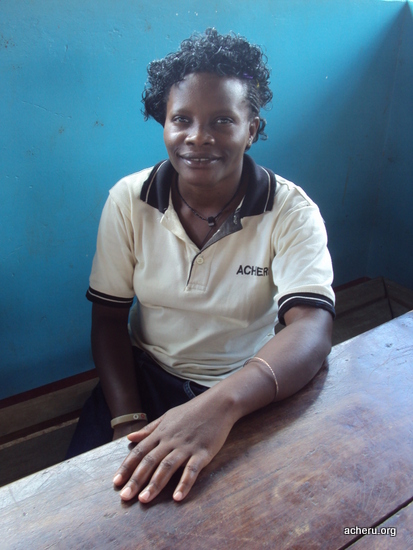 Juliet, teacher
Juliet has been teaching for six years at Acheru, working with classes of various sizes as she helps prepare the children for their return to education when they are able to leave Acheru. She is keen to increase her own knowledge and would like to see Acheru have a separate school where outside children could be taught alongside our patients.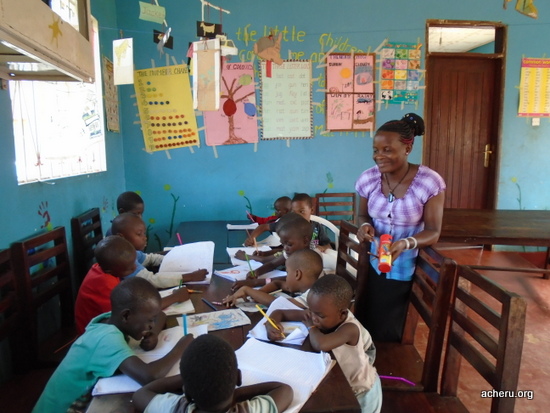 Juliet, teacher
The staff, most of whom live on site or nearby, spend a lot of time with the patients and their families who stay at Acheru, so have an opportunity to get to know them and have a positive influence. The impressions people take away from Acheru can be vital in helping change attitudes to disability in their own communities. The Christian ethos remains central to work at Acheru, setting an example to people going back to communities where other very negative influences may continue to prevail.