April 2019 report - Anniversary celebrations, and the Acheru magazine
The anniversary celebrations are now just a memory. It was a big party, with 444 guests, and along with the events held in the run up to the celebrations was an opportunity to focus attention on disability. This helps bring Acheru's work to the notice of a wider audience with the potential to benefit more children and can also change attitudes, encouraging more people to bring disabled children for treatment and place more value on them.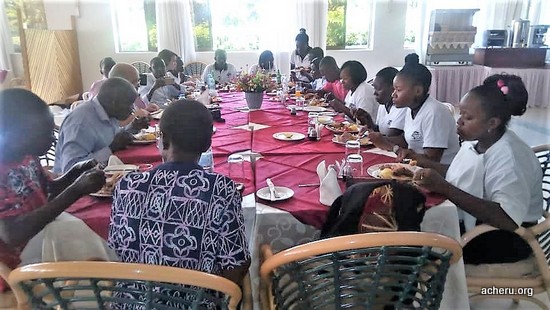 Staff meal at Colline Hotel
A lot was done in Uganda to promote the anniversary, including producing a magazine. I had also prepared literature for the anniversary but I was very encouraged by the magazine, which they produced themselves. They sold advertising to cover the printing costs.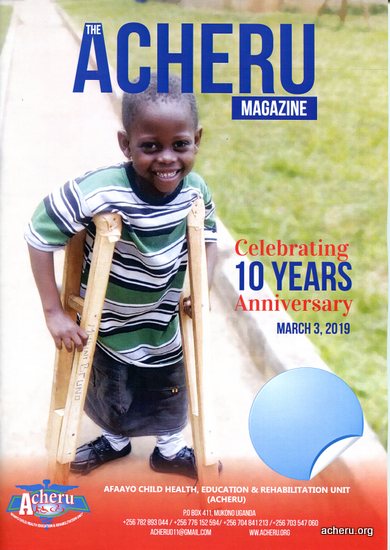 Looking back at 10 years of development and blessing is encouraging us to look to the future, and we will be reviewing all aspects of the work. It's also a good time to think about the efforts of the staff, and once things had settled down after the main events, we treated them to a meal out together at the Colline Hotel in Mukono, and have been able to give them a bonus. As well as recognizing their individual efforts in helping make Acheru what it is now, we wanted to ensure that, whatever their own particular skills, they felt that they belonged as part of a team and that their own role was important in changing the lives of the children. I could say the same about everyone who has helped us in any way as together we have helped bring about change in a way we couldn't have done individually.
I have a few copies of the Acheru magazine, so if you'd like one please contact us.