August 2019 report - Some extracts from the Acheru magazine
A message from Joyce on the 10th anniversary of Acheru:
'God has been my help'. Psalm 94:17-18
It has all been possible by the grace of God. God gave me courage to accept the appointment as administrator when I was 24 years old. He has helped our sponsors to get money to support our work, healed our children by the help of good surgeons, and He has enabled the entire Acheru team to achieve this success. Being a leader in a rehabilitation setting such as this calls for love, servanthood, patience, multi-tasking and having trust in God. I joined Cherub in October 2005 following a transfer from Mukono Health Centre (now Mukono Church of Uganda Hospital).
I have been in medical practice for 17 years now, having qualified in midwifery at Mengo School of Nursing and Midwifery in 2002. In 2007 I got a Diploma in Health Administration, then in 2013 a Bachelors degree in Health Administration from International Christian Medical Institute under Uganda Christian University. It is from this background that I can relate my medical practice with the administrative work I do today.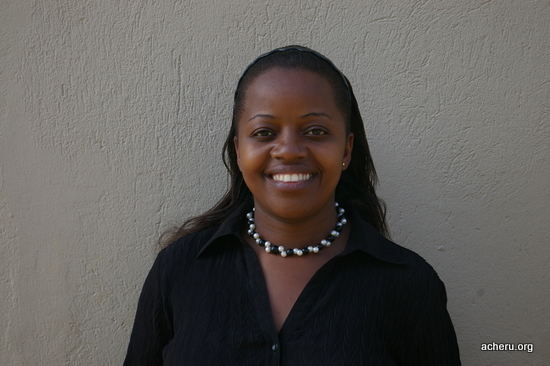 Joyce
The common problems we see at Acheru are Osteomyelitis, Cerebral Palsy, Club Feet, and cleft lip and palate. Some of the parents/guardians of children with these conditions have negative attitudes towards medical treatment. Some perceive that the problem happened after being bewitched by someone who doesn't wish them well, or a co-wife or child stepping on witchcraft as they were going to the well (common in osteomyelitis).
Especially for congenital deformities like cleft lip/palate and club foot, men commonly transfer the blame to mothers because some believe they can never contribute to formation of deformity in their children. Transferring the blame doesn't stop with men disowning their own children. Financial help can be withdrawn, hence a broken relationship. Mothers will face the dilemma of leaving the child with a grandmother to get a job for income, or re-marrying to receive support from a new partner. For some this is successful and for others it may worsen the situation. The poor grandmother remains with the child, burdened with bringing them to Acheru and sometimes with no financial support to feed the child a balanced diet. The District sometimes allocates money to support the needy in the community but most of our mothers have no access to it.
Let us work together to support children with disabilities and special needs. Dear parents/guardians, do not think of dropping the child at Acheru and go home to look after other members of your family; these children have equal rights to education, health, love, and basic needs. Fathers, kindly support mothers during the course of treatment, your child needs transportation and support for the small contribution required to operate and other basic needs. To the local leaders, let all the money allocated to support children with physical and special needs be given to the right beneficiaries. What you may call little money can have a positive impact for the parents and the child. To my fellow medical and non medical staff, let us show love and commitment in the way we provide services. I have witnessed and shared God's blessing by doing so.
Uganda Christian University:
We want the work of Acheru to be as widely known as possible as we try to set high standards and demonstrate what can be achieved with disabled children. In pursuit of this aim we are linked to the social work faculty of Uganda Christian University and Lisa Tokpa, the co-ordinator of their Uganda Studies Programme, wrote:
"Dear Acheru staff, my congratulations on reaching this significant 10 year anniversary milestone. We could not be more grateful for our partnership, or more proud of what you have achieved in this time. We have worked with Acheru (formerly Cherub) for almost 15 years, as your staff graciously host our students from North America for a rich cultural and academic learning experience through semester - long internships. Our programme has evolved into offering three academic emphases: Social Work, Global Health, and Interdisciplinary Emphasis. Acheru is one of few partners who have the capacity to host students from any (or all) of these emphases. We as staff at the Uganda Studies Programme have learned so much from each student experience as we partner with Acheru towards greater cross - cultural learning and growth. We continue to be inspired by the work that you do in Uganda, and students leave their time here with that same inspiration that travels with them far into their futures.
We are certain that the learning and mentorship that students receive at Acheru every semester is not only helping them be more effective professionals within their areas of study, but global citizens who contribute in profound ways to their communities around the world.
Thank you for this contribution to their lives, and our own as your friend and partner in this important work."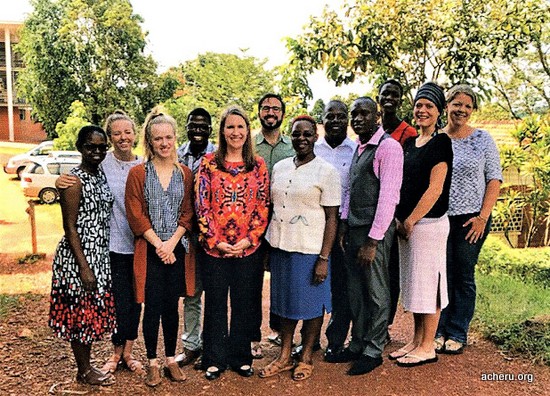 Uganda Studies Programme staff