October 2019 report: Some more childrens stories
More news of the paraplegic boy I wrote about last month. Contact was established with his father, who had been in prison on an unrelated matter. The aim was to try to involve him in his son's rehabilitation and he came out to Acheru to accompany the boy on a follow up visit to CoRSU, where he had surgery. This represented progress; however the boy, who presumably is aware that his parents wanted him to die, has refused to acknowledge his father in any way. Physical rehabilitation will be difficult enough but the Acheru workers face a challenge if he is to be re-integrated into his family.
Natulida Sylvia, a 14 year old girl from Kibale district, came to Acheru with a severe bone infection and open wounds on her hand and thigh. There had clearly been attempted unsuccessful intervention before she was brought to us. Sylvia's family background is unclear, she only remembers seeing her mother once and when her father remarried she didn't get on with her stepmother or her younger step brothers and sisters. She is unclear about when the problems with infection started, but remembers falling asleep in school and when she wakened she had to be carried home with severe swelling and a lot of pain.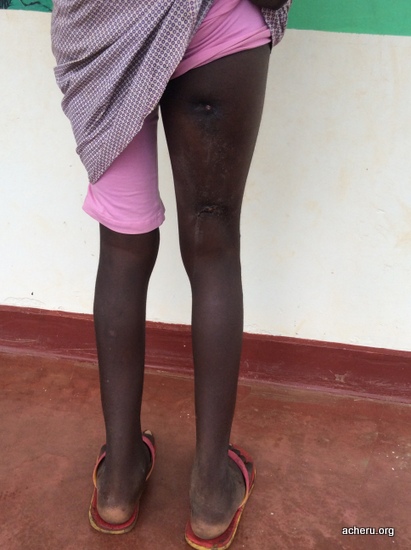 Natulida Sylvia
This happened two years ago and Sylvia says her father told her she was bewitched, and took her to the witch doctor. Her grandmother disagreed and wanted to take her to church but her father overruled, local herbs were smeared on her leg, and the swelling turned into discharging wounds. "Grandmother pleaded with father to take me to the hospital, but he said he didn't have money to waste on me; if I'm dying, let me die. A cousin visited and helped to take me to Acheru. I'm so happy to see myself so changed, without stinking wounds. I can play with others, and above all I'm so happy to be back at school. Thank you Acheru."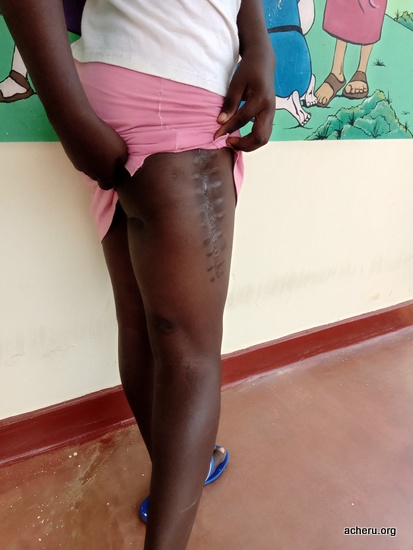 Natulida Sylvia
News from Northern Uganda:
Oola Sam, from Oyam district, is 13 years old, the last born of eight children. He was brought to Acheru with a long neglected injury. He had a very painful hip joint, with very limited movement, and restricted growth of his left leg, and could only walk with the aid of crutches and a hip brace. His condition was the result of a fall when playing with his sister. He was referred to CoRSU and diagnosed with a fracture of the left femur neck.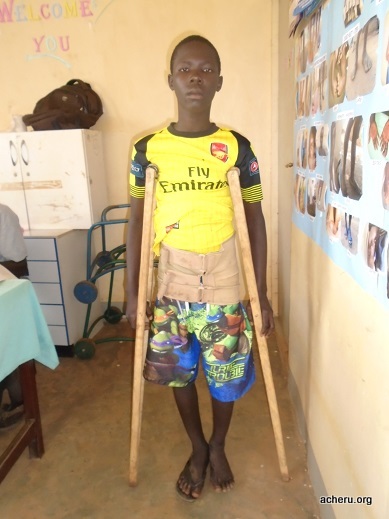 Oola Sam
Suitable treatment was provided and following their intervention his condition has been corrected. Although his left leg is shorter than the right, he can now participate in normal daily activities without pain, and is able to return to school. His parents are happy and thankful to everyone involved at Acheru and CoRSU.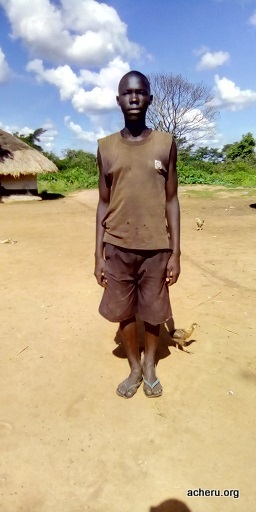 Oola Sam
You will also remember Sam Opio, the boy with the facial tumour. His recovery has been very encouraging and he now intends to study tailoring. He raised some money of his own and brought it to Acheru as a contribution towards his treatment, but they have advised him to spend it on scholastic materials for his studies.
The following is another extract from the Acheru magazine; we still have a few copies left, so let us know if you would like one.
A Story of Hope:
Fatie, five year old daughter of Adikim Faith, was admitted some time ago with a severe discharging wound on her left leg. The problem had started two and a half years previously and some medication was done, but there was no change.
This little one is a mother's daughter due to the disappearance of the father. They have been at Acheru for a long time but the father has never visited or enquired how they are doing.
The girl's mother has a psychiatric problem and is currently on medication from Butabika hospital. This problem has affected her so much that even her own family members are not supportive at all. They never followed her up to know how she is doing with the girl or to know where they are staying.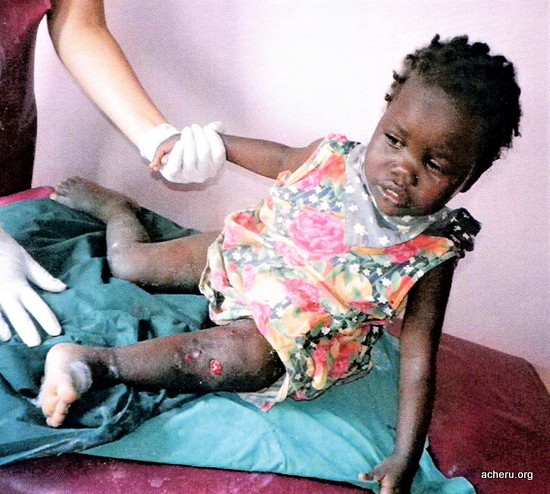 Fatie
A follow up was done by the community based rehabilitator to see where they came from, but the signs on the ground were not pleasing. No one is interested in taking care of them. This girl was in severe pain for over a year. No treatment was provided as the girl was thought to be bewitched, and the situation worsened. We thank God that a Good Samaritan who knew about Acheru led them to us. Due to the severity of her condition she has stayed much longer than usual. Everything possible has been done to put a smile on her face and there's a great change. Different surgeries have been done and wounds healed very well.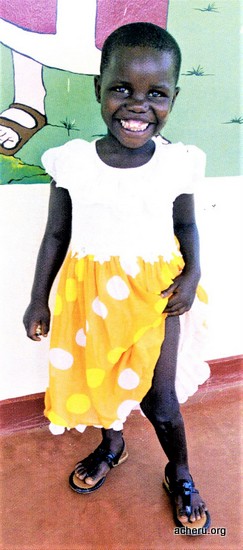 Fatie
The previous situation could not enable these two lovely people to have beautiful smiles like now, God restores hope in those who are helpless. They are so happy right now.