November 2019 report: The stories of more children, and news of the recent evaluation of the work of Acheru
Atim Mercy from Iwala Village in Oyam district is the fifth born of five children. She was travelling on a bus with her father when another passenger saw that Atim was unwell and asked what was wrong with her. Atim's father told what had happened to his daughter, and how they had struggled with her illness. The passenger knew of the work of Acheru and as their journey took them past Minakulu they suggested taking Atim to our Acheru unit there.
Atim was unable to extend her left knee joint, and walked with crutches. She suffered constant pain in the joint and had multiple discharging pus sinuses at the left femur. Her condition began in August 2018 with pain in the left knee, followed by discharges. This was first treated at a local hospital but relapsed.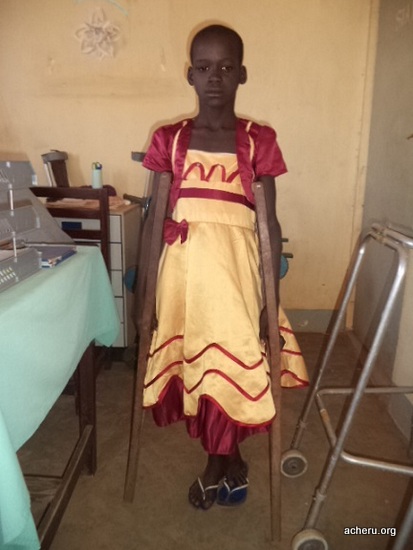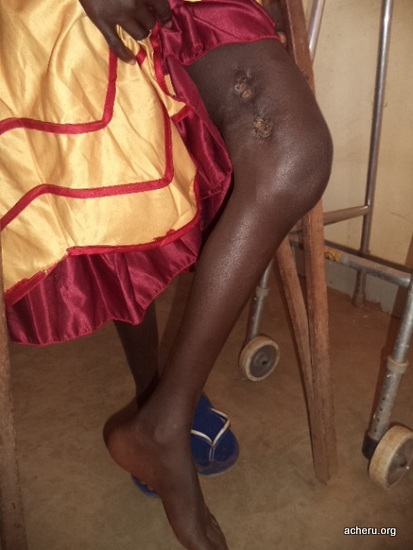 Atim Mercy before
She was diagnosed with chronic osteomyelitis, admitted to Acheru, and referred to CoRSU for sequestrectomy and biopsy. Treatment continued back at Acheru with antibiotics and analgesia, therapeutic exercises, and psychosocial support. She has now made a full recovery and both parents are thankful for the work done.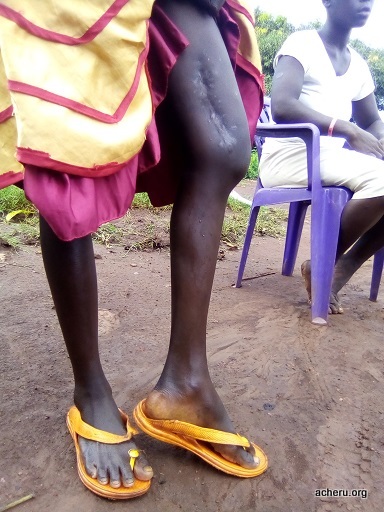 Atim Mercy after
Ocen Morrish is a 12 year old boy from Atong Lela village in Oyam district, the third born in a family of seven children. He was unable to use the fingers on his right hand, the result of burns from a kerosene lamp as an infant. Local treatment was not successful. A worker in a government health centre lived in his village and asked his parents to bring Ocen to our Minakulu unit. There he was diagnosed with post burns contractures and sent to our main Acheru unit at Kabembe, from where he was referred to CoRSU for surgery.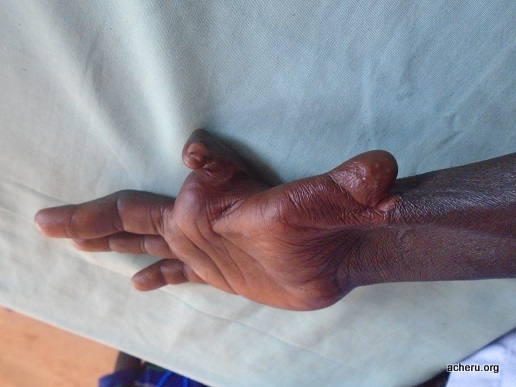 Ocen Morrish before
Following surgery, Ocen came back to Acheru for nursing care, physiotherapy, and psychosocial support. He was soon able to return home to the north, attending for physiotherapy at Minakulu. His parents are thankful for a successful outcome and Ocen is on our follow up programme with home visits to assess his progress.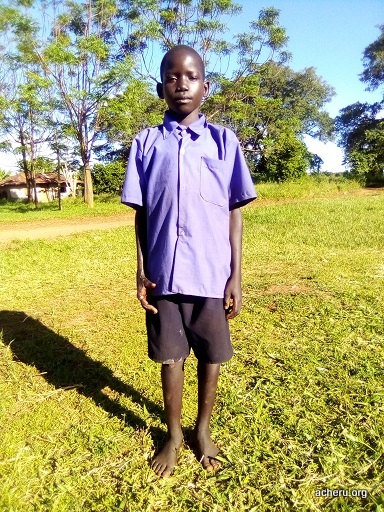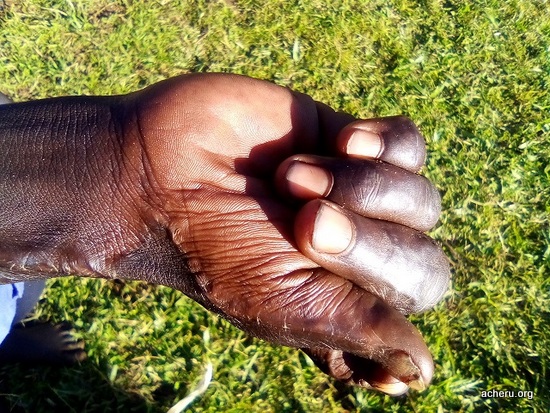 Ocen Morrish after
Akim Lukwama, a seven year old boy from Joggo village in Mukono district, came to Acheru with severe knock knees. He is the fourth born of five children and there is family history of this problem on the paternal side. His mother says:
"I gave birth to my boy as a normal child, but when he started standing we noticed he wasn't standing well. It did not catch us by surprise because it was a family problem which most of the children experienced when growing. Some of them healed without going to the hospital, and for others the problem was not so severe. For our son, we thought he will be fine like others but it wasn't like that and for him it was getting worse every day. He started feeling pain when getting up to stand and whenever he walked a distance. At two years old we realised he was lame but still we had hope that the legs would correct like others. Family members used to discourage us from going to hospitals believing that it was a family problem. They continued to scare me that the child's problem would worsen if he was operated on and he may not walk again. This made me give up.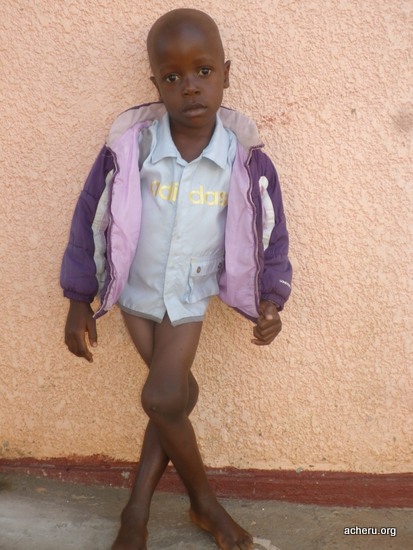 Akim Lutwama before
The good news about Acheru came to me when I was walking with him and we met a Good Samaritan who told me that I can be helped at Acheru. She said that my son will get better and added that she had a child with bone issues who was treated at Acheru and is much better now. I rushed to my husband and told him all about it but he did not welcome the news and did not support me to bring his son. He said that if anything went wrong I would be held responsible but I had made up my mind to treat my boy. I am so glad. They first worked on one leg and the boy healed well and that is when my husband started supporting us. I am so happy to spread the news about Acheru in my village".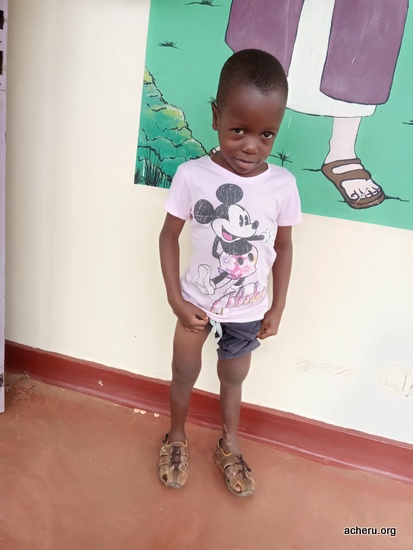 Akim Lutwama after
Bwambale Dennis. Now 11 years old, from Nsumbe Village in Mukono District. Dennis was located by the Acheru CBR team during a school visit. He is an old patient from Cherub who hadn't completed his treatment.
Dennis lives with his mother and grandmother, who try to eke out a living from farming. His father died in an accident when Dennis was three months old. His mother says:
"I gave birth to my son when I was 15 and the father 17, we were young parents. We were scared to see him with folded feet but I was comforted by the nurse who told me about Cherub. We started treatment at one month and it was going on well until three months when a terrible accident claimed my husband's life. I was left helpless, I left the small house we used to rent and moved back to my mother's place, and that is when treatment stopped. The feet started going back to the worst position, and he struggled to walk.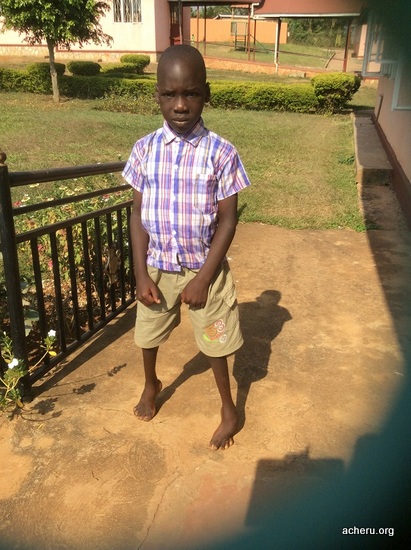 Bwambale Dennis before
I could not even afford to feed him properly, and it was hurting so much to see him like that but I had no option. I tried my husband's family for support but they did not help. I never intended to neglect taking my son for treatment but I had no way out. Life has not been easy raising my boy as a young mother, sending him to school is not easy but I try. He cried with pain when he walked and most of the time he has been missing school, and abuse from other children always left him crying.
But I thank the Good Lord who brought people from Acheru to the school where I had to take him, it was a precious moment of healing in the emotional pain of my life. As a woman I had given up on having more children and marrying again because I thought that I was cursed, having a lame child and losing my husband at a tender age left me weak but the love and care I have received has healed me so much. All along I had no hope of seeing my son walk but today we are so hopeful. He always tells me that he is working hard to give me a good life and this melts my heart. I always pray for him to be successful in life. After receiving surgery again from CoRSU, and casting, he is better now.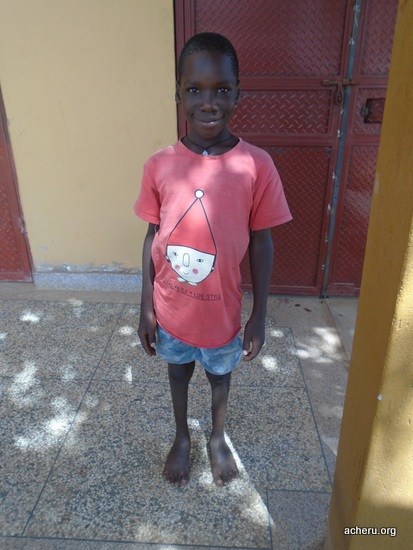 Bwambale Dennis after
Thank you Acheru for giving me another chance to be happy in life.
Evaluation of the work of Acheru: The doctor and civil engineer who recently visited Acheru to carry out an evaluation have now returned and are working on their report. I am already very encouraged by their observations on the quality of the work. We will have full details in next month's circular as well as information on how we hope to follow up on their recommendations. I think this will give us a lot to think about and we are obliged for the work they have put into this, entirely voluntarily at no cost to Africare.