January 2020 report: Planning for development, and a story from the Acheru magazine
2019, the tenth anniversary of starting Acheru, was a year not just to celebrate, but to consolidate and review what's been done. The review and evaluation rounded off the year well, giving us something to work with as we plan a year of improvements and upgrades to make the most of our opportunities there. Having seen such blessing, I don't think it's a time for complacency, just letting things carry on as they are. We are now broadly in agreement with the Acheru staff about where we go from here, and are taking Dr Allen's report as a basis for planning. Over the next few months I want to prepare a lot of detail on priorities and estimates, although we've already been able to make a start on some things. Sending out air freight to Uganda can be costly and troublesome, but sending DHL boxes has proved reliable, getting there quickly and delivered right to Acheru. It's expensive so we only use this method for urgent items or things which can't be obtained there. The value of what we've been sending has far exceeded the cost of sending the boxes, so is proving worthwhile. Urgent, high value supplies have turned up here at just the right time, being given to us at no cost.
As usual, there will have been Christmas parties at Acheru and Minakulu. These celebrations bring together present and former patients and relatives, helping cement their relationship as part of the Acheru 'family'. But the parties go beyond that, and are used as an opportunity to promote the work by inviting high profile guests. There's also usually an opportunity for the staff to relax and celebrate together, it's very important that they all bond together as a team. Perhaps that's particularly important this year following a number of staff changes and the appointment of several recent graduates - inexperienced in some ways, but bringing new ideas and enthusiasm.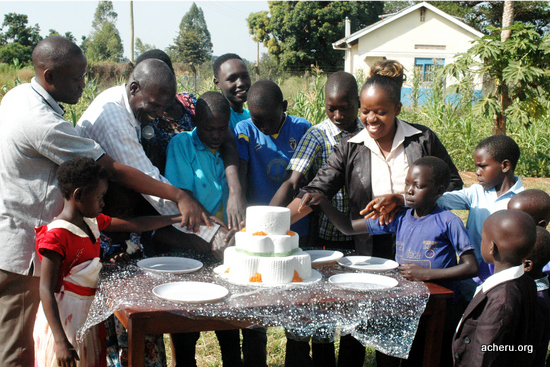 An earlier Minakulu Christmas party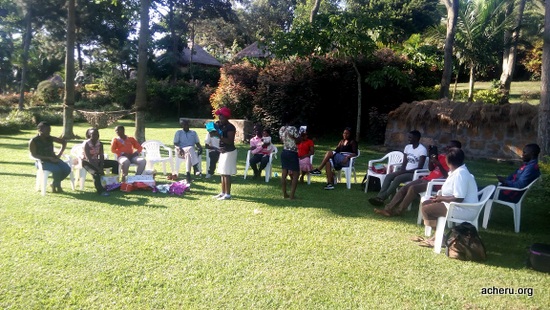 Exchanging gifts at a staff Christmas outing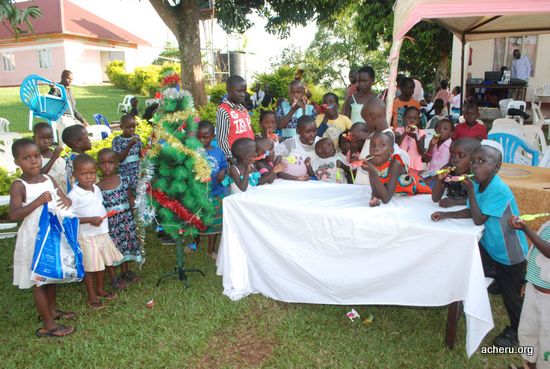 The Christmas party at Kabembe
For me, one of the highlights of the year was seeing the magazine produced by Acheru to mark the anniversary. I am so used to writing articles, updates etc to promote Acheru that I was very encouraged when they produced this themselves, and I know they made maximum use of it at the celebrations. The following is an article I've taken from the magazine. It's written by Aidah, a double amputee I've written about before, but it's refreshing now to hear her telling her own story.
I have written several times before about Aidah. The following is an extract from a piece she wrote herself for the Acheru anniversary magazine:
"My name is Katushaba Aidah. I am 24 years old, a female student at Makerere University School of Medicine. I am doing a Bachelors degree in medicine and surgery and I am in my third year. I live with a physical disability. I was born lame in both legs and I used to crawl on the ground. I came to Cherub (and later Acheru) in 2006 when I was in primary five. I left school for six months and came to Cherub where I was operated on and had both legs amputated. I was later given artificial limbs which I still use.
As a young girl back then this was a huge miracle, as I spent most of my days just wishing, dreaming, and praying for when it will finally happen. I was the happiest person worldwide. Can you imagine me standing and walking straight, putting on clothes and being smart? This is indeed a dream come true.
I will speak more for children with physical disabilities because this is where my experience lies. As a growing girl I faced many challenges. There was isolation, kids would rarely play or associate with me for fear that they would also contract the same. There was also condemnation. The community rejected me and everyone would stop what they were doing to gaze at me. Kids would gather around singing stigmatising songs and undress me to examine me. People would wonder why I was being taken to school, since I would not achieve or become anything in life.
Getting me into school was hard for my parents. Most schools rejected me because I was disabled. I remember a time when one of the teachers approached me and told me how she had asked the school to chase me but my performance and dedication later changed her perspective. There was a very poor attitude to children with disabilities by fellow students and teachers as they see you as incompatible. I remember one of the professors at the University who wanted me to change my course. He never expected me to do medicine. There has been a lack of role models locally where children with disabilities, parents, and the rest of society can refer to before they come to conclusions concerning children with disabilities.
I was brought up in a poor family where life and all requirements for children with disabilities are expensive. Sometimes my parents could not afford whatever they wanted to provide for me. My appeal to everyone is: support children with disabilities and their parents. You never know what the future holds. God has a better plan for us."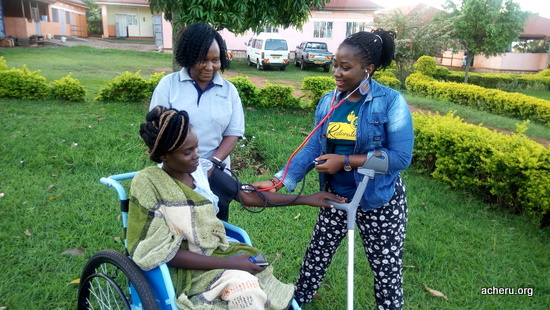 Aidah checking Fiona's blood pressure using some of the instruments we sent out to help with her studies
It's an encouragement to us to see Aidah doing so well when previously she was sitting on the ground in her village with little to look forward to. She was fortunate to have such determined parents, who ensured she got an education. So many in Aidah's situation would have been abandoned as worthless. The work of Acheru is much broader than the treatment provided on site, and it's our hope that making the work more widely known can help change attitudes and ensure a better future for many more children.