February 2020 report: News of patients, and another quote from the Acheru magazine.
Some more news of the boy I wrote about in September and October, who suffered a spinal injury and was being left to die by his parents before a journalist brought him to Acheru. There's a lot of work for our staff to do if parents are to accept having a disabled child but an added complication in this case was that the boy knew his parents would have preferred to let him die. A lot of progress has been made, and while now facing the challenges of a life changing injury the boy is in a positive frame of mind and is at home with his family where he is visited by Acheru workers. During the last visit they saw a big change, he was found outside playing with others. His wounds are healing well and he was being helped with exercises by family members. His mother said that he can help himself and sit in a wheelchair when previously he stayed on a mattress and had almost no movement. The smile on his face was beautiful with a lot of hope, and he said "I am so happy that I can move out of the house and play with my siblings, I like it when they wheel me around the village and I visit my friends. I'm so hopeful that one day I will be able to start school again".
There are of course many hospitals and medical facilities in Uganda and some at least should be able to provide the same level of care and treatment available at Acheru. When we combine our level of care and the lengths the staff go to in working with the children and their families, with the exceptional surgical expertise available at CoRSU, few other places can match us.
Amputation remains a last resort for our patients and a number of times children have been brought to us in an attempt to avoid an amputation which has been recommended elsewhere. This has now happened again with Eric, who was in hospital in northern Uganda with severe osteomyelitis. They were going to amputate his leg but in desperation his mother brought him to our unit at Minakulu. Our physio there, Ronald, thought his leg could be saved so arranged to bring him to Kabembe, for referral to CoRSU. This wasn't easy as Minakulu is a long way from Kabembe and Eric was a very sick boy. Nevertheless Ronald set out from Minakulu with him, the only means of transport being the night bus which must have been an awful journey for the boy.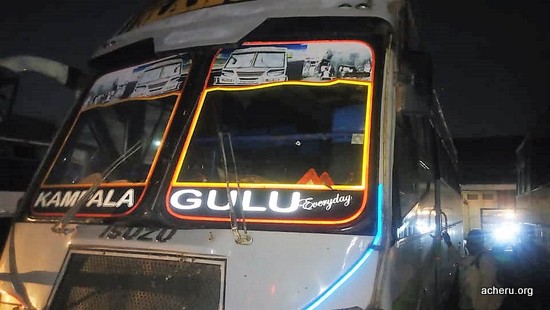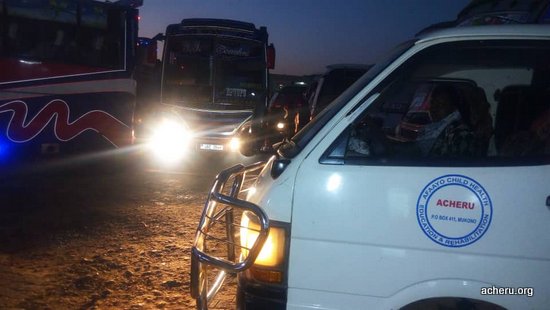 Eric arriving in Kampala
He was collected by Acheru staff when his bus arrived in Kampala, and taken to CoRSU (where they have so much experience of osteomyelitis) for nutrition therapy prior to surgery. This should give Eric the best possible chance of successful treatment and I hope he will soon be back at Acheru to complete his recovery. The high standards set not only benefit our own patients but set an example for others, potentially benefitting many more children.
Collecting Eric from the bus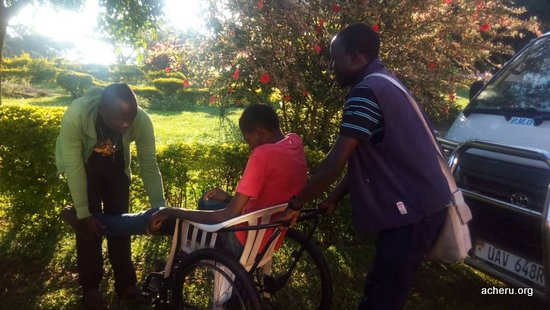 Eric arriving at Acheru
Harriet Makabuye (Community Based Rehabilitation) and Rose Nakabugo (Social Worker) write in the Acheru magazine:
"We have witnessed life changing and joy in the hearts of children and their parents/guardians. Acheru has managed to restore hope to many who had lost it completely. We are dealing with people who are suffering. Receiving clients who have lost hope because of a child's deformity is painful; they come with wounded hearts, crying, asking for help, and others cursing God for giving them such children.
At Acheru we feel what they go through emotionally, socially, financially and spiritually. We restore hope, we mend hearts with much love, care, time and kindness.
Acheru does not stop at treatment and discharge, as community follow up and home visits are a crucial part of rehabilitation. Reaching out to different communities through home visits and outreaches we teach about deformities, and create awareness on prevention, causes, and treatment of disabilities. Different stakeholders like families, churches, schools, and local leaders are involved in mobilising children seen on outreach clinics and referring children found with deformities in their communities. We believe in seeing a changed life physically, socially, spiritually, morally and emotionally. We do not just treat and discharge.
Because of the psychological trauma most of our parents go through, we take time to talk with parents and children to help make informed decisions concerning their problem and how they can benefit from treatment. Despite the pain that our children go through they keep smiling with hope of victory.
We thank God who has blessed our work, not forgetting the financial support from Africare and friends. We also thank parents for entrusting us with their children for treatment. Many lives have been changed and I believe God will bless us all."