April 2020 report: Progress with development and news of recent patients and a former patient
The Coronavirus is casting a long shadow over everything at present. We have no idea how this is likely to affect our work here or in Uganda so rather than over reacting we will try to keep things as normal as possible and monitor the situation. There will clearly be a significant impact on the economy but we don't yet know how this may affect us. I have been able to reassure the Acheru staff and board that we will be continuing to transfer out their monthly budget in line with previous guarantees, and we have also made some progress with support for the development plan.
We don't know how the work in Uganda will be affected. Acheru is registered with the Ministry of Health so presumably there will be official guidance. If, for example, surgical work needs to be limited, there may be scope to extend community and outpatient work; much of this will be left to the discretion of the staff, who may need to react to a fast changing situation.
My worry in the present crisis is that there is alarmism which could lead to panic, and false information which could result in bad decisions, and Acheru will need to guard against this. There have been claims that Uganda has bought the rights to a vaccine which will be available very soon; there are extravagant claims from 'evangelists' saying in effect that Christians are immune; and there will be many trying to make money from all this by selling cures. It is my hope and prayer that everyone at Acheru can work together to cope with any changes and will be able to continue to work effectively through whatever changes take place.
I wrote in my last report about some of the more difficult conditions the staff must deal with. Others, like the following, can be much more straightforward, while still meaning a great deal to the children concerned. Five year old Lagum Mary and nine year old Awor Lucky are sisters from Minakulu in Omoro district. Both developed leg deformities from a very early age, diagnosed as Genu Varus (bow legs) with painful knee joints making walking difficult. From Minakulu they were brought to Kabembe and referred by Acheru to be seen by CoRSU's orthopaedic surgeon. They both received the same treatment: bilateral knee epiphysiodesis, nursing care, therapeutic exercises, and psycho-social support. They now have normal leg alignment, are free of pain, walking and playing normally.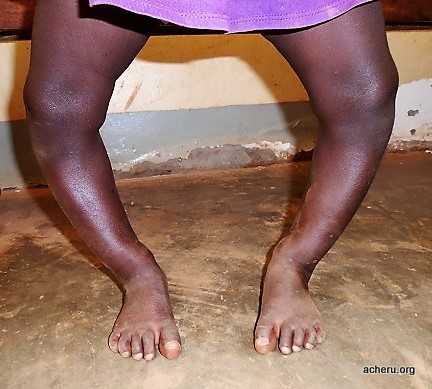 Lagum Mary before treatment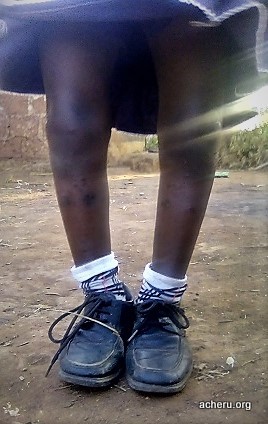 Lagum Mary after treatment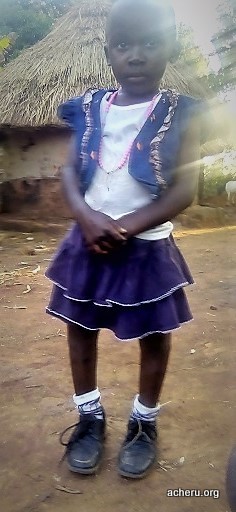 Lagum Mary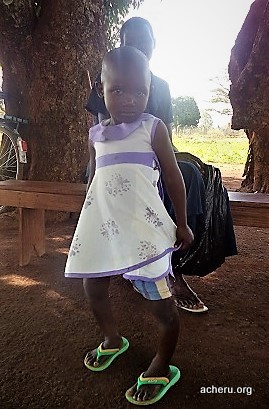 Awor Lucky before treatment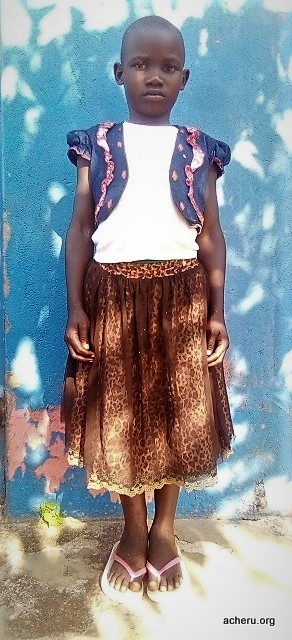 Awor Lucky after treatment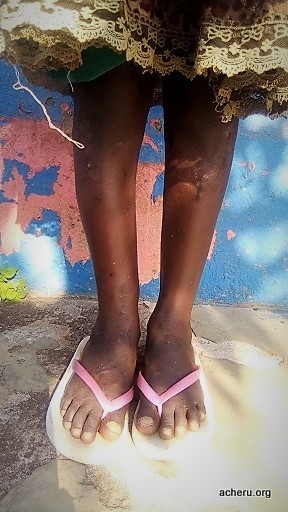 Awor Lucky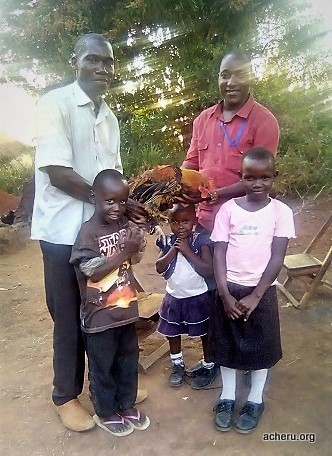 Lucky and Mary with their father and Ronald, our orthopaedic technician
Agang Judith is an orphan living with her married sister in the north. She was spotted by Acheru staff during a community outreach at Otwal health centre, complaining of a painful right leg and inability to use her right arm. She had been injured when a tree fell on her, fracturing her leg, when she was six years old. She was treated in the regional hospital but her leg did not heal properly. She was diagnosed by Acheru staff with mal-union fracture right mid 1/3 tibia with right radial nerve palsy. She was taken to Kabembe and referred to CoRSU for corrective osteotomy, then back to Acheru for post operative care. Her right leg is now in normal alignment. Following this intervention Judith was enrolled in technical school and attained a certificate in tailoring. During an Acheru follow up visit she was found to be doing well and earning money from clothing repairs.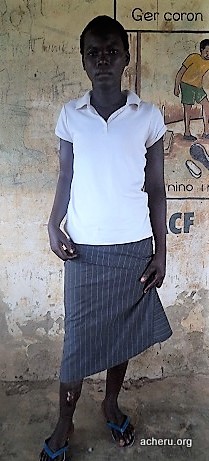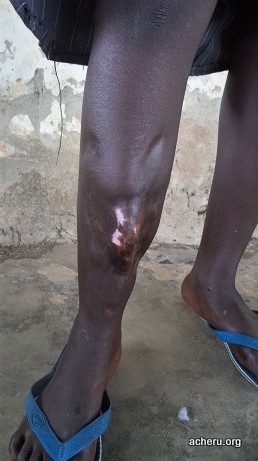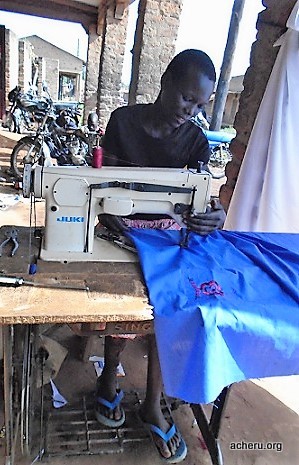 Agang Judith
The medical equipment in the store is no longer my responsibility but I tend to get withdrawal symptoms and like to do what I can to help. I'm trying to prepare some of the more 'technical' items for sending to Malawi and possibly other places. Because of my age and medical history I am now considered 'vulnerable' with the spread of the Corona virus, so I work alone in the office or store. If I've to meet anyone in the office we sit quite far apart! I think these medical supplies can still be of considerable value if we can place them in the right hands, but we need help with the sending of containers. They're not cheap so we try to ensure that the value of each item makes sending it worthwhile. It also means making difficult decisions about what to discard as at present there's far too much in the store and I'd like to get it moved, whether that means scrapping it or sending it to wherever it's most needed.