May 2020 report: How Covid 19 has affected our work
Firstly, medical equipment: The store is behind my office (both generously provided at no cost) and the work there is done by two friends, Bobby and Ray, who operate as 'Medaid4kids' with supplies going out to a number of countries. I'd dealt with medical equipment for so many years that I still like to try to help if I can, particularly if I see something in the store which might be of use in Uganda. When the virus hit and it became clear that hospitals would be short of ventilators, we had a good look in the store - not easy as those of you who have been there will understand as it's rather crowded. Behind all the stacked boxes we found 11 ventilators, all believed to be in good condition.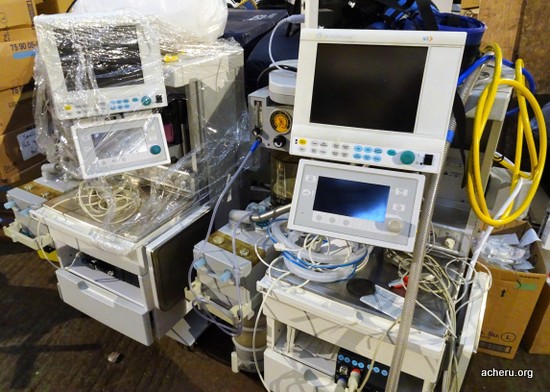 Anaesthetic machines and ventilators at store
After so many years of accepting obsolete or end of lease equipment from hospitals, here was an opportunity to give something back. Ray, a retired anaesthetist (who carried out the Acheru evaluation in October) made the arrangements, the ventilators were taken away for testing, and we were delighted to find that they are now in use. Ray has since found another three in the store which hadn't been spotted at first.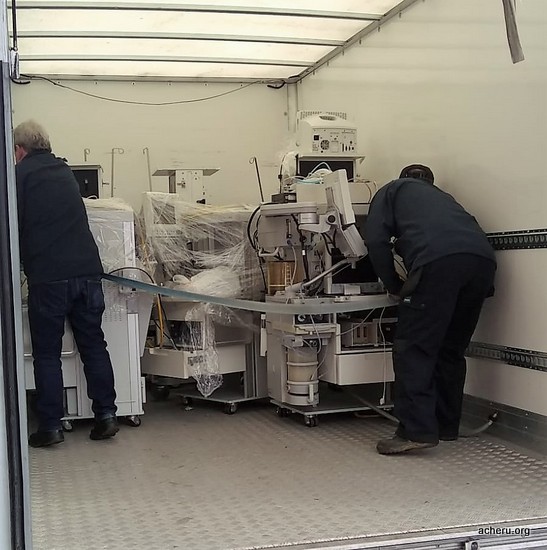 Loading ventilators at store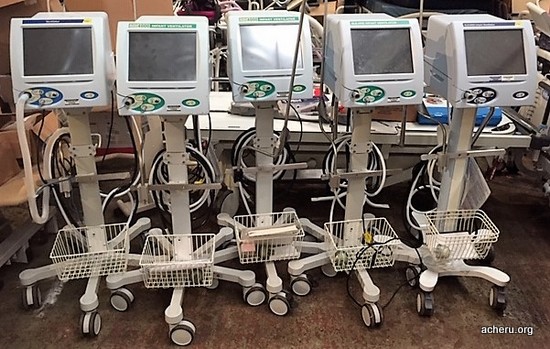 Paediatric ventilators
It's a privilege to be associated with Ray and Bobby, both retired from their careers, both now putting in a huge effort, purely voluntarily, not just to prepare and send out medical containers but to travel to many countries (including some very dangerous locations) to assist in whatever way they can. When the scale of the Coronavirus problem became clear, Ray very quickly offered to go back to work and is now once again using his skills in an operating theatre. Please remember Ray and Bobby; Bobby is a man of action and following a recent heart attack is deeply frustrated at having to stay at home instead of getting to the store and Ray, back in hospital, must try to minimize the risks faced by all medical staff at present.
Africare administration: There has been no serious disruption to my own work. I collected current paperwork, computers etc from the office and am now working mostly from home as of course is Hazel as she brings the books up to date for the end of the financial year. Obviously charities are going to be very hard hit in the aftermath of the virus and many are already in very serious difficulties. It's impossible to tell how Africare will be affected in the longer term but for now we have money designated for the Acheru budget and have reassured the staff and board in Uganda that the monthly transfers will continue as usual.
Acheru: It's too soon to tell what the impact of Covid 19 will be on the work in Uganda, but there is already serious disruption. There has been very little evidence of the virus spreading in Uganda - whether this is because it doesn't survive in a tropical country or that it's just slow to take hold there I don't want to speculate, but the effect could be devastating if it does start to spread. The biggest problems at present aren't due to the virus but to the Ugandan government's reaction to it with a lockdown in place very early, stringent restrictions affecting most aspects of life, and a huge impact particularly on the poorest who are struggling to find food or access medical care. There is also a serious problem with locusts in the east of the country. This is a seasonal problem, but is much worse this year, with fears of a second wave.
We had hoped to bring Joyce and Harriet here in August but the visa application process is difficult and costly, and with no idea how long international travel may be affected we have reluctantly postponed this. Joyce has been telling me how the changes forced on them have affected the work. Travel restrictions have stopped the community work and prevented out patients coming.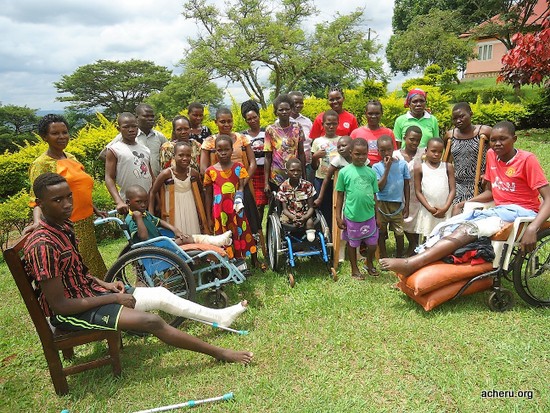 The reduced number of inpatients during the present 'lockdown'
The staff have taken measures to protect everyone in Acheru, with restrictions on anyone coming in or out, and staff have been given specific responsibilities and instruction where necessary. Most staff live in or nearby so can continue their work, but some who used public transport are now unable to get there. Joyce has obtained a transport permit enabling children to be taken to and from CoRSU, and discharged patients have been taken home to the north, leaving a much reduced number of inpatients for now. The long journey to the north was difficult. Steven, who usually drives, is caring for his sick brother, so Joyce and Harriet had to take the ambulance. It is approved to carry eight people, but with eight patients plus a number of carers, there were a total of 16. Joyce had to explain all this at a total of 21 road blocks on the way. Rather than just focus on self preservation, every effort is being made to maintain the work and witness.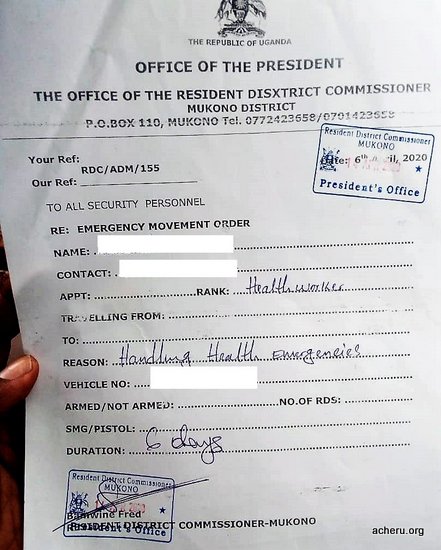 Travel permit for the Acheru ambulance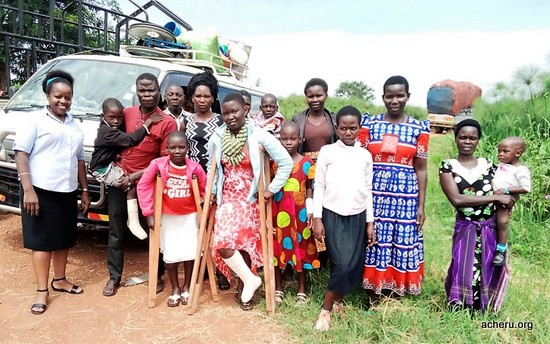 Joyce with children being returned to the north
What we presently face is unprecedented, but be assured we are all doing everything possible to adapt to a changing situation, maintaining our witness as effectively as possible. My own work is relatively unaffected, but think of the Acheru staff trying to cope with the changes.
Sadly, we've just heard of the death of Lydia Kamya in Uganda. Lydia was a friend for many years: we first knew her as a social worker helping us at Besaniya, where she was one of the founding board members. Lydia developed her own work in the slums of Kampala, with a community centre, health centre, and vocational training unit working with girls there with a particular emphasis on teaching skills to young single mothers. I often visited her there, and from time to time we were able to help with her work. Lydia then used her experience to help guide us in the development of Acheru, serving till recently as a board member. I don't know at present what will be the future of her Mirembe slum project, but her daughter is a social worker and may be able to carry on the work.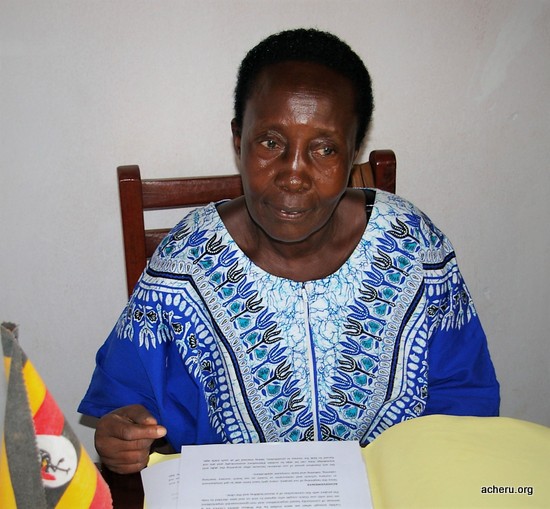 Lydia Kamya