October 2020 report: Closure of charities in Uganda, and news of community work
Africare is constituted as a charitable trust so must meet certain requirements. Almost from the outset we have been recognized by the Inland Revenue and thus able to claim back tax on donations. Then, more recently, in line with new legislation we had to register with the Charity Commission. Now we also have GDPR - the General Data Protection Regulations. All of these rules can mean a lot of extra work but we have always ensured that we are fully compliant and are up to date with all that's required of us by way of accounts and reporting. We are fortunate in being able to deal with all this ourselves, with voluntary guidance when needed.
But it's not just in the UK that we have to comply with legislation, we've also had to consider what's required of us in Uganda. With Besaniya, and then with Cherub, we were partnered with the Church of Uganda so didn't need to be registered separately. We established Acheru as an independent unit so there was a lot more to think about. Ministry of Health approval was quickly obtained so the medical work could proceed, and then the lengthy process of NGO registration was successfully completed. We believed we'd done everything correctly in following all the rules, but it was still a relief to have it all settled.
The reason I'm writing about this is to reassure some of you who have been in touch after hearing news of a government purge of many charities in Uganda following a review carried out late last year. Of over 14,000 NGOs working there, the government shut down over 12,000 of them. I can assure you that Acheru has not been affected, and registration was renewed for another five years. We were of course concerned to hear of this purge but we knew that Joyce, who has a degree in Health Administration, and the rest of the management and board, did everything possible to maintain high standards and ensure full compliance with all the regulations.
From an Acheru community report:
Community based rehabilitation involves different activities including advocacy, sensitisation, community awareness, counselling and guidance, and lobbying for clients as well as all the work of follow up visits on former patients. The team doesn't work in isolation, but cooperates with other service providers, one example being the sourcing of wheelchairs for some children. Mobility can be a very serious issue, the difficulties faced by a parent with a disabled child who is unable to walk and must be carried is a problem which obviously becomes more serious as the child grows.
Families of cerebral palsy children shared with the community team how difficult it is for them to carry a child all the time, forcing them to make the painful decision to lock them in their houses when they go to work or tend their gardens. Many of these children can't attend school or play with others and while Acheru can't do everything, there are opportunities for the CBR team to work with others to obtain wheelchairs for some of these children. The families are so happy for the support they receive, the children can be taken outside, they may be able to attend school, they no longer need to be locked up. Visiting the homes of disabled children means the CBR team constantly encounters families living in very difficult circumstances and they can feel helpless in the face of the problems they encounter. It makes such a difference to them to be able to offer practical help in situations where words alone can seem very hollow.
Picture 1 below shows 4 year old Nassozi Aminah with her mother and brother. She can understand but can't walk or communicate; having a wheelchair has made a big difference.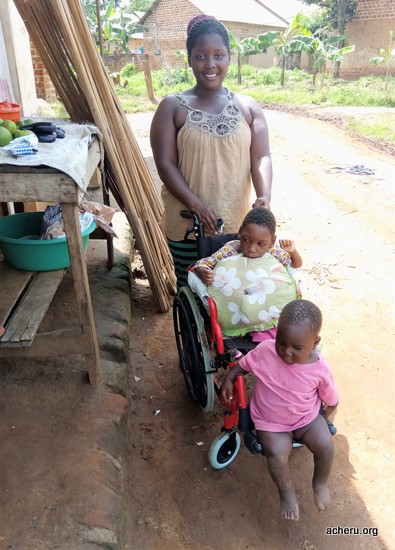 Picture 2 below shows Jackson Kibirige, 13 years old, who has cerebral palsy. He is in the care of his devoted father since his mother left.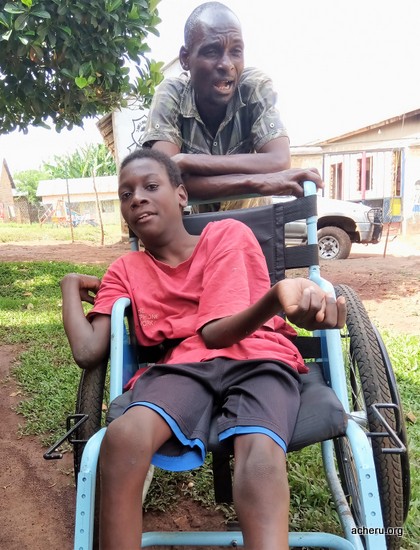 Mercy, in picture 3 below, also has cerebral palsy and while unable to talk has good understanding. Before receiving a wheelchair she was always lying down, so this has made a big difference, really broadening her horizon.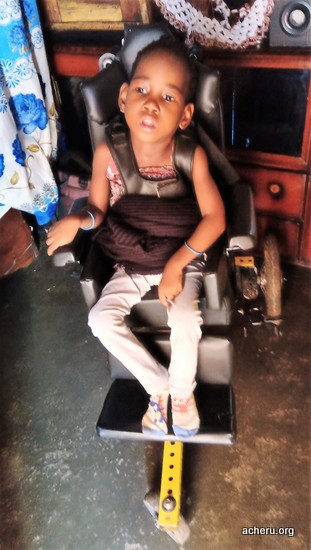 Ryan, picture 4 below, is now 7 years old. When he was three he contracted cerebral malaria and now has severely restricted mobility. It was a great moment for his mother to receive a wheelchair.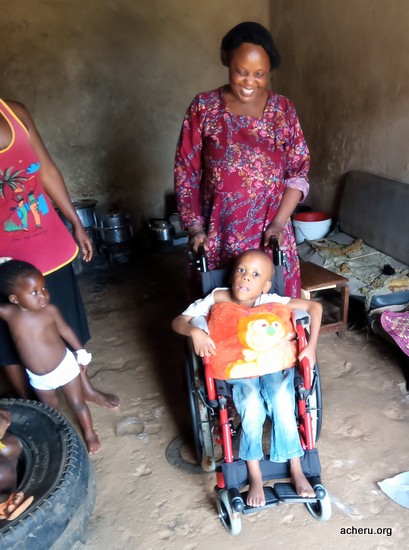 14 year old Sudhir in picture 5 below was fine up to the age of 6 when his muscles weakened and he struggled to walk. Since then he has been confined to the house, but can now get around again.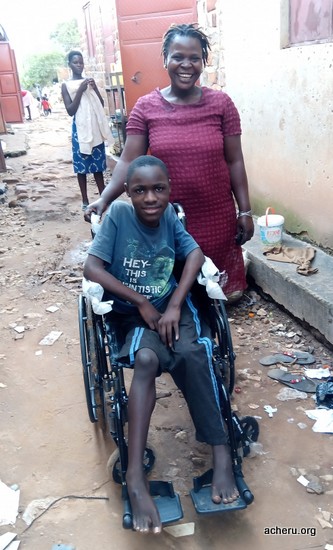 Jonathan in picture 6 below is five years old, with cerebral palsy hydrocephalus. He is unable to stand or sit unaided and his mother was struggling, but her situation is now much improved since being given a wheelchair.