January 2021 report: A very different Christmas at Acheru
This is when I would usually be telling you about the Acheru Christmas parties at Kabembe and Munakulu. They're big events attended by many former patients and their relatives, with some high profile guests. These celebrations are a way of maintaining relationships with people who have become part of the Acheru 'family' and help to promote the work, making it more widely known. But not much has been normal in 2020, and the Covid restrictions meant the parties couldn't take place. Instead, efforts were made to visit people in the community, particularly those living in poverty and struggling to deal with the needs of a disabled child.
This is an important part of Acheru's work and witness, but when visiting people living in difficult circumstances we want to bring them more than words. Gifts given included chickens from our Acheru farm, matooke (bananas), rice, sugar, and soap. For some families living so far away that visiting was impractical, it was possible to send small gifts of money. This is the best that could be done in the circumstances and we hope it will help maintain Acheru's relationship with those who need us, and help people to understand the aims of our work.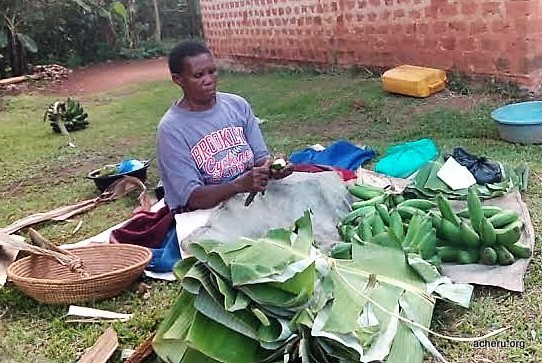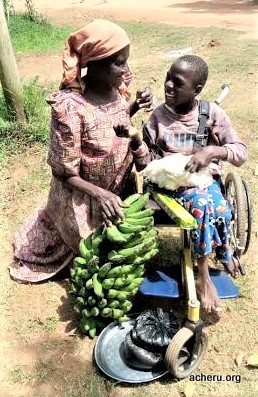 We've been able to do this because donors here have given help specifically for community outreach, so this aspect of the work isn't competing for funding with some of the medical needs. The community team want to thank the donors who make this possible, they couldn't have done it without your support.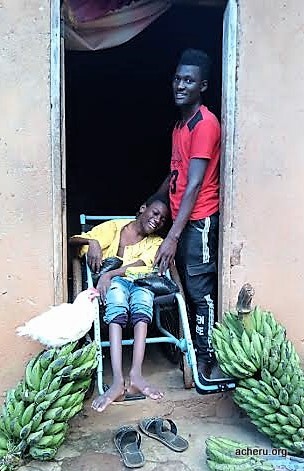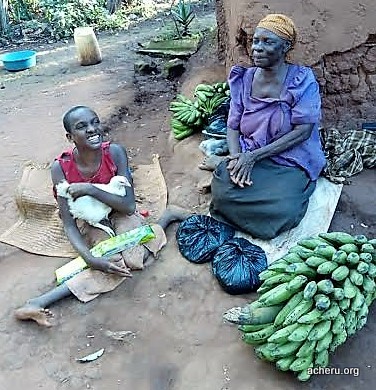 At the end of each year I look back at the work, and I try to learn from it all in preparing for another year. After all that's happened in 2020 I am now thinking about 2021 and how much uncertainty we face. Africare is a Christian organization and people tell me I shouldn't worry, we must work in faith. I fully understand that, and believe it's what we've always done, but 'working in faith' can't simply be a way of avoiding our own responsibilities. I have worries and concerns. I feel the weight of planning and making decisions but I also think of previous years and the problems we were praying for then, sometimes in situations where we found it hard to see any way forward. I now draw confidence and encouragement from looking back at how so many difficulties were resolved, how what we saw as insurmountable problems were resolved, how the work was advanced and increasing numbers of children helped.
At the time of the Acheru 10th anniversary we indulged ourselves in the luxury of looking back, but we couldn't let this become self-congratulatory, we could never have done this ourselves and now I must look ahead and engage with the Acheru staff and board to ensure that we learn lessons and draw encouragement from what has happened and rather than become complacent and simply carrying on as before, we keep striving to do it better. There are many people involved but I try to co ordinate it all, to work with the Acheru management and with the donors, ensuring that the Acheru staff know we are behind them in enabling them to concentrate on using their skills to maximum effect, and that those who support us can be assured that the help they give directly impacts on as many people as possible.
In the last circular I updated you on the Acheru development plan. We've now been able to implement more of that and are preparing to replace the ambulance soon. We're greatly encouraged that after such a difficult year we've not only been able to maintain the work, but continue to improve. The impact of Covid on Uganda and our own work is an unknown and it's difficult to plan for. I just know from what happened in 2020 that the staff, while taking all necessary precautions for themselves and the patients, will do their utmost to work effectively. This will be particularly difficult with community work; there are so many who need our help, but Covid restrictions will only make it more difficult for us to reach them. I hope in the coming months I'll be able to bring you more case histories and reports.
Whatever happens next, so much has already been achieved that we've never had reason to doubt our decision to start Acheru.
There's a lot more to running Acheru than just providing treatment and care, so it's worth remembering the demands of dealing with administration there. I've seen the way many other organisations run their finances and I'm always grateful that Joyce, Harriet, and Brenda (the Acheru accountant) are so meticulous in all financial dealings. You will also understand that as a unit dealing with very sick children, and accredited by the Ministry of Health, there must be full compliance with a range of very strict requirements. It's thanks to the efforts of everyone at Acheru that registration as an NGO was recently renewed for another five years when so many other organisations had their charitable status withdrawn. Please continue to think of all those in positions of authority at Acheru. As well as all the demands of the day to day work, there will be people around who will seek personal benefit from it or seek to undermine it in some way. I have written before about Acheru's reputation. This was hard earned and needs to be protected. As well as Africare depending on the confidence of donors, it's vital for the work that people have sufficient trust to hand over their children to us.
On behalf of everyone at Acheru I want to pass on our appreciation for helping make it all possible, and whatever else happens, we pray 2021 will be a year in which many more children will be successfully treated.