February 2021 report: Ugandan elections; the implications for our work
The recent elections in Uganda have given power to president Museveni for another five year term. A number of you have been in touch following news stories about violence around the election campaigns to ask how this might affect Acheru. I won't attempt to comment on the election, the claims of corruption, or whether or not the result was unfair. The work of Acheru goes on and we must deal with things as they are, not what they might have been.
There was disruption around the election which affected travel and communications, but things should be back to normal now (or as normal as they get with Covid restrictions) and we can concentrate on the work. But I think it's worth bringing you up to date with government and other organisations as we don't work in isolation there. Acheru tries to set high standards and we can't let these be compromised, but there are rules too and we have to comply with all relevant legislation. However, right from the start I am unaware of Acheru encountering any problems relating to corruption or bribery, there seems instead to have been understanding and cooperation.
In Uganda the government alone can't meet all the medical needs, so are dependent on the charitable sector - and in particular, mission and church hospitals. In recognition of this there is a good deal of cooperation, with parallel systems, and of course Acheru, in dealing with disability, is not trying to offer the same services as other hospitals and clinics and can take referrals from them, in particular children who may require lengthy rehabilitation which hospitals aren't in a position to provide.
We have good relations with government, both national and local, and established relationships with several partner hospitals; Acheru is small and we can't attempt to do everything ourselves. In Northern Uganda, where there are limited medical services for a very wide area, we explored the possibilities for a number of partnerships when we started work there. While some looked promising, they didn't work out, some people weren't good at cooperation while others tried to benefit financially. The most suitable location for us in the north was Minakulu; central to a large catchment area, close to the main road and not far from Gulu, and the ideal partnership developed with the government health centre there. They gave us a small building beside the centre, so we are able to work closely together without unnecessary duplication of any services.
Government ministers have been supportive, and a number have visited Acheru; we want them to fully understand what we are trying to do. A potential difficulty arose when a child brought from the north died unexpectedly during surgery, and there was a concern about how his family might react - but the local government representatives in the north were understanding and helpful, assisted with transportation of the body, and the family expressed their gratitude for our efforts with the child.
Our work can extend far beyond what's done at Kabembe and Minakulu, one example being an earlier connection to work with blind children at Salama; we started to provide some practical help when the school and hostel there were failing, with dilapidated buildings and very few children. The government then became involved, helping put up new classrooms and accommodation, and it's all very impressive now, with many more children.
Local councils are an important part of the administration in Uganda. At Kabembe, the council chairman was on the Acheru board up to the time of her death recently. I think it's fair to say that Acheru could be seen as a 'prestige' project which people are happy to have in their area. It's important that people take pride in what we are doing, rather than seeking personal gain. All of this helps with promotion of Acheru and the search for children who can be treated there. Good relationships have also been developed with three of the main universities, Uganda Christian University, Makerere University, and Kyambogo University with internships and placement of international students. Rose Nakabuyo came to us first as an intern from Kyambogo and on completion of her degree in social work and administration joined Acheru as our social worker.
Our advocacy for disability, against a sometimes difficult background I've written about before, has been helped by an enlightened government attitude, including incentives aimed at helping the progress of disabled children through the education system. We can look at Acheru statistics but from numbers alone it's hard to quantify our influence, in particular concerning how disabled children are regarded in the community. To help locate children for treatment, we want the work to be widely known; there are traditional and cultural factors which can make it difficult to persuade people to bring children for treatment but local leaders, whether at council level or village 'head men', can be very influential when they're on our side.
The impact of the work undertaken is a tribute to the staff who work hard to maintain relationships with all levels of government administration, and with churches and other organisations. We can't take this for granted and must be thankful for what has been achieved in spite of what may be seen by 'outsiders' as political problems in Uganda. We will all be doing our utmost to make the most of this understanding and cooperation to keep bringing in as many children as possible.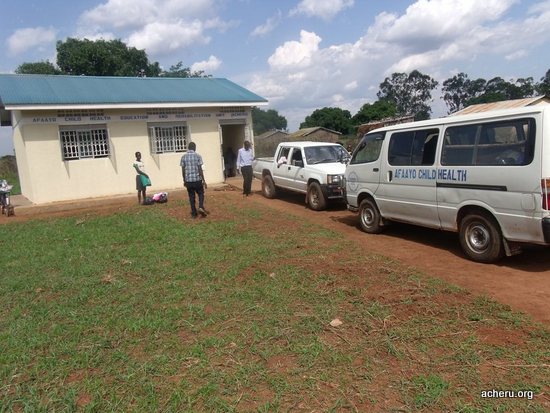 Our Acheru unit at Minakulu in the north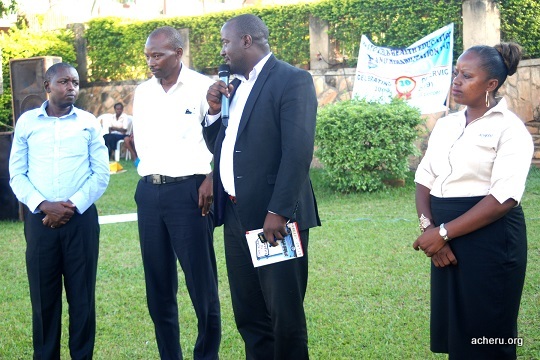 Book launch by the deputy mayor of Mukono, Kajoba Jamadah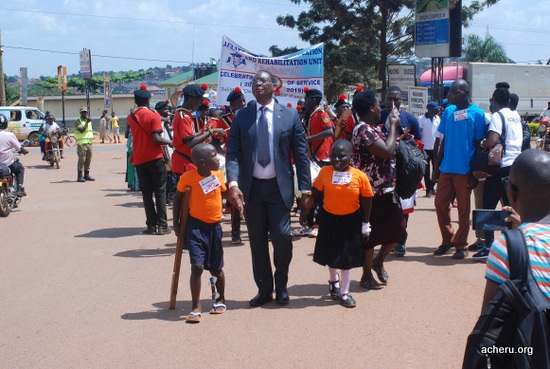 Acheru anniversary parade led by the mayor of Mukono, Kagimu George Fred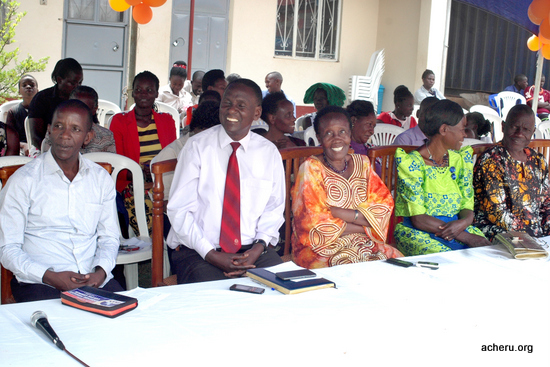 Earlier Acheru Christmas party with pastor Fred Ssali Salongo of Mukono Deliverance Church. Beside him are Lydia and Caroline, two of our most experienced board members who died last year.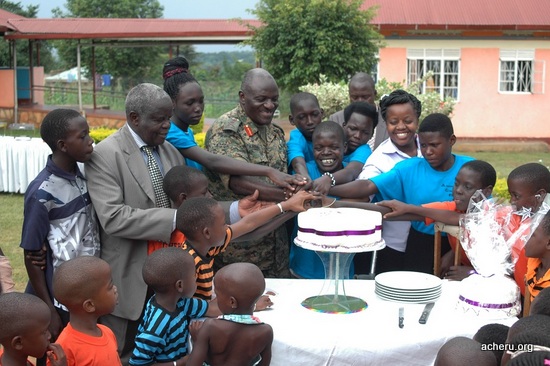 A Christmas party at Acheru with General Katumba Edward Wamala, minister of works and transport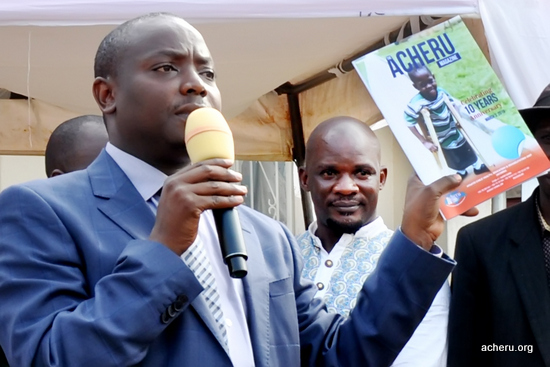 Hon. Salongo Kibuule Ronald, Minister of State for water and environment, launching the Acheru magazine