July 2021 report: The mother of an Acheru patient tells her story, as well as covid information, and news of the container just sent.
Since getting news of several Acheru staff having Covid, I have been in regular contact. Those who tested positive are so far doing well, with relatively mild symptoms. While work continues, they are taking all reasonable precautions to avoid further infections. Two of Joyce's children have now tested positive, as well as her housemaid. Joyce is recovering, she has now tested negative but the cough continues.
I find it difficult to gauge the true scale of the problem, but it seems bad. The official figures tell only a small part of the story, with limited testing and many dying in the villages where deaths go unrecorded. Ugandan newspapers report a lot of infections associated with the Ugandan parliament, including MPs, and also talk of a more contagious variant. The papers are also reporting the sale of fake vaccinations, and this is making people afraid to be vaccinated. The priority of the governments vaccination programme is health workers, but for whatever reasons there's a serious shortage of vaccine. When Acheru staff went for their shots, stocks of vaccine had run out. I've heard from other hospitals that the government team turns up to vaccinate staff, but only bring enough vaccine for a very small number. I've been told by one hospital that "Uganda is going through a terrible wave of Covid 19, hospitals have run out of oxygen, and many are dying". I've heard of results from one town where 50% of test results were positive. We are concerned to hear of people we know there now becoming sick with Covid.
It's against this background that Acheru staff have to decide how to balance the need to continue working against the possible risks. Better information and, of course, vaccination, would make their situation so much better. The lockdown restrictions mean they can only treat patients in Mukono District. Public transport has been stopped so the cost of travel is too much for most people, hence we know there are children who need our care, but we're not seeing them.
Container:
The container has gone, and I'm relieved. Hazel and I found it all very demanding, but it will all have been worthwhile if the contents can be put to use in Uganda. We expect it to take several months to get there. When sending out medical supplies we have to bear in mind the extent to which the country depends on the charitable sector, and in particular mission hospitals, for medical care.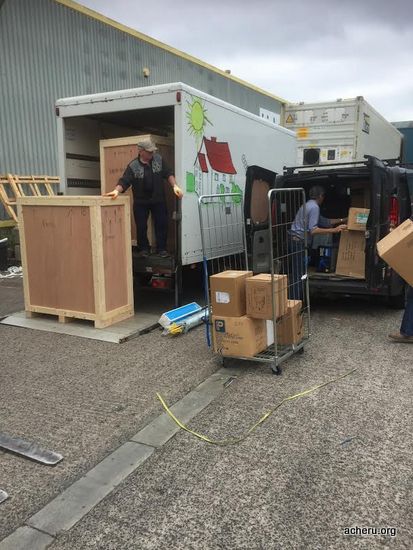 Container loading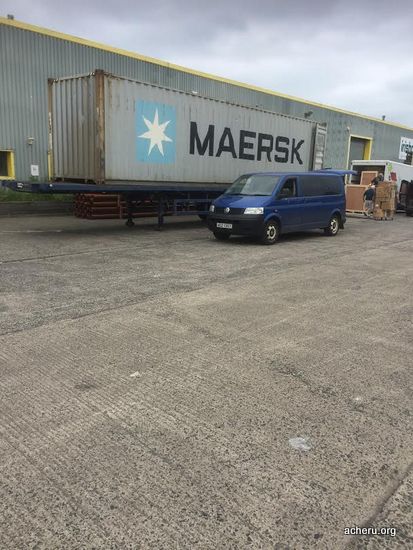 Container now on its way to Uganda
Namagembe Shirat from Kasawo village in Mukono district was born with severely deformed legs. There was no medical intervention before she was brought to Acheru after 6 months. Shirat was the second born, and there were no previous problems like this in the family. Her father is a motorcyclist and her mother farms.
This is her mother's story: "I didn't know of any problems till after Shirat's birth when the nurse told us. We are parents who never believed in scans when still pregnant because we heard rumours that it causes cancer. I was so scared to see our little baby with folded feet and legs which could reach the head, as a mother I started shedding tears thinking how I was going to raise her. I imagined a lot of things which made me depressed, we are from a community where people are not welcoming to people with disabilities. There have been many allegations which torture me. People who are disabled are said to be possessing evil spirits called 'balogo', some say people who want to get rich offer their child to demons. All these things were sounding in my head as I was going to be the one facing all kinds of torture. I thank God that the nurse who helped me give birth knew about Acheru and she assured us that all will be well and this gave us hope.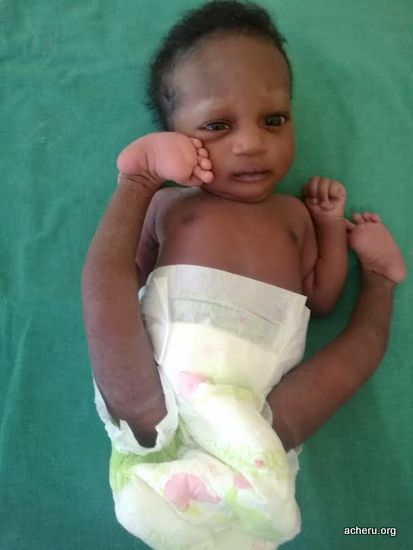 Namagembe Shirat before treatment
Some people in the community had bad intentions and I received many visitors wanting to confirm for themselves that the baby was lame. There were lots of words directed at our family, but thank God my husband and I were strong together. We closed our ears to the outside environment until we reached Acheru for help. We are so grateful for the strong counselling we received, all our worries disappeared even before getting treatment. Our little baby is improving so well, the legs which were up are now down. She can sit like other children and we are hopeful that she will soon be able to do normal activities and walk.
Thank you Acheru, may God bless you always.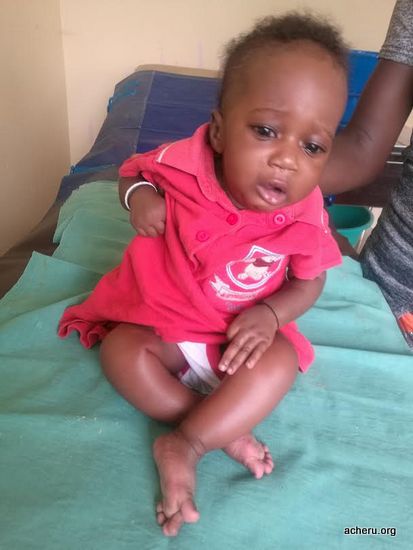 Namagembe Shirat now