October 2021 report: News of a former patient, and progress with the container
The container we sent in June has at last reached its destination. We had consigned it to Kiwoko Hospital, and included equipment for distribution to Acheru and several of our partner hospitals. It should have reached Kiwoko by mid August but due to a paperwork mistake by the shippers and their subsequent failure to rectify this, there were lengthy delays. Then, although we believed all documents had been completed correctly, we experienced a lot of difficulty with importation. This was a very high value consignment and dealing with all the problems was very stressful, but everything has now reached the intended recipients. Unfortunately, damage has been caused in Kampala when equipment was removed for inspection and very badly reloaded. We still don't know the extent of the damage, but it is particularly disappointing as it's something we have never before experienced.
I will report further on this when all the equipment sent has been unpacked and checked, and hopefully put into service.
Community report May 2021
Kyakuwa Monica is a 16 year old girl from Misindye village in Mukono district, the third born of four children. Her mother is a maid, her father a security guard. She was born without lower legs, and was seen by the Acheru community team when she was young. Her mother says:
"It was a shocking moment the first time I looked at our daughter in the hospital. Before seeing her the nurses told me that my baby had a problem but she would grow. I tried to imagine which kind of problem it was and demanded to see her. They talked to me and counselled me before bringing the baby: they said she had no legs. I was crying and did not hear it well, I just said let me see her. She was so pretty in the face, and I started thinking what her life would be like. I was discharged and started my journey of raising her in a very difficult environment, at first I used to get stressed from the words I received from family and community but whenever I looked at her my worries disappeared. She has been a very beautiful and active girl when growing, with lots of blessings. We are low income earners but ever since she started school a friend is paying her school fees."
The Acheru team reports: "She used to crawl in the mud but Acheru provided artificial legs. She was still young then and as a child who enjoyed free mobility she was not comfortable putting them on. Through a lot of counselling as she was growing the team did not give up, they visited regularly and tried to show her the benefits of putting on the limbs. She eventually started using them and when she finished her primary level and started secondary school, all the things the team used to tell her started to make sense and she told her mother how much she needed the limbs.
A recent visit was made to her new secondary school to check on her progress and to look at any difficulties she faces. This is what Monica told them:
"I am so happy that I can walk tall, I used to be comfortable at my former school and things were not difficult because all the children were used to me and I had friends who helped me with things I could not do for myself, they used to get things for me and carry me whenever it rained. But when I was about to join my secondary school I tried to imagine what life was going to be like in a new environment with new people. So I started pestering my mother on how much I needed the limbs, I thought of being more independent. I thank God that the people who used to encourage me to put on the limbs were still in contact with me and they never gave up on me. When they heard that I needed the limbs they made sure I got them. I am so happy today, I can walk tall and straight without being carried, my uniform is always clean and I am so smart."
Monica's dream is to become a lawyer and is studying hard to achieve this. She says she wants to help the poor who cannot defend themselves.
She still faces some difficulties including using pit latrines, so the Acheru CBR team are working on a modified chair to assist her.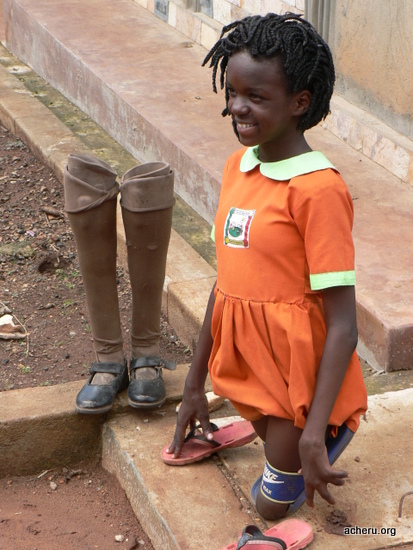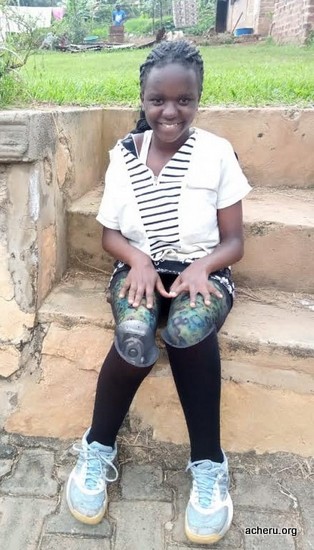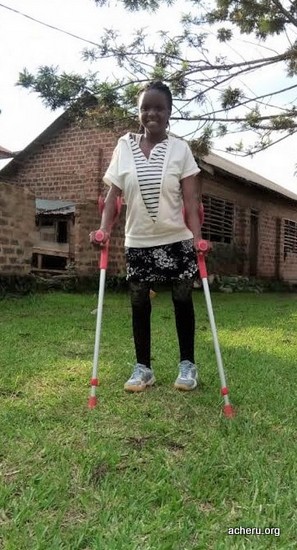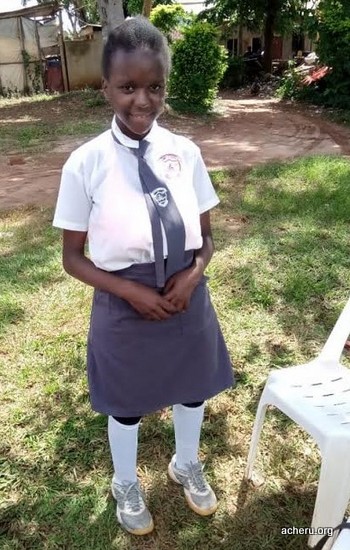 Monica