November 2021 report: Follow up visit to an Acheru patient, and distribution of container contents
I've been looking back through some of our case histories. Conditions which are common there might rarely be seen here, the most common for us being osteomyelitis. I frequently see the term 'sequestrectomy' in reports from Acheru but had to ask what it meant. It refers to the surgical removal of dead bone from a patient with osteomyelitis. The reason we see so much of this in Uganda is delay or neglect following an injury. Something which could have been easily treated following the initial injury becomes much more serious when infection sets in. It's the usual reasons - people in remote areas without ready access to medical services, a reluctance to visit hospitals, reliance on dangerous traditional practices. The result is the same, the child suffers and something which could have been easily treated requires surgery, antibiotic treatment, and lengthy rehabilitation. Often the infection has become deep rooted and reappears at different parts of the body.
I like to receive reports from the Acheru community team on follow up visits they make to former patients, it's encouraging to see that treatment has been successful and may have unlocked potential that wasn't being realised due to the limitations imposed by a disability or injury. Denis Lubowa suffered one of the most severe cases of osteomyelitis that I had seen and I was amazed when he was successfully treated. My first reaction when I saw his leg was that amputation would be inevitable. Denis was first brought to us on 25th June 2012 when he was seven years old. The local council chairman, who fortunately heard about our work, accompanied Denis and his grandmother. He was taken to CoRSU on 28th June, sequestrectomy was carried out on 29th, and he was then taken back to Acheru for daily dressings and antibiotics.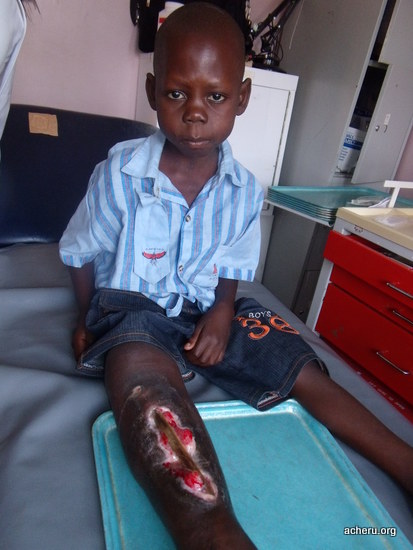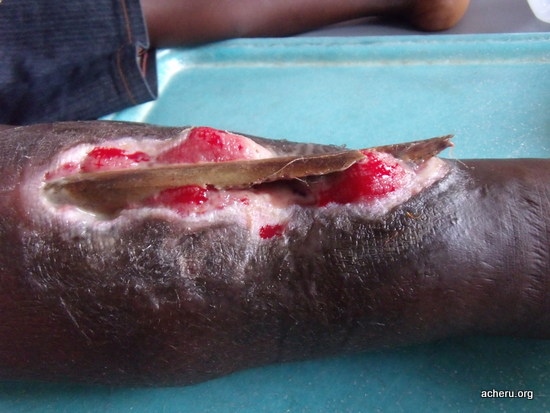 Denis, June 2012
Denis made a remarkable recovery and a recent visit showed that there had been no further problems. However, when Denis became ill he was unable to attend school, and has unfortunately never returned, although he says his dream is to become a motor vehicle mechanic.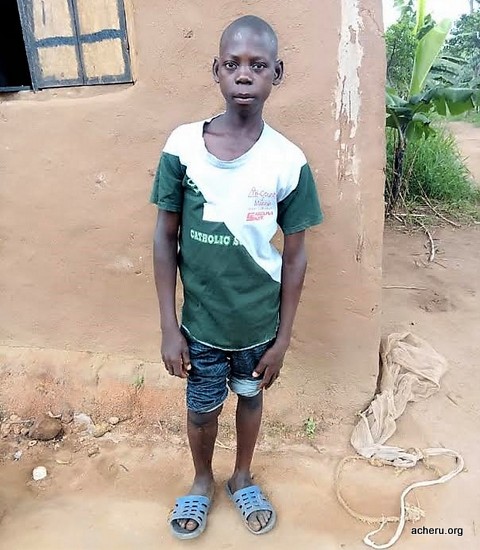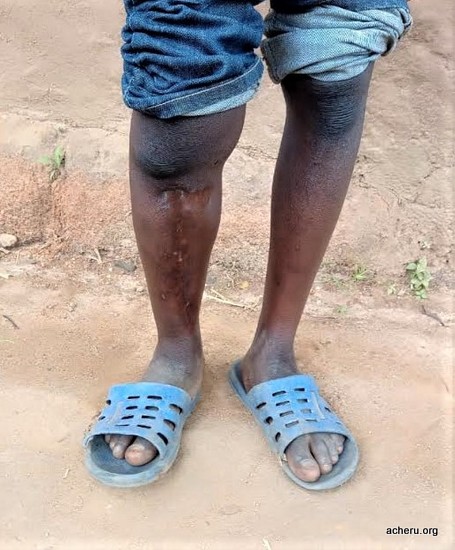 Denis, May 2021
The treatment and recovery of children like Denis depends very much on the support of their family. Even families which had previously resisted having a child treated become supportive when they see what can be done in Acheru, or recognise potential in the child that they hadn't seen before. Sadly this isn't always the case, and the Acheru staff have to deal with some very difficult situations, knowing that if a child needing ongoing care is returned to the family they may suffer serious neglect. The follow up work undertaken by the community team is a vital aspect of the work of Acheru, there may be no easy answers and dedication and perseverance are required when trying to restore relationships within families and involve them in their child's longer term wellbeing.
In the last circular I mentioned the problems we had experienced with the container. Thankfully the contents have now been distributed to our intended recipients and we are grateful for the way Kiwoko Hospital helped with the transportation. Some problems remain; following the removal and very rough reloading of many items while the container was held at Kampala, some things seem to be missing and others were mixed up with essential fittings separated from some equipment, or things removed from boxes so that there was no indication of who they were for. The people we sent things for are now working with Kiwoko trying to sort all this out. The problems were entirely beyond our control, and I now hope to receive feedback on how some of the equipment is being used.
The 'new' Acheru ambulance arrived from Japan in May, but another Covid lockdown prevented it being taken to have seats fitted. This has now been dealt with and the testing and registration formalities have been completed, so at last it is in use.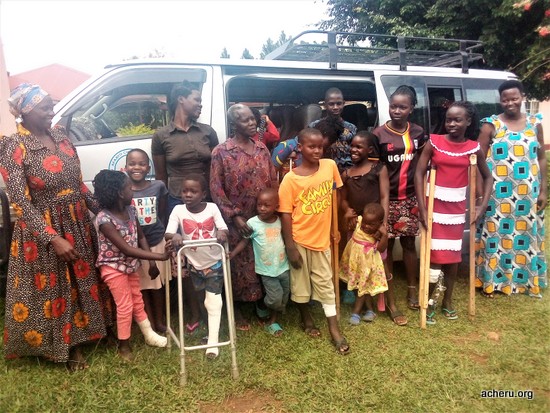 Patients and carers with new Acheru ambulance