April 2022 report: News of development, and children's stories
I previously wrote about our wish to see Acheru's work developed in southwest Uganda. Good progress has now been made on establishing a partnership with Rapha Medical Centre in Mpigi district and I hope to report on this soon. We've seen from our work in the north that even when people have access to medical facilities, disabled children are likely to be hidden away and we have to go and find them.
I have just heard from Joyce about the increased costs they are now facing in Uganda, and of course this comes as no surprise. Dramatically increased fuel costs affect not only their own transport, but food prices and almost everything else. We provide a fixed budget for Acheru and usually expect them to take responsibility for budgeting. They understand that we are all facing rising costs at present. However, the present situation is exceptional. We have added some additional money to the latest transfer to help them deal with the immediate problems and will now carefully review finances to see what changes we can make to our regular budget payments. We want the work to be as cost effective as possible, but we don't want children to miss out on treatment.
The following are some details of a boy I previously wrote about in November 2019, as well as two recent patients:
Lutwaama Akim originally came to Acheru with severely folded knees but made a good recovery after several surgeries. On a recent visit to his family to check on progress, the team saw a great improvement. He can walk straight and play all kinds of games without complaining of pain and can go to the well to fetch water. During this visit, the team found that his sister faces the same problem, so her condition is being monitored.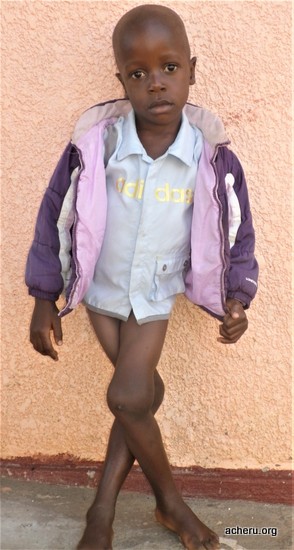 Akim Lutwama before surgery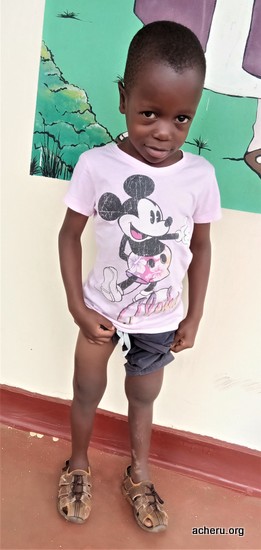 Akim after surgery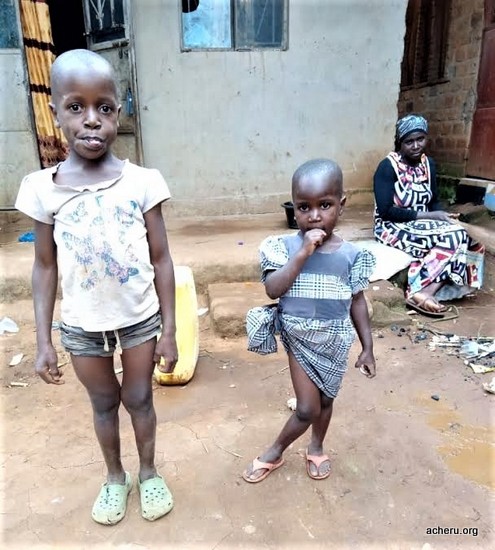 Akim with his sister
Gumisiriza Daniel is an 8 year old boy who was brought to ACHERU on 15/02/2021 with a complaint of severe bow legs. The parents noticed the condition when he was born and the problem kept on worsening as he grew. He was in pain and walking was difficult.
At Acheru Daniel was assessed and diagnosed with severe Blount's disease of both knees and was taken to CoRSU for surgery, with corrective osteotomy and external fixation of his right leg carried out on 29 3 2021, and was discharged to Acheru on 1 4 2021 for post operative treatment and rehabilitation.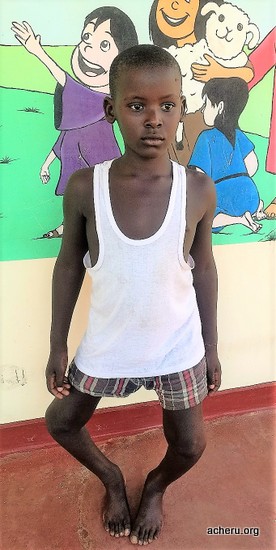 Daniel before surgery
Daniel was then reviewed on 8/6/2021, fixator removal was done, and following post operative care at Acheru he was discharged on 15/6/2021 after pin sites healing. He was again reviewed by the surgeon on 10/8/2021 and scheduled for corrective osteotomy and external fixation of the left tibia on 23/8/2021. Surgery was successful and he was discharged on 25/8/2021 to ACHERU for post-operative care. He was again reviewed in CoRSU hospital on 14/10/2021, the fixator was removed, and he continued with physiotherapy at ACHERU. He was discharged on 27 10 2021, fully healed, and he is now a happy boy.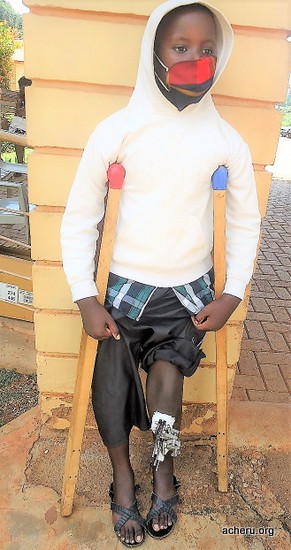 Daniel with second fixator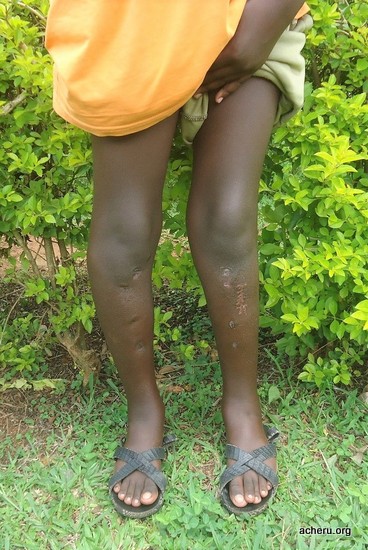 Daniel, march 2022
Sarah is a 14 year old girl who was brought to ACHERU on 2/3/2020 with exposed dead bone and pus discharging sinuses on the right tibia and left foot. Sarah's mother said she'd had an abscess for six months and this was treated unsuccessfully by a herbalist. She was then taken to a clinic where the abscess was drained and she was treated with antibiotics, but the problem continued to worsen.
At Acheru, Sarah was assessed and diagnosed with chronic osteomyelitis of the right tibia and left foot. She was taken to CoRSU for surgery followed by post operative treatment back at Acheru. Osteomyelitis can be very persistent, and Sarah continued to have relapses after discharge. This required further antibiotic treatment, but she eventually made a full recovery.
Her mother says: "I was directed to a traditional healer who gave us some herbs to apply on the leg and others to drink. We went to the hospital after one year of failing to treat the wound locally for wound dressing and that is where a nurse told about a hospital called Acheru. Thank you for the great care and love you have showed us."
Sarah says "I had stopped going to school because of pain and no child wanted to come near me because of the smell, I am so happy that I can join school again like others. I want to study and become a teacher".
GOD BLESS YOU ALL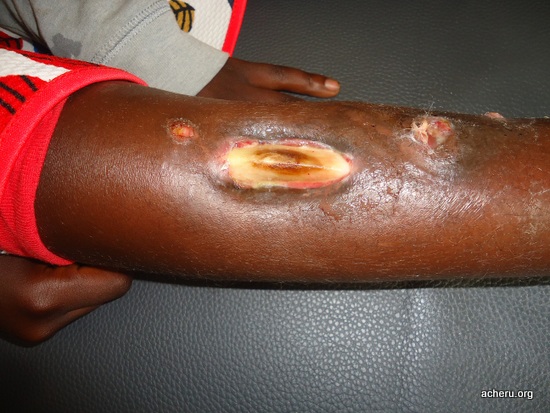 Sarah's leg before treatment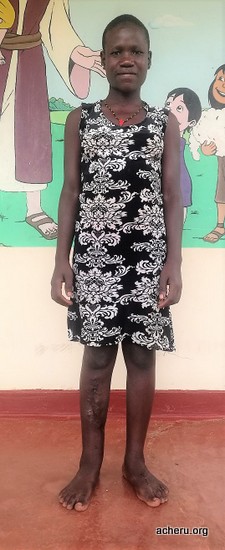 Sarah, March 2022