July 2022 report: Improvements at Acheru, and news of another patient
It's several years now since we launched our development plan for Acheru, the aim being a range of improvements to enable more efficient working and to help us reach more children. Work planned was badly disrupted by Covid, but still a lot of progress was made. We're not finished yet but when finance is available further work is undertaken. Late last year we were able to replace the Acheru minibus, on which they depend heavily. The old one had given good service but was wearing out, becoming unreliable with increasing maintenance costs. I really didn't think it was worth much so hadn't taken its value into account when replacement was planned. Once the new vehicle was in use I forgot all about the old one and was pleasantly surprised when Joyce told me they'd been able to sell it for what I thought was a good price.
Replacement of the minibus was one of the items in the development plan, so I suggested to Joyce that the money raised from the sale should be used at their discretion for other things listed in the plan. They chose staff training, solar power, and water. Timothy, the physiotherapist, was able to attend a conference in Mombasa, and solar panels (for electricity) were installed on several more of the Acheru buildings. This significantly reduces their electricity bill and also provides power during the sometimes lengthy power cuts. Work also continues on replacement of gutters and downpipes, to collect as much rainwater as possible. Although there is now a mains water supply at Acheru, the supply is metered so they don't want to use it unless absolutely necessary. It's encouraging to see that as well as keeping up with maintenance we can see improvements being made at Acheru. This ultimately impacts on the quality of work done and the services they can provide.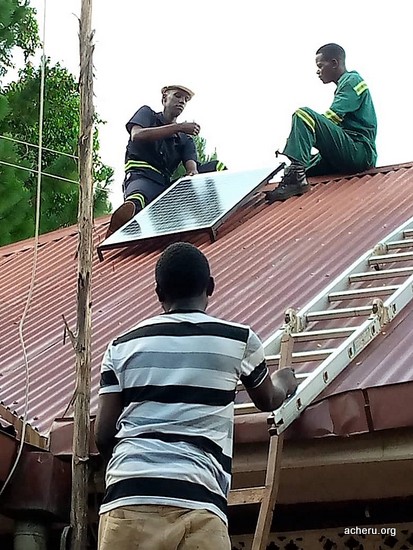 Fitting solar panel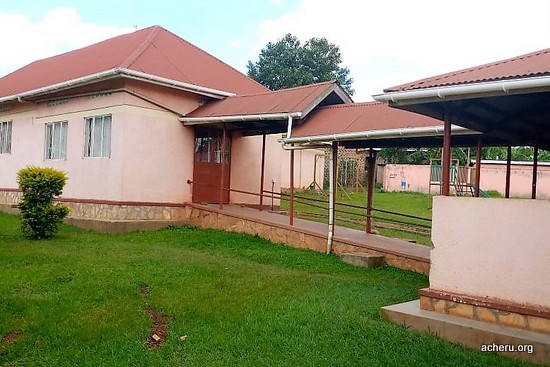 Upgrading gutters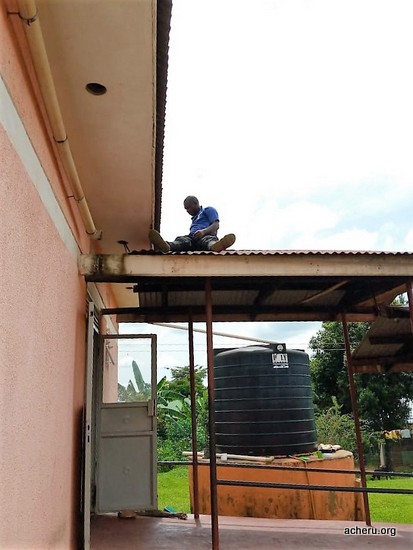 Improving water collection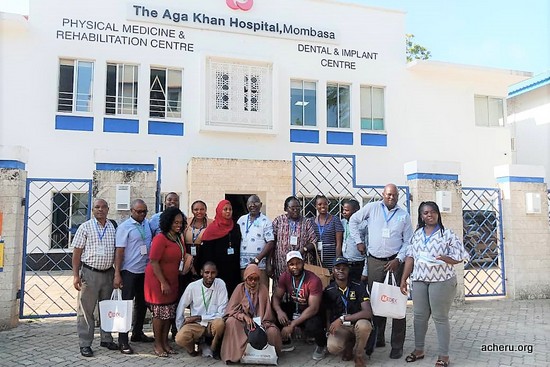 Our physiotherapist Timothy (front row, blue cap) at conference in Mombasa.
Partnerships: Last month, I wrote about some of the partnerships which are becoming increasingly important, with a coordinated effort to bring help to those in need likely to be much more effective than people working in isolation. Two of the organisations Acheru now has links to are CoHERE and BONDEKE. It's worth bearing in mind that there are currently around 1.5 million refugees in Uganda. Some who have fled from the Congo are now in Kampala, where CoHERE is trying to assist them to settle, but most are in the north, having escaped from Southern Sudan. They must now endure dreadful conditions in huge camps in Northern Uganda, with little hope for a better future.
I hope to have more news soon of our partnership with Rapha hospital, where plans are progressing well. The aim is to combine Acheru's experience of community work with Rapha's medical expertise and understanding of the area. The aims are to find children who wouldn't otherwise be brought for treatment, and to provide education which could prevent conditions worsening or facilitate earlier intervention.
Ronald Buyinza, our orthopaedic officer, writes:
Kanya Hashim is a year and seven months old who was brought to ACHERU on 26/8/2020 at 14 days old with a complaint of congenital feet deformity. Hashim was assessed, examined and diagnosed with severe club feet.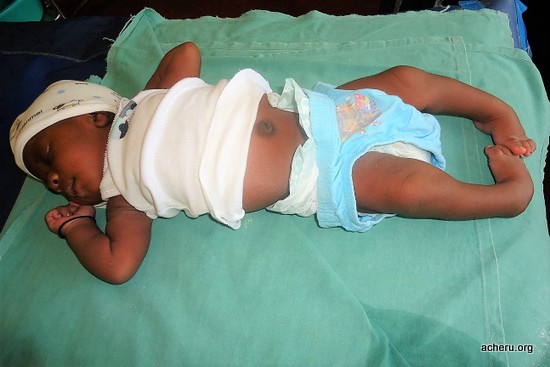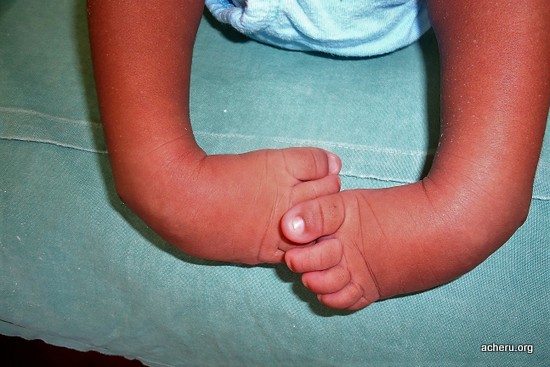 Kanya Hashim
Management of the deformity was started, manipulation and casting was done and reviewed on weekly basis for cast change and re-manipulation.
On 7th/10/2020, Hashim was issued SFABs (braces) to maintain the correction of the feet and was reviewed monthly for consecutive 3 months, doing well due to parent's compliance and then put on quarterly reviews.
Hashim is doing well with corrected adducts and achieved plantar grade. He can now walk well with the foot well aligned and heel fully sits on the ground.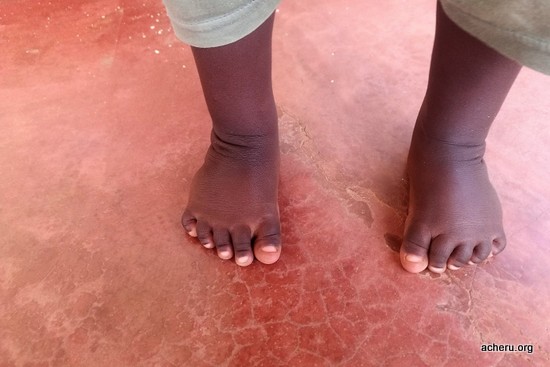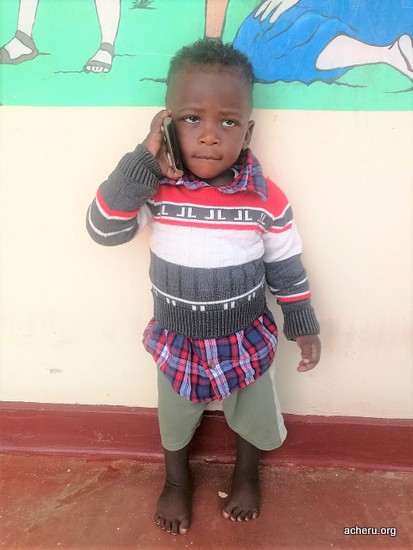 Kanya Hashim
Hashim's mother says: "I was seeing children with such a problem but not in my family and I had never expected it to happen to me. When I was pregnant I used to pray to God to give me a fine baby and I was positive about everything but little did I knew God's plan was different from what I expected. In our community we had lame people and we used to laugh at them because we were children. When I saw my child I reflected back on what we did as children and what came in my mind was 'GOD IS PAYING ME BACK' for what I said to those people. I could not hold my tears while looking at my boy's legs, I thought of how life was going to be when he grows, I knew walking was going to hard, and he was going to be crawling, this brought more tears and worry.
"I was comforted by people around me but I knew they could not feel the same pain as the mother. I did not get any solution from where I gave birth from because it was not a hospital but I was advised to take him to the hospital and see whether he can get treatment and that is when my husband found out about ACHERU. We are so blessed that we got to know about this place as early as possible and they started him with treatment. My fears did not stop, I imagined the pain he was going to go through and maybe he was not going to get well, but I thank GOD the people I met broke all my fears, they showed different children with same condition who healed well and this gave me the assurance and peace. My boy can walk well and he is so fine. Great thanks to all people of ACHERU who helped us in all ways.
"GOD BLESS YOU ALL"